Summary for Twitter
Twitter Inc. has announced plans to go public, seeking $1B in equity financing from the public market. The company filed its registration statement (Form S-1) with the U.S. Securities and Exchange Commission on Oct. 3. The company's initial public offering (NYSEARCA:IPO) is being led by Goldman Sachs. The privately held company used a provision of the JOBS Act (for companies with annual revenue of less than $1B) to work privately on its plans for the IPO with SEC officials before the public release of the S-1. The company plans to list its common stock under the ticker symbol "TWTR."
About Twitter
Twitter is a free social-media company that offers users the ability to transmit short message content (also known as micro-blogs) to other users. Based in San Francisco, California, the company was co-founded in 2006 by Evan Williams (director), Jack Dorsey (chairman and director) and Christopher Isaac "Biz" Stone.
The company's financial position has been growing and, based on its S-1 filing, it had a quick ratio measure of 1.47 and debt ratio of 0.27 for the quarter ending June 30. Twitter's market capitalization is estimated at $10B, and the company has authorization to issue 600B shares in accordance with its Certificate of Incorporation. The last valuation of the company's stock, performed on August 5, indicated a per-share value of $20.62.
Key Takeaways
Twitters entrance into the equities market comes more options for social networking are becoming available. According to eBizMBA rankings (October 2013), Twitter ranks as the No. 2 social-networking site based on the number of unique monthly visitors. Twitter's 250 million unique monthly visitors are a third of No. 1-ranked website Facebook, but more than double that of No. 3 social-networking site LinkedIn.
In terms of satisfaction, Twitter ranking in 2013 is higher than in 2012 (65 versus 64 based on a 100-point scale), and surpasses the rankings of both Facebook (NASDAQ:FB) and LinkedIn (both 62 in 2013 - see Figure 1). Customer satisfaction rankings for the big three social-networking websites are lower than the mean average of 68 for all such sites, lagging Wikipedia (78), Pininterest (72), Google+ and YouTube (71).
Figure 1: Customer Satisfaction with Social Media Sites (2013 vs. 2012)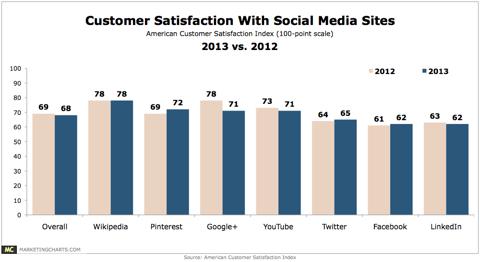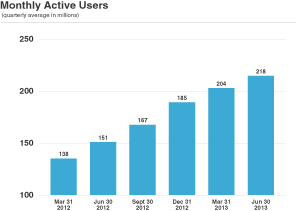 The company saw a 198% increase in its annual revenue in 2012 ($316.9M versus $106.3M ), and in the six months ending June 30 revenue rose 107% ($253.6M versus $122.4M ) compared to the same period a year earlier. Twitter's monthly average users (MAUs) also increased between March 2012 and June 2013 (see Figure 2).
Concerns
The chief concern regarding Twitter's coming IPO is its self-identified concern about a slowdown in growth of MAUs. According to the company, MAUs, particularly those who are mobile users (i.e. iPhone and Android), account for 65% of the company's advertising revenue. Failure to maintain similar user growth (average quarterly growth between March 2012 and June 2013 was 9.3%), could have an impact on the company's future revenue growth.
This could spell the same doom that caused competitor Facebook to experience a drop of more than 53% following its IPO (shares fell to a low of $17.53 from an initial price of $38). Facebook stock has since rebounded, surpassing $50 per share on September 26, up 30%. Maintaining diversified revenue streams and continued growth in its core should help head off any potential downturn in Twitter's share price.
Conclusion
The prospects for Twitter's IPO are good, and anticipation by investors led to a run-up in a similarly named company, "TWTRQ" (trading on the OTCMKTS), on October 4. Although unrelated to Twitter, TWTR Inc., formerly Tweeter Home Entertainment Group Inc., is a Canton, Massachusetts-based consumer-electronics retailer that saw an increase of 650% to $0.15 from its opening price of $0.02 per share in midday trading, with nearly 14.4M shares trading. The company filed for Chapter 11 protection in June 2007.
As long as Twitter meets expectations (similar to Facebook's resurgence), the company's IPO could be the best story of the year.
Disclosure: I have no positions in any stocks mentioned, and no plans to initiate any positions within the next 72 hours. I wrote this article myself, and it expresses my own opinions. I am not receiving compensation for it. I have no business relationship with any company whose stock is mentioned in this article.