The Current Amazon (NASDAQ:AMZN) Fundamentals:

Currently Amazon is showing long-term Bullish symptoms. I would consider a sell-side Butterfly, or 290 sell-to-open PUT esspecially since its currently rated a 334.19 Trades:


Current char w/ Indicators: Description: This uptrend started in May and has held since.The 50 SMA is serving as support for the price. I believe the stock will return to the support line soon because these last three days the stock has gone up with lowering volume. The parabolic SAR also indicates that the stock is overbought. I would enter this stock at the support trendline. This stock looks promising for the long-term 1+ month.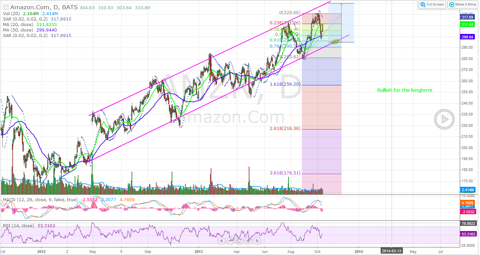 Recent SeekingAlpha Article: We are now around Year 4.5 in one of the greatest bull markets in US history. Since the end of March 2009, the S&P 500 index is up over 100%. Given this environment, it shouldn't be a huge surprise that we're seeing a lot of well-known - Read More: https://seekingalpha.com/article/1743332-amazon-much-more-profitable-than-perceived-and-a-foolhardy-short