What Does the Federal Reserve Want to Know and Why?
Recently, the money multiplier has gone negative. That means that loans currently are not increasing the general health of the economy.  Bankers conduct monetary policy issuing credit and making loans.
The Federal Reserve Bank (FRBNY) has recently launched a
new blog
in an attempt to directly interface with We The People. The Federal Reserve article, "Have Consumers Been Deleveraing?"
asks the citizenship how debt is being reduced either by paying back loans or defaulting on them. That is what deleveraging means.  


The intent of asking the public such a question seems a valid attempt to gauge how the citizenship is dealing with debt loads and when credit can once again be a tool for economic growth. Research is critical in making informed decisions about when the Banking system should allow credit to become more available.
 
When consumers were asked what circumstances prevented them from deleveraging, the last reason reason stated was that their loans were already in default (2%) while the number one reason was higher costs of living such as food and energy (32%). The FRBNY deleveraging article wanted to understand how much default was used to delever vs. paying down loans.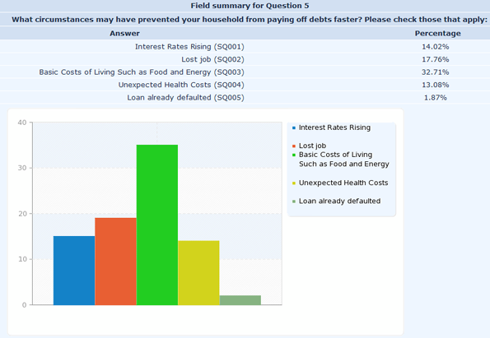 Raging Debate will launch a follow up survey this fall to the same group of participants to track any changes in the trend. Will continued higher energy and food prices push more individuals into default? If energy and food prices drop this summer or early fall, will consumers begin paying off loans faster?   


The Survey Results & Federal Reserve Disclaimer


Raging Debate has no affiliation with the Federal Reserve. As our service is branded "Citizens Powered Media" our position is that it makes sense for the individual actors in the private sector to attempt to encourage communication between the people and leadership on key issues such as credit and job creation. Instead of mere rhetoric for debate which solves little, facts must be uncovered and presented on the best manner in restoring the American economy.      
To view the complete answer set from additional credit questionsand demographic breakdowns of the participant audience, go here.    

Please direct data collection and sample methodology questions to Jason C. Rines at jrines@ragingdebate.com or 603-953-3388.