February 27 2015
Today also Nordex with the first figures - see the table.
I guess the most interesting point is the book-to-bill-ratio, because it shows the future. There you see, that Gamesa and Nordex have a book-to-bill-ratio under 1 in moment. Vestas 1,7 - and it could be more due to the projects in North Europe in negotiation.
But the highest book-to-bill-ratio with around 2 has China Ming Yang. So here you can clear see, that the upcoming years will be better than 2014. And with the 2014 figures China Ming Yang is already the best share worldwide. And remember: Offshore windpower and O&M are only in the beginning stage.
I think 20 USD for a share is not too much - now only 2 USD!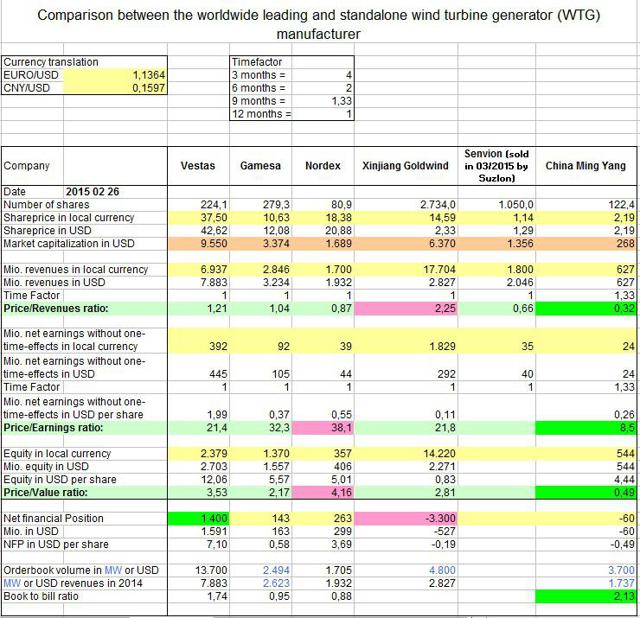 February 26 2015
After Vestas before today also Gamesa with the 2014 Q4 report. And first figures from Xinjinang Goldwind (revenues + 44 %, net profits + 327 %). This show again, how extremely cheap the China Ming Yang share is:
February 20 2015
The Institutional Ownership on the NASDAQ-Site shows something new:
15 holders increase their positions - 26 decrease. But in the sum around 2 million shares sold and 5 million shares bought!
With Newquest Capital Management a new bigger shareholder with over 7 million USD invest.
The SEC 13x news shows, that the pre-IPO-Investor ICBC reduce further. Before IPO in 201 this chinese bank hold 8,8 % from the shares, after IPO 7,3 %, end 2013 5,7 %, end 2014 2,59 %. Blenheim Capital Management with optimize entrance in mid 2012 hold still 5,1 %. I wait on the message from the pre-IPO-Investor KAILAI Advisers Ltd. (formerly Clarity China GenPar Ltd.) with 8,33 % end 2013. But don't know exactly the 13x-SEC-rules. I think when KAILAI change nothing in 2014, they don't have to make a ownership-message for 2014.
www.nasdaq.com/symbol/my/institutional-h...
All in all we can say: More big Asia-based investors realize this tenfolder chance and invest money. Why ICBC reduce - ? - good question.
February 10 2015
Apple CEO Tim Cook:
"We know in Apple that climate change is real. The time for talk is passed," he added. "The time for action is now."
finance.yahoo.com/news/apple-big-solar-p...
February 09 2015
Plans for up to 50 GW windpower in the far east from Russia with chinese help
renewables.seenews.com/news/russia-mulls...
February 06 2015
China to Boost Manufacturing Equipments Export in 2015
english.cri.cn/12394/2015/02/06/2281s865...
February 03 2015
Today, there is little to see looking off the rugged, western Norwegian coastline except white-capped, storm-grey seas and drifting seabirds. By next spring, however, Chinese manufacturer Ming Yang is on course to have a 6MW turbine spinning in the shallows here that could change the face of offshore wind power. ...
"So far, our 6MW turbine has attracted a lot of attention in the industry from developers [with plans for industrial-scale projects in European waters]," says Zhu. "But for us, our focus remains on the testing phase: we have to make sure it runs well off China and we are very much looking forward to the European market in the next few years."
www.rechargenews.com/wind/1389697/in-dep...
February 03 2015
CWEA Ranking
| | | |
| --- | --- | --- |
| Company name | Capacity | Market Share |
| Xinjiang Goldwind Science & Technology | 4.43 GW | 18.99% |
| Guodian United Power Technology | 2.6 GW | 11.14% |
| China Ming Yang Wind Power Group | 2.06 GW | 8.81% |
| Envision Energy | 1.96 GW | 8.4% |
| XEMC Windpower | 1.78 GW | 7.63% |
Last year China installed as much as 23.35 GW, marking a 45.1% year-on-year increase. With these additions, the country's cumulative capacity reached 114.76 GW at end-December, according to CWEA. China has unveiled plans to double its wind power capacity to 200 GW as part of its 2016-2020 five-year plan on energy.
renewables.seenews.com/news/goldwind-acc...#
February 02 2015
China Ming Yang Wind Power Aggregates 3rd Position in CWEA's List on Total New Wind Installations in 2014
China's new wind installations reached approximately 23.35GW in 2014, with an increase of 45.1% from 2013.
2.058 MW new installations for MY.
Revenues were in Q1 2014 386 MW, Q2 2014 303,5 MW, Q3 2014 524,5 MW. Delivery, installations and accounting are different items, but then 844 MW for Q4. Record!
ir.mywind.com.cn/phoenix.zhtml?c=238508&...
www.mywind.com.cn/news/detail.aspx?MenuI...
Disclosure: The author is long MY.