Deutsche Bank: Game-Changing on the way:
cleantechnica.com/2015/03/04/deutsche-ba...
March 27 2015
Xinjiang Goldwind with the 2014 earning report audited by Ernst & Young. Newest figures in the table: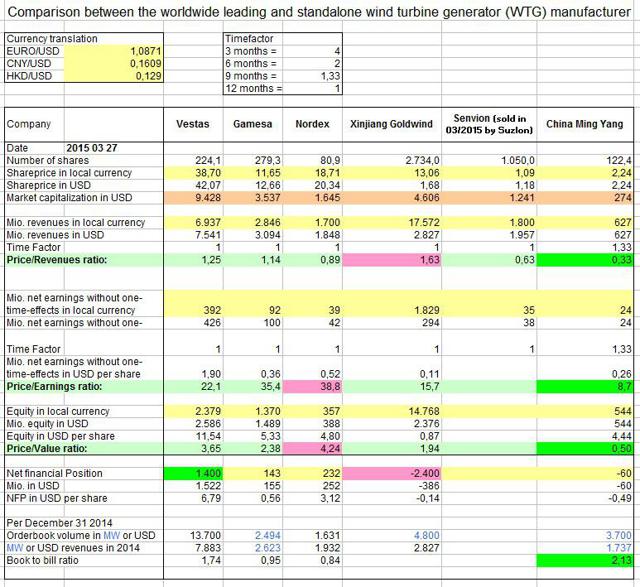 You can see: Only compared this two Chinese companies, the market value from Ming Yang must be at least double higher.
March 19 2015
DENMARK: Aerodyn president Sonke Siegfriedsen has told Windpower TV its 6MW two-blade offshore turbine is now connected to the grid in China.
www.windpowermonthly.com/article/1337932...
March 16 2015
MY Completes Grid-connection of the First SCD Offshore Wind Turbine Prototype of 6.5MW Platform
ir.mywind.com.cn/phoenix.zhtml?c=238508&...
March 12 2015
Ming Yang's 6MW offshore two-blader grid-connected in China
www.rechargenews.com/wind/1394272/ming-y...
March 11 2015
See this massive undervalue - what a tragedy: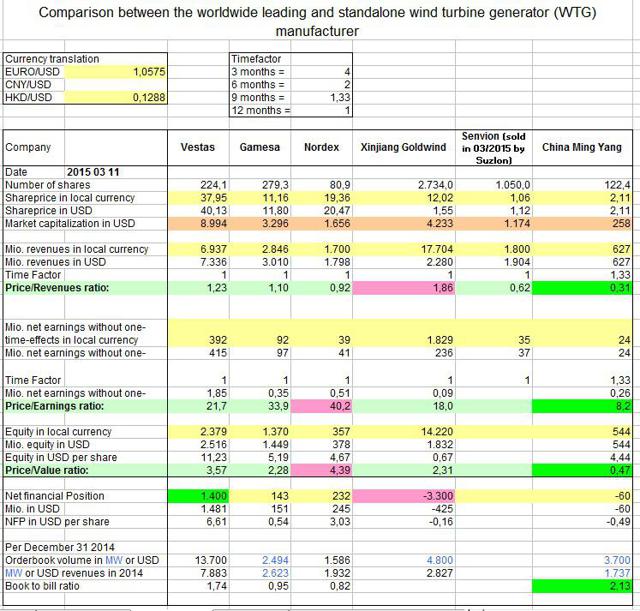 March 10 2015
CEO Chuanwei Zhang Spoke at China's National People's Congress
ir.mywind.com.cn/phoenix.zhtml?c=238508&...
March 09 2015
The Spanish Gamesa and the French Areva create the offshore windpower joint-venture Adwen:
"... The offshore market represents one of the most promising areas for the development of renewable energies over the next decade, particularly in the coastal countries of northern Europe, where the installed base should reach over 25 GW by 2020. Besides, the experience accumulated by both partners in Asia will enable the company to benefit from the huge offshore wind potential of this region, which could reach 17 GW of installed capacity by 2020. ..."
www.gamesacorp.com/en/communication/news...;fechaHasta=
March 08 2015
New presentation for the capital market conference:
media.corporate-ir.net/media_files/IROL/...
March 06 2015
More actual reports about the steps in China to reducing coal use and for replacing coal with alternative energy sources. For example here from Reuters:
www.businessinsider.com/r-china-pledges-...
March 05 2015
More and more reports about the National Congress in China. In China a film about environmental damage is a hit - over 200 million views in a short time. Time are changes - no more growth against any price - growth through environmental technical solutions.
www.youtube.com/watch?v=9_tIwgNuOBg
March 05 2015
The CFO and IR-Director present the company at the 27th Annual ROTH Conference on March 10, 2015.
I think since the IPO in 2010 this is the first conference at all. You can see clear, that MY change their communication to the capital market after Q3 2014 report. Slogan: "First make your work, then tell about it!"
Read more: http://www.nasdaq.com/press-release/my-to-present-at-the-27th-annual-roth-conference-20150305-00361#ixzz3TWKZJKa0
investor Conference at March 10 2015 in California.
www.nasdaq.com/press-release/my-to-prese...
March, 04 2015
Report in the famoust german economy newspaper about the National Congress in China starting this week. Environmental protection as a new growth driver for China. Plans for a country-wide emissions trading. The speaker from the National Congress: "We want our blue sky back".
www.handelsblatt.com/politik/internation...
March, 01 2015
The Chinese central bank lower the interest rate 0,25 % to 5,32 % on Saturday. Lower interest rates are important for longtime finance projects like renewable energies.
The HSBC and Markit purchasing managers' index is up to 50,7 % in January. Remember that the Chinese economy is in a transformation to a more healthier growth. Especially windpower with up from 45 % yoy is on of the big growth-industry under this new sign.
March, 01 2015
Some users mail me about the different share-prices from the Xinjiang Goldwind A-shares (around 2,30 USD in Shenzhen) and the H-shares (around 1,50 USD in Hongkong). The A-shares stands for more than 80 % of the total shares and the H-shares only for under 20 %. So i take the A-shares-price in past.
But i can also take the H-share-price, when people mean Hongkong is a more free exchange or so. Is change nothing real with the big difference in the market value between the two Chinese players Xinjiang Goldwind and China Ming Yang.
And you see, that in Europe the windpower stocks are again in a rally mode. No one think here about the oil price! See Nordex! See Gamesa! See Vestas!
It's so frustrating with the extreme cheap MY share price after this very good q3-report and this given future outlook on q4 and the next years. :-(((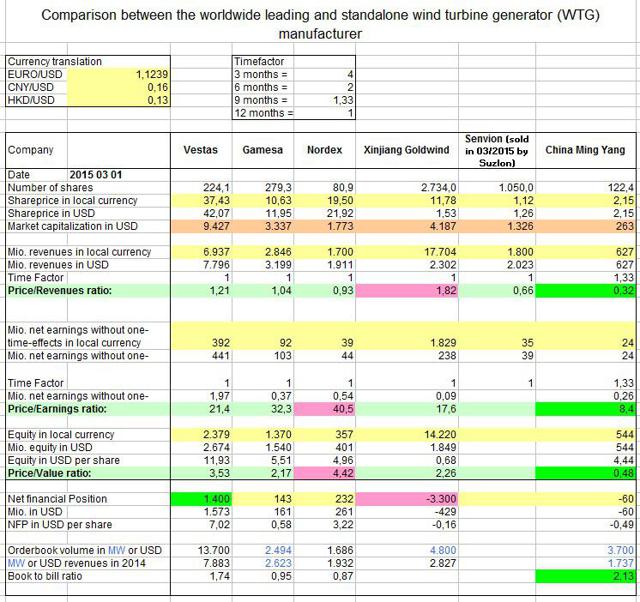 Disclosure: The author is long MY.