Comments on myrecent article seekingalpha.com/article/242241-radian-value-in-mortgage-insurance-with-an-options-strategy leave me with the feeling that additional information would have been helpful in presenting my opinion. With that in mind, here are two additional displays that clarify the situation around delinquencies and expected losses.  

First, a spreasheet showing how new deliquencies have been affecting inventory: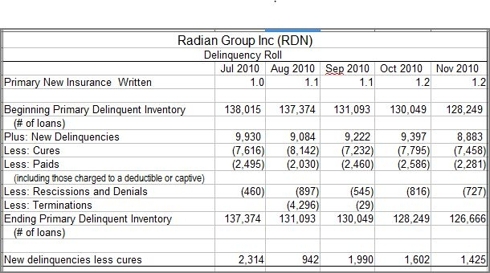 While the numbers are a little bumpy, the trend in new delinquencies is definitely down, and when that information is combined with the cures, a definite trend of improvement is visible. 

Second, a slide from recent presentations, covering the embedded value of the existing primary mortgage insurance book: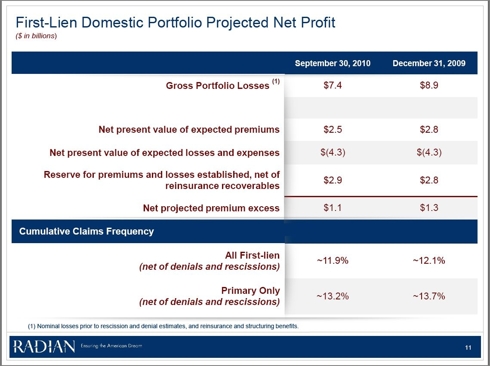 By combining projected future premiums and losses on the existing book of business, the slide demonstrates that the company expects to eventually realize a profit from its present situation. The embedded value amounts to 1.1 billion as of 9/30/2010. 

Meanwhile, new insurance is being written at a clip of 1.2 billion per month. Early results on business written since the housing bubble burst have been very favorable, suggesting that it will be profitable going forward.