The S&P 500 (NYSEARCA:SPY) hit a 5 year closing high on Friday. Meanwhile, VIX plummeted to 13.83, which places it in its lowest quartile. Now would be a good time to start hedging again.
I would consider the index to be at a mid-point valuation in the 1,525 to 1,540 area. At that point, there is no compelling reason to be invested in equities, although the lack of viable alternatives in the current low-interest environment does serve as an inducement, of sorts.
With that in mind, and SPY at 146, I placed the following trade:
Buy to Open 1 SPY Dec 20 2014 165.0 Put @ 29.50
The plan is, to add another put every time SPY goes up another dollar. I've had good results with this method of hedging, since I'm always buying protection at the top. The last time I did it, I more or less accidentally closed the hedge at the bottom, scoring a very nice return.
Why Hedge?
Here's a chart: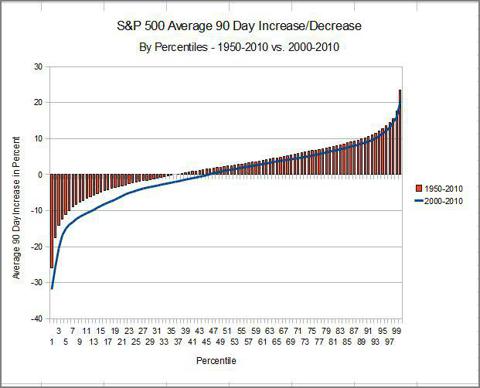 The market goes up more often than it goes down, by a substantial margin. But, when it does go down, losses can pile up quickly. At a five year high, the market is unlikely to never look back. Congress has many opportunities ahead of it, to subject the economic recovery to the Perils of Pauline. The world is a dangerous place.
The distant expiration, deep in the money puts perform very predictably in downturns, and can be cashed in at a profit as a source of dry powder, or to cover immediate cash needs without selling assets at a loss.
What If?
What if the market continues to advance, inexorably destroying the value of the steadily increasing hedge? Long positions will increase in value. Also, as the strike on the put gets closer to the money, it will pick up time value. If, for example, SPY makes it up to 165 as of the end of 2013, and volatility stands at 11, the put will still be worth $6.
But suppose VIX makes it up to 25, not unheard of. The put will be worth $15, as an approximation, using an options calculator.
What else?
I made a start on transitioning my portfolio toward Dividend Growth and away from Deep Value. I have outsize positions in MetLife (NYSE:MET) and Prudential Financial (NYSE:PRU), that together represent an extreme overweight in Financials and particularly Life Insurers.
I started scaling out, at $1 intervals for PRU and 70 cent intervals for MET. I will be out of both investments if and when they hit my target prices. For now, these sales serve as a source of funds for the hedging operation. In due course, they can be redeployed into the more conservative Dividend Growth selections, hopefully in the wake of a correction.
Disclosure: I am long MET, PRU, SPY.
Additional disclosure: I own the Vanguard S&P 500 index mutual fund, so I'm net long the index. The hedge is simply a source of funds in the event of a correction.