Carl Icahn recently did a troubling interview on CNBC. Icahn, better known as an activist investor, issued a somber warning that Wall Street has gone back to its old ways, and at some point in the future there may be another financial crisis. His tone and phrasing make it clear that he is not trying to create controversy: indeed he is hesitant to state his case for fear of making waves; but nevertheless he feels obligated to speak his mind. Here's a link:
It's Systemic
Icahn starts by saying it's the system. We haven't fixed it. It's gone back to the way it was before the financial crisis.
Derivatives
He homes in on leverage, risk taking (with other people's money) and derivatives, the toxicity of CDS. While he specifically mentions CDS, it's worth pointing out that the notional amount of interest rate and currency swaps far exceeds the amount of CDS outstanding. Here's a snip from OCC's Quarterly Report on Bank Trading and Derivatives Activity Fourth Quarter 2010: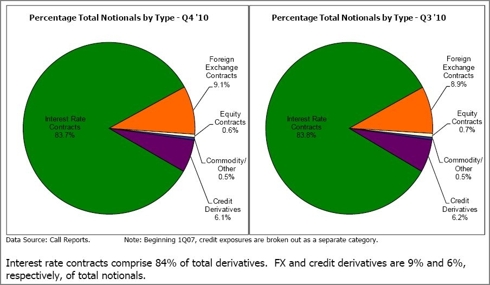 CDS, which have been implicated as a cause of the last financial crisis, are about 6% of the notional amount of derivatives on the books of the top 5 banks. The bulk of the exposure is Interest Rates, at 83.7%, and Foreign Exchange, at 9.1%.
Here's the thing: CDS is a very small part of the total. If this small item could cause such big trouble, how about the far larger notional amount of Interest Rate and Foreign Exchange Contracts? With the Euro gyrating, and interest rates on PIIGS sovereign debt surging, how long can things go on before some imbalance tips over the apple cart? We know Goldman Sachs (GS) did something funky with a currency swap to help Greece conceal the extent of their deficit. How much more of that stuff is out there?
All of these derivatives create credit based exposure - it's about the counterparties. Goldman Sachs has credit exposure that is 629% of its risk based capital. Its closest competitor in that regard is JP Morgan (JPM), at 265%.
Glass-Steagall
Icahn says that Glass-Steagall wasn't such a bad idea. Investment banks should be separate from commercial banks and insurance companies. They should do things like help companies raise capital. He realizes that banks should be limited to their appropriate role, which is to serve as financial intermediaries. That's a rare insight for a Wall Street insider.
Man-eating Tigers
Icahn sees the need for regulation. He excuses Wall Street denizens on the grounds that they are like man-eating tigers: you can't really blame them for eating the sheep; it's their nature. But still, some regulation would be in order.
I'm not sure I like the analogy. I prefer rabid dogs. You can't really blame them for what they do either: it's their nature. They are sick, and dangerous, and should be dealt with accordingly.
Timing
Unlike those who recently predicted the Apocalypse, Icahn is not very definite in his timing. He's not saying it will be next week, or next year. But he seems worried.
Investment Implications
Like sheep, we the small fry and retail investors browse the rich vegetation, munching placidly, while man-eating tigers prowl in the distance, or even worse, join us in our pen. At any moment, we may fall prey to these ferocious beasts. At the very least, we will get a nasty bite, and have to undergo a series of painful injections to forestall rabies.
There is no one to protect us. Nobody is going to fence them out, or cull the predators.
The best thing to do is to stay at the center of the herd. Don't go off on the fringes, playing Forex, trading commodities, fussing with Chinese reverse mergers, chasing hot tips on penny stocks, fiddling with double and triple inverse ETF's, etc. Just stay with plain old stocks and bonds, listed on one of the major exchanges.
Extending the metaphor, there's always the danger that irresponsible parties will start the meadow on fire, burning all the vegetation we depend on for nourishment, and endangering our lives. So it would be good to stay near a water hole or a river, some sort of provision for liquidity, and plenty of it. Meanwhile, fatten up, because there isn't a lot of nourishment in green shoots, when they finally begin to emerge from the scorched earth.
Disclosure:
I have no positions in any stocks mentioned, and no plans to initiate any positions within the next 72 hours.