Beta and valuation are often related: higher beta is associated with lower valuation. The relationship of beta to performance varies: it's part of the risk on/off trade, with beta steadfastly equated with risk.
To illustrate the relationships, here's a table covering correlations to 36 and 60 month beta for 20 stocks in my portfolio: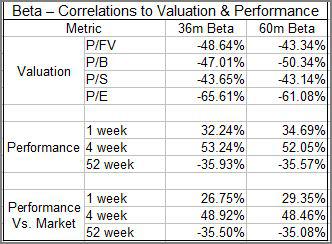 P/FV stands for price/fair value. The fair values were taken from Morningstar, and are similar to what I would get by my own methods. Briefly, the negative correlation says that the higher the beta, the more likely the stock is to trade below fair value.
Negative correlations are strong for all metrics, particularly P/E. TTM P/E was used compiling this table. Pity the poor value investor, doomed to suffer high volatility and underperformance, for months if not years at a time, clutching his low P/E stocks that Mr. Market will not pay up for.
For performance, the story changes. Until recently, high beta underperformed, markedly underperformed. That's the risk off trade. Now when 1 week and 4 week performance is examined, the story changes: high beta is correlated with outperformance. Risk on.
Volatility Collapse
The VIX is now down to 17.10. Historical volatility for the S&P index is in single digits for the 10 day version, and very low double digits for 20 day. The sudden collapse of volatility is another symptom of the risk on trade.
Market Level
The market, as measured by the S&P 500, is relatively close to last year's highs. However, the financial sector ETF (NYSEARCA:XLF) at $14.74 is still 17% below its high point last year. Noting that much of the fear in the market is related to the financials, I will not consider the market as having recovered its high point from last year until XLF hits $17.
Blue chip stalwarts such as Procter & Gamble (NYSE:PG) and Johnson & Johnson (NYSE:JNJ) are actually down for the year to date. So as rotation proceeds, some of the high beta value stocks may have a long way to run before the market is fully valued.
While the risks to global recovery are well known, and could derail the trend, as things are developing now a rotation into higher beta stocks, to include financials, could lead to a scenario whereby the S&P 500 hits 1,400 as XLF finally climbs back to the $17 level.
Investment Implications
In my portfolio, most of the industrials are approaching fair value. Covered calls have been sold over all of them, and many of these calls are at or in the money. I don't plan to chase this group.
Financials are another story. MetLife (NYSE:MET), Prudential (NYSE:PRU) and Hartford (NYSE:HIG) are 30%, 12% and 60% below their highs from last year.
Tech companies - Cisco (NASDAQ:CSCO), Hewlett Packard (NYSE:HPQ), Xerox (NYSE:XRX) and Corning (NYSE:GLW) are equally undervalued. In all cases, high beta is associated with ongoing low valuations.
The rotation into high beta names still has room to run. At the end of last year, I noted that life insurers were trading primarily on volatility. Judging by the relationships that prevailed at that time, the collapse in volatility should lead to substantial gains for this group.
The "old tech" group is somewhat questionable still. The market has genuine questions on each of them, and time may be required before clarity emerges. Nevertheless, the high beta theme should lift them as well.