This morning I located and read the text of Janet Yellen's speech delivered at Jackson Hole. What I saw was a very careful discussion of complexity, resulting in the conclusion that the Fed will not be relying on a single variable of any type in assessing the level of employment and the resulting indications for monetary policy.
She also mentioned, which got my attention, that we only recently passed the previous peak of nonfarm employment.
Monetary policy is a driver of economic activity as well as asset valuations. We don't know the exact relationships: in point of fact, there is considerable animated debate on the topic. As a way of getting away from the fuzzy thinking and forming an opinion for my own use in directing my participation in the market of stocks, I looked at nonfarm payrolls, using FRED, the graphing facility at the St. Louis Fed. Here's the chart: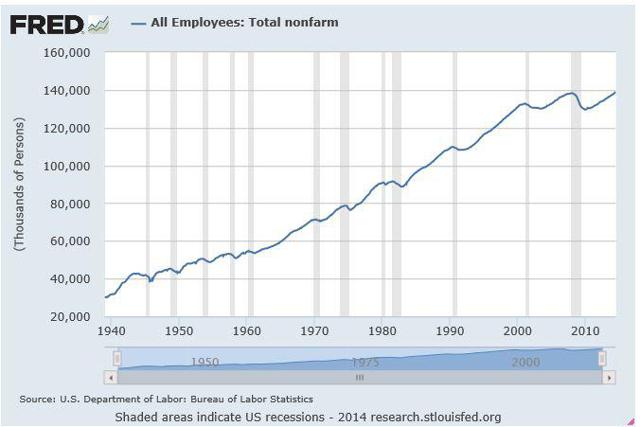 Because of shifting demographics and structural changes in the workforce, it's not that useful to use the information going back 50 or 60 years. So the analysis is, how long was it from the time that nonfarm employment exceeded the previous peak until the downturn heralding the crash of 2008/2009?
It was 3.0 years, from 01/01/05 to 01/01/08. Now nonfarm payrolls most recently matched the previous peak on 05/01/14. If you add three years, we could look for the cycle to turn down in the Spring of 2017, with the market following in due course.
My take: barring an exogenous event, employment will grow at a rate between 1.5% and 2%, carrying the economy along at a comparable pace, for the previously developed 3 years. Add some inflation and there will be nominal growth around 4%.
The Fed, relying on fuzzy thinking, will remove accommodation at a deliberate pace, and will subsequently tighten less rapidly than during previous expansions.
Prudential regulation will slow the onset of wretched excess in US financial markets, but will not prevent it.
My reaction to this potential scenario is, to leave my Vanguard index funds fully invested, and to focus my attention on extracting market-like returns from my discretionary portfolio. Using options for risk management, I'm taking exposure to high quality dividend payers by means of LEAPS, selling covered calls for income, and holding substantial cash, as a cushion on personal spending, and to be deployed in the event of a decline in the market.
Disclosure: The author is long SPY.
Additional disclosure: As a retail investor, I don't give investment advice. I blog to expose my investment thinking and process to critical examination and comment from readers, as a way of accessing the collective wisdom of market participants.