This is interesting and reassuring, I thought I would post it here. Many investors hold Exxon Mobil (NYSE:XOM), and question the desirability of holding it at current oil prices.
I took ten years of data for XOM, WTI and the S&P 500, monthly, and dropped it into a multiple linear regression calculator. Here's the result: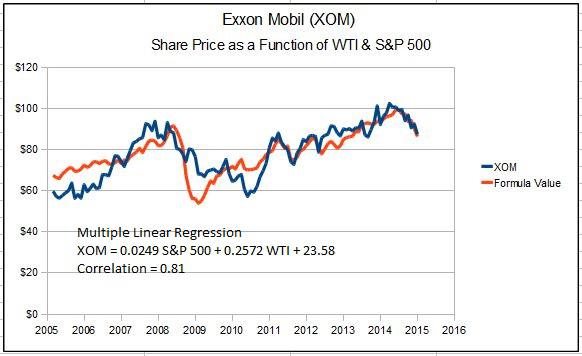 The fit is visually good, and the correlation isn't bad.
With the S&P at 2,097 and WTI at $52.78, the formula suggests a value of $89.37 for XOM, not that far from its current price of $93.37.
Looking out a year from now, futures suggest WTI at $61.76: Keeping the S&P constant, XOM would be $91.68. $80 oil, $96.37; 100 oil, $101.52.
After looking at this, I plan to hold my XOM position, but will be selling covered calls at 95, probably the July expiration, I should be able to get about $3 for them.
Disclosure: The author is long XOM.