Deere (NYSE:DE) beat on EPS and Revenue, but guided Fiscal 2015 down from $1,900 million to $1,800 million. It works out to 33 cents a share. So the stock is down $6.61 as I type this.
When last I looked at Deere, I developed the following opinion on valuation: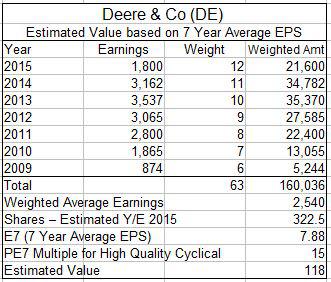 So I was using $1,800 million for 2015: that's what the company sees; there is no change from my point of view.
Part of my position consisted of a vertical call spread, long Dec 82.5 and short Dec 87.5. I rolled the lower leg down to 80.0, at a cost of $1.50.
I plan to buy Deere if it's below $87.50 in December, so rolling down has the effect of reducing my cost when I ultimately buy the shares.
Disclosure: I am/we are long DE.