Like many investors, I like reversion to the mean. It works often enough to make some money, and it's always logical. Attempting to apply this line of thinking to Oil is somewhat challenging, due to the extremes that occur with distressing regularity. Without further ado, here's a table based on $62 WTI as the mean: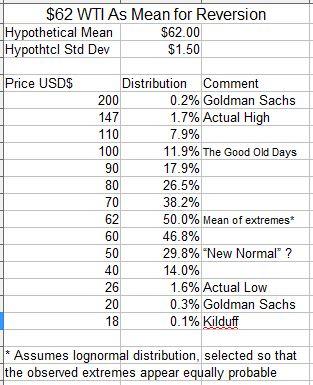 Starting with the assumption that oil prices are lognormally distributed, I selected a mean and standard deviation to fit the extremes. The $200 high, and the $18 or $20 low, are the extreme guesses put out by the pundits cited. They might as well have rung a bell, at the top or bottom, as the case might be.
Then we have $147 and $26, as the daily high and low for the period going back to 2008 before the crisis erupted.
A lognormal distribution is suitable for examining a phenomenon that can't go below zero.
The point is, according to this line of thinking, the mean to which oil prices are to revert isn't all that high. I have a number of positions that are driven by the price of oil. I've been valuing them by means of an mx + b type linear formula, with m being a multiple to be applied to each dollar of WTI price above $50. B is a guess at the value of an option on oil at $50.
After looking at this for a while, I plan to start reducing my energy investments if and when WTI hits $62. Probably I would be out of them entirely at $80.
Disclosure: I am/we are long OXY, CRR, CRC, CVEO.