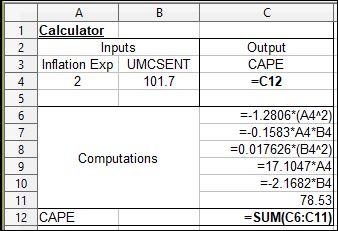 The formula is complex, and I broke it down into pieces to make it easier to get it into the spreadsheet accurately. 
The formula was developed by applying a multiple polynomial regression to a table including quarterly data on the variables in question. While I prefer to use linear relationships, because they are more intuitive and easier to work with, in this case I used the polynomial approach, after verifying the shape of the curves makes sense. 
Holding Consumer Sentiment steady, and varying Inflation Expectations, the curves look like this: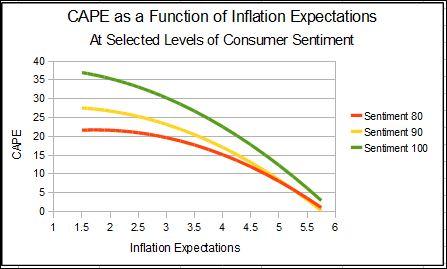 This is pretty much what you would expect: CAPE declines more steeply as Inflation Expectations increase. With Sentiment at current levels, the green line is relevant. 
Holding Inflation Expectations steady, and varying Consumer Sentiment, this is what you get.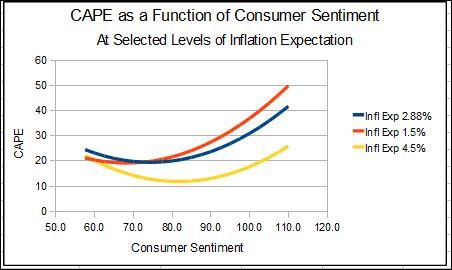 The shape of the curves suggests a paradox around low Consumer Sentiment. While I would have expected the lines to slope upward consistently, rather than arcing down before rising, I've seen similar situations around 10 year Treasury rates and CAPE. 
My point is, Trump inherited a wonderful situation from Obama, and as recovery has born fruit, markets have exploded higher, with further still to go. Trump is authoritarian, belligerent and insensitive. His handling of international relations and tariffs is not fully thought out, to say the least. This data demonstrates the possibility of S&P 500 at 3,300 within two years. It's really about whether Trump will throw a monkey wrench into the works and create a recession or depression where none had to be.