We wanted to allow our followers a unique look into what our monthly newsletters look like.
Our annual rate will be increasing on our one-year anniversary of launching the service. On April 1, we will increase the cost t but all current members and those that sign up before that date, will be grandfathered in for the life of their membership.
We offer a free two-week trial for members to test drive the service. For those who have never signed-up for a marketplace offering, they have a no-hassle, money-back guarantee whereby if you cancel within the two-week period, you credit card is not charged.
-----------------------------------
December Newsletter:
***This was sent to members of the Yield Hunting! on December 1, 2016***
Dear Members:
This is the sixth installment of our monthly newsletter since the launch of Yield Hunting back in April. There has been a significant number of events that have occurred in the last 30 days that bears addressing. As we approach 2017, the risks to portfolios remain high and despite a large bounce in stocks with bonds selling off, we still think the risk-return trade-off favors the latter.
In this issue, we will spend more time on portfolio construction than we have in the past and what we see the service offering going forward. Where we focus on enhancements will be in large part based on the feedback our subscribers provide so please, if you want to see something changed, want more of something we are doing, or if items are not useful, comment below.
Other housekeeping items include a proposed price increase next year. Obviously current subscribers will be grandfathered in at the current price. We also plan on implementing a customer loyalty program where we discount the subscription after one-year of membership. This is something we are working with Seeking Alpha on and we will keep you posted on the progress.
Portfolio Construction
Instead of starting with the core portfolio as we typically do, we wanted to go over portfolio construction and how we utilize the service for current high-net worth clients. Each client is different, as is each subscriber to this service. And by different that could mean distinctive for the following variables:
Risk Tolerance- clearly this is the largest difference between investors.
Income needs- if you are in distribution mode meaning you are taking a monthly withdrawal from your portfolio for spending needs, income plays a key role.
Tax implications- many clients/subscribers are still working or living off large portfolios that can affect the amount of tax burden they realize.
When constructing portfolios, we advocate a core-satellite approach that is based on the above variables. The core portfolio obviously is the main foundation of the portfolio but that is just the beginning of the process. Our goal is to create a low-maintenance core portfolio which, once established, has very little trading day-to-day or even week-to-week.
The core-satellite approach is widely used among institutional investors in an effort to maintain market exposure but gain alpha through diversification benefits. It is the customization within the satellites that the individual investor needs to assess the variables and make a determination of what fits their style and objectives.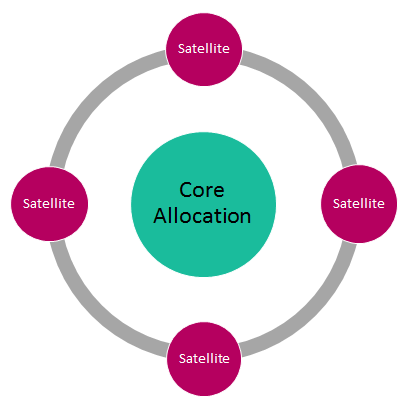 For example, if you are a highly risk-averse investor who does not want to take much principal risk, and is in the 33% tax bracket, than they would use the core portfolio as is, with a small amount of muni exposure. They would then likely utilize mostly the short-duration portfolio as their main satellite with maybe a few of the ideas within the 'alternative income' section or activist-driven plays. However, they are unlikely to venture into the pure equity plays nor the high-dividend portfolio.
Conversely, a risk-tolerant investor with a large IRA and little outside income would use the IRA Core portfolio (second tab of the sheet) while adding in several alternative income ideas, equity ideas, and the high dividend portfolio.
Steps for portfolio construction:
Ascertain the variables mentioned above
Pick the appropriate core portfolio (Core, IRA, Muni) which is mainly dependent on your marginal tax rate.
Add in the appropriate satellites.
The overall allocation will vary by investor but we typically have clients allocate 40%-70% in the appropriate core portfolio which leaves 30%-60% for the satellites and other risk-management tools for the portfolio.
The Core Model
The core portfolio continues to significantly outperform the S&P 500 and the Barclay's Global Agg with significantly less risk than the former. On a year-to-date basis, the portfolio is up 13.81% when including cash balances held throughout the year, and is up nearly 15.3% when you operate on a fully-invested basis. Performance is down 60 bps on the month. However given the large dislocation and disruption in the bond market since the election, we are comfortable with this.
The best performers by unrealized and realized gains are:
PIMCO Dynamic and Credit (PCI)- $9,582
Pacholder High Yield (NYSEMKT:PHF)- $7,091
Nuveen Credit Strategies (NYSE:JQC)- $7,039
Below is the core portfolio: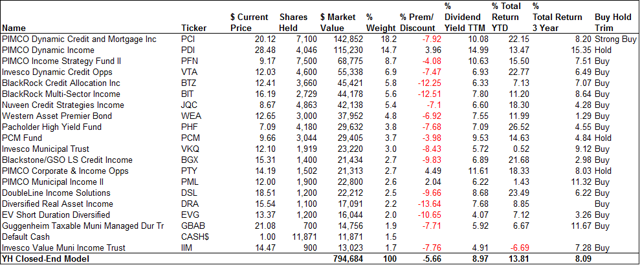 The discount widened to 5.66% on a weighted average basis, from 4.95% last month and accounted for all of the decline in the portfolio during the month.
During the month of November, the iShares Treasury Bond 20+ (NYSEARCA:TLT) was down 8.80% on the month with the shorter-duration ETF iShares 7-10 Year Treasury (NYSEARCA:IEF) down 4.32%. The main bond index, the Barclay's US Aggregate (NYSEARCA:AGG) was down 2.80%. Also, the iShares Municipal ETF (NYSEARCA:MUB) was down 4.21% in November while the iShares MBS ETF (NYSEARCA:MBB). Other indexes like the Preferred Stock ETF (NYSEARCA:PFF) was down 3.80% with the LQD down 3.6%.
In that context, the core portfolio losing 60 bps is a substantial outperformance for the month especially when you consider the negative sentiment experienced on pricing and that these are levered widgets.
Despite all the craziness in the bond market, the PIMCO NAVs have held up quite well with most either flat, or up during the month despite the jump in rates. We consider any large down days as buying opportunities to fill out your position buckets in these funds. We are still not finding very many compelling opportunities that even remotely compare to the quality of these funds.
PCI, PDI, and PKO, all non-agency MBS focused funds, continue to benefit from being strategically positioned to benefit from the rebound in these formally busted MBS securities that are being rehabbed due to the rebound in the housing market since the last recession. This opportunity will not last forever and there are already signs that it is starting to peter out. Still, we estimate that there is at least another 3-5 years of strong returns given the decreased prepayments from higher mortgage rates in the last three months (if they hold).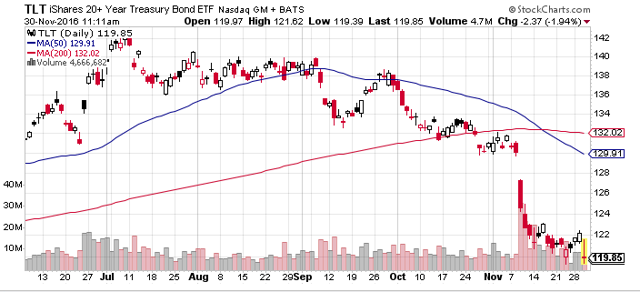 IRA Model
The IRA model is up a strong 16.5% YTD and continues to outperform the core and muni models simply due to the fact that it is 100% invested and holds no municipals. Despite all the upheaval in the bond markets and closed-end funds generally, the discount of the model was identical to November 1 at 6.23%.
We continue to advocate high quality PIMCO funds, high-quality corporates, floating-rate, and short-duration. The lowest quality funds in the portfolio remain BIT, DSL, and PHF which have large slugs of non-investment grade and emerging market debt.

Municipal Model
The muni CEF space continues to suffer from NAV declines as the dynamics in the municipal sector weigh on prices. Several variables came together to form a perfect storm of negative sentiment and selling pressure. The first was the impending rate hike that became a high probability for the December meeting in September. That caused some selling pressure in the bond market. The second factor plays off the first with issuers rushing to get their bonds to the market ahead of that rate hike. The supply-demand imbalances became significant with a large amount of supply and waning demand. The last was the election of Donald Trump and the prospect of greater supply (from his infrastructure spending plan) and tax reform. Again, you have supply-demand imbalances that would materialize from a $1 trillion investment in infrastructure funded primarily from municipal bonds. Tax reform, with his 33% top rate, down from 43.4%, would mean a massive adjustment to tax-equivalent yields and significant selling pressure on the space.
Up until last week, muni bond yields had risen for 12 straight trading days spiking to over 2.4%, the highest since July 2015. The 20-Bond GO Index has risen over 3.80% compared to 2.84% at the end of August. The more popular Bloomberg Muni Bond 10yr Benchmark now yields 2.45%, up massively since the start of the month when it stood at 1.71%.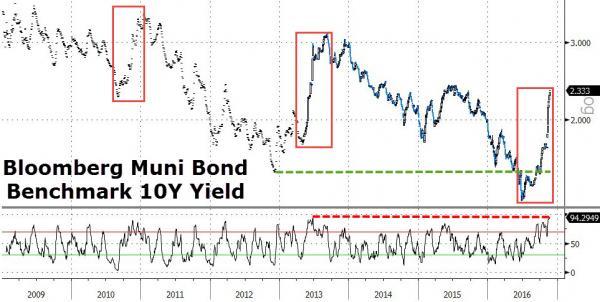 The jump in yields was driven by the massive amount of outflows as the market reacted to the election and the surprising new narrative: the reflationary trade. Last week, investors pulled over $3 billion from munis as they ran for the exits on the prospects of higher rates and being locked into long duration assets.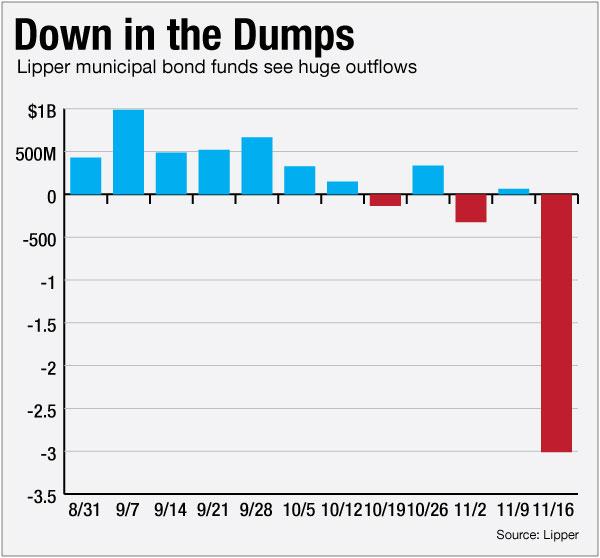 For some commentary, this comes from a Raymond James analyst Douglas Drabik:
It took 327 days for interest rates across the curve to finally tick higher than where they were at the beginning of the year. That's right, even with the market euphoria experienced from the announcement of a Trump win, last week marks the calendar date where interest rates on the entire curve finally headed in the direction that nearly every expert or surveyed economist was "certain" would be occurring all year long. It took an unexpected change in political platform to move the needle. I can just hear the undeserving claims of "I told you so".

So what can we expect? The interest rate move may seem "premature" since the inauguration doesn't occur for weeks, but it is a very market logical reaction. Trump supposes to cut corporate taxes, which could mean higher earnings for corporations, improved P/E ratios and all-in-all good news for the stock market. Infrastructure spending will add to the nation's debt, not-so-good news for the bond market and heightening the risk of higher interest rates. Perhaps some offset will occur with the pullback in entitlements. The net reasonable anticipation is that an increase in the budget deficit through increased spending and decreased revenues (taxes) will push rates up. As dramatic as it can be painted, rates have just first reached beginning of the year levels, hardly melodramatic market results compared to the annual rate forecasts of rates up and multiple Fed hikes.

The markets have now surpassed the 35th year of general flat to lower interest rates. It is no wonder that economists have that "this is the year" attitude toward rates rising; however, even a broken watch has been more accurate. Still, the "out-of-gate" reaction to a change in Washington bares some teeth. It seems like a certainty that the Fed will use this moment as onus to hike short-term rates. How apropos that we may actually see a rate reversal in the year that the Cubs 108 year draught was broken.

A change in fiscal policy, which many experts hoped for, is upon us. Monetary policy alone clearly was not enough either here or overseas. Political timing and market timing are not always in sync. Stimulus packages take years to filter into results yet tax cuts instantaneously reduce revenue. It may take an extended period before things unfold but with a political party control of the presidency and Congress along with the anticipated fiscal platform, it may finally be time to plan for a general interest rate reversal; however, global interest rate disparity, demographics, dollar strength, and timing of changes all stand to mute any over-the-top rate run.
Most Recent Weekly Bottom Line from Baird:
• Treasury yields rise for the third consecutive week after the election but the move was much calmer than the previous weeks' momentum move higher.
• Municipal yields also continued to rise at a faster rate than Treasury yields resulting in the highest 10-yr AAA GO Ratio in over a year.
• Municipal funds have a second consecutive week of large net outflows.
• Moody's highlights the relative credit advantage of children's hospitals over adult hospitals. .
• Puerto Rico: S&P Puerto Rico Total Return Index was -0.2% last week; 14.7% YTD.
The muni model is largely unchanged:

The discount of the portfolio, the positions in which are largely unchanged from the previous month, tightened by 125 bps. This may be surprising to many people given how poorly muni CEFs have performed in the last 30 days. In fact, the total return has given up ALL of its gains year-to-date while the ttm yield has risen just 5 bps.
The bottom is likely nearing for these as they digest the large amount of supply- which probably had a pull-forward effect on what would have been new issuance over the next six months- and the anticipation of tax-reform. We still think individual tax reform is the least likely and most contentious item that the President-elect has discussed with corporate tax reform and infrastructure spending both more likely.
Tax-loss harvesting is also coming to an end as the last week of November through the first week of December tends to be when that slows materially. With the FOMC meeting on the 14th, and the incoming administration, we could see a repeat of 2015 with long-yields falling following the bump in the Fed Funds rate. However, we are still significantly underweight munis and do not plan to add to positions for at least another couple of weeks until we see stabilization of the NAVs and flows. That would indicate that the new supply has been digested and the panic selling over.
Satellite Models
New this month is the shift of the non-core portfolios towards satellite models. The alternative income and equity ideas are a hodgepodge of holdings that we either hold for clients or recommend others hold. They tend to be a starting post for subscribers to add to their respective portfolios to add alpha, income, capital gains, or all three.
Looking at the alternative income ideas, the yields range from 6% to over 13% depending on the security. The disparate securities include CEFs, baby bonds, BDCs, preferred stock, and equities with high yields.
From the new Google sheets link:

For these ideas, we have added a risk column which is a subjective 1-5 scale rating for the amount of risk on a standalone basis the security contains. One is a relatively safe idea while a five would be much more volatile.
We think the activist-driven plays are a relatively safe and strong source of alpha. This list is likely to expand given this is our core competency and an area we've realized significant outperformance in sectors where we are exposed to risk already. In other words, if we wanted global equity exposure, why not add the Swiss Helvetia Fund (NYSE:SWZ) which has a significant chance of the double-digit discount closing in the next year adding to your total return.
The stock ideas satellite has performed quite well outside of most of the shorts and just a couple of the longs. United Rentals, New Flyer, Boot, LPL, Carlisle Companies, and Evolent Health have all performed spectacularly.
With the upheaval in the yield-play equity space, especially lower-yielding REITs, consumer staples, and energy, we think we could be adding several new ideas over the next few weeks and months. Equities, in general, continue to look unfavorable to us and we think the risk-return outlook is squarely in the core portfolio with levered fixed-income.
Risk Management
Managing risk has been the most frustrating aspects of asset management in the last six months. For some clients, we buy SPY put options in order to hedge risk in the portfolio. However, when equities rise just as their closed-end fund bond positions fall, it doesn't amount to much of a hedge. In other accounts, we were able to short the 'ZB' which are the 30-year treasury bond futures. Retail investors are able to do this, as far as we know, only through Interactive Brokers. For these clients, they were able to benefit from the strong sell-off in the long-bond.
There are ETFs that are 'inverse' treasury bonds and benefit from higher interest rates. These can act as a nice hedge to closed-end fixed-income funds which tend to sell-off from waning sentiment while also getting hit from NAV declines during quickly rising interest rates. The best option in the group is the iShares Short 20+ Year Treasury ETF (NYSEARCA:TBF). It is the largest and most liquid and tends to have less 'decay' than the others.
Going long the VIX through ETFs has also not worked recently but we continue to use the strategy, especially when the VIX is below 13 and under-pricing risk (in our opinion) as the market appears to be doing today.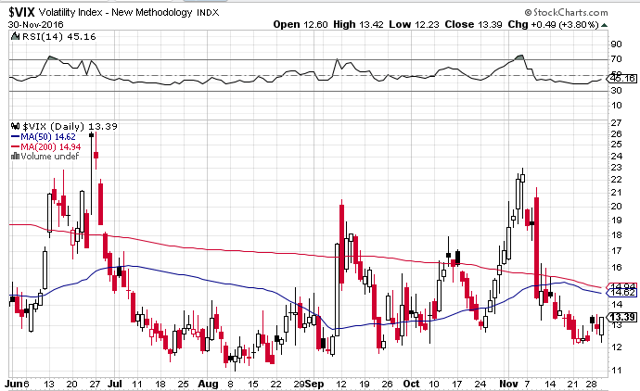 Roughly half of our portfolios use at least a partial hedge as the client has indicated that they dislike principal loss even when they are not in a position where they have to sell any of the underlying to meet their income needs.
Large Cash Balances And Those Just Starting
Our most common question is 'what are the funds you would buy today?' We have included a ranking of the top buys in both taxables and non-taxables. The buying should be done in small increments on down days while monitoring ex-dividend dates.
This is the most seasonally weak time of year for the closed-end fund marketplace given tax-loss harvesting and other factors. Last month we advised being patient deploying capital, which we would still reiterate today, however, we think that on the taxable side you can be more opportunistic adding to portfolios. We have been much more aggressive lately in adding to accounts, especially in the middle of the month when there was widespread panic selling.
Buying during panic selling sessions can be very difficult to do with the investor often saying, "I'll wait until the selling is over." Waiting for that to happen likely means you're going to miss that opportunity, especially when the market is offering up fat pitches. One of those fat pitches was PIMCO Dynamic Income (NYSE:PDI) which had traded at nearly a 5% premium entering November. By the tenth, the premium was largely gone and just a few days later, a 4% discount had emerged. In less than 10 trading days, one of the best bond funds in the world went from a 5% premium to a 4% discount, a 9% variance. When that happens, we back up the proverbial truck.
Here is our current buy list ranked by opportunity and separated by taxable and tax-free cohorts. The way to read the following list is to accumulate number 1 (NYSE:PCI) quickly while being highly opportunistic and waiting for a sell-off for the last ranked fund.
Taxable
PIMCO Dynamic Credit Income and Mortgage
Blackstone/GSO L/S Credit (NYSE:BGX)
Western Premier Bond (NYSE:WEA)
Blackrock Limited Duration (NYSE:BLW)
Blackrock Multi-Sector (NYSE:BIT)
PIMCO Income Strategy II (NYSE:PFN)
Invesco Dynamic Credit Opp (NYSE:VTA)
DoubleLine Solutions (NYSE:DSL)
Blackrock Debt Strategies (NYSE:DSU)
Blackrock Credit Allocation (NYSE:BTZ)
Nuveen Credit Strategies (NYSE:JQC)
Western Asset Corporate Loan (NYSE:TLI)
Pacholder High Yield
PIMCO Dynamic Income (NYSE:PDI)
Nuveen Diversified Real Assets (NYSE:DRA)
Guggenheim Taxable Muni (NYSE:GBAB)
Tax-Free
Market Update- Election Results and New Narrative
1. Overview
The election outcome has thrown the markets into a maelstrom with a highly unexpected result and an unexpected result to the result. Clinton was highly favored to win and in the low probability outcome of a Trump victory, every analyst had forecast a sharp market decline. Well, Trump won and the market has moved higher in strong fashion since, reaching new highs.
The market had been moving in a slightly downward channel since the summer until a couple of weeks before the election. But after the outcome of the election was known, the market moved up very sharply to new all-time highs. The media quickly labeled the market, the 'Trump Rally'.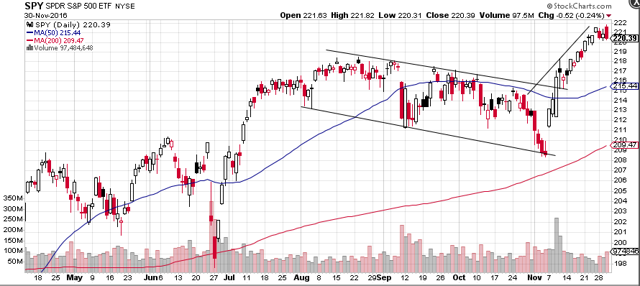 Along with that equity rally was a rotation out of bonds that helped to spike yields. We have discussed this part of the picture enough so we won't go into a ton of detail here (more below). The main point is that the media narrative quickly shifted to a 'reflation trade' with an expectation of all sort of regulatory reform, tax reform, higher spending, and better economic growth.
We, being the cynics we are, tend to be skeptical of media narratives which has helped us tremendously over the years. Whether you voted for Mr. Trump or not, it remains to be seen what actually gets done. Making campaign promises is a lot easier than getting through specific legislation, even with a compliant congress. Just ask President Obama as he had a filibuster-proof Senate for his first two years in office.
This appears to be a buy on the rumor, sell on the news sort of rally with the markets pricing in a perfect option of the pro-growth Trump policies. The implementation of those policies will be much harder than the market is pricing in today.
2. Upcoming Events
Before we move on, we do have a large number of potential risks that lie ahead on the calendar.
1) OPEC meeting Wed 11/30
2) US Nov jobs report Fri 12/2
3) Italy referendum and Austrian election both scheduled for Dec 4
4) UK Supreme Court to hear Brexit appeal Dec 5-8 (although ruling not expected until '17)
5) ECB meeting Thurs 12/8 (this is the last major scheduled macro event of the year as the ECB has important decisions to make w/regards to the APP)
6) 2017 outlooks from industrial firms (GE Wed 12/14, DHR Thurs 12/15, and HON Fri 12/16)
7) FOMC decision Wed 12/14
8) China Central Economic Work Conference (expected in Dec)
9) Deutsche Bank US RMBS settlement (investors assume the final settlement amount will be in the ~$4-5B range)
The largest perceived issue is the Italian referendum this coming Sunday. Many have labeled the election as Italy's Brexit opportunity. Some have named it the largest political event in Europe for the year, even larger than Brexit. This is not a direct vote on leaving the EU but an election to modify the way their government operates. A 'no' vote means the resignation of the Prime Minister and a new election next year.
If that were to occur, than the 5SM, the opposition party, would likely win a majority of the votes. Analysts believe that a 'no' outcome would result in another banking crisis. Italy is believed to have the weakest banks in Europe with as many as eight highly-troubled banks. It is believed that a banking crisis would then ultimately lead to Italy abandoning the euro.
All of this sounds a bit too calculated and the forecasts are coming from the same analysts who predicted a Trump victory would lead to a substantial market decline or a Brexit vote to a UK recession. Color me skeptical.
To us, the French election is a MUCH larger issue that could lay the fate of the entirety of the Eurozone. This recent poll below shows Le Pen just two-points behind Fillon.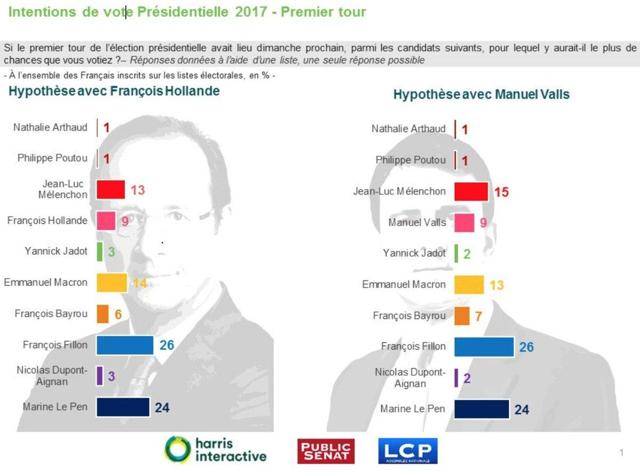 3. Media Narrative
As we noted above, the media narrative is squarely on the prospect of a highly-inflationary environment sparked by infrastructure and other fiscal spending, coupled with less regulations and tax reform. All of this is supposedly going to combine to create 4% GDP growth and cause the Fed to raise rates significantly. The media narrative caused significant panic selling of bonds and into equities. The below shows fund flows for 2016.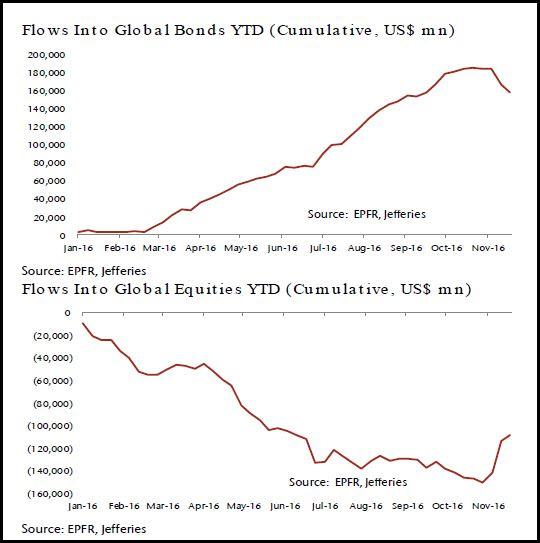 We think this is simply investors afraid to miss the boat. Nothing has happened yet and the man won't even be sworn in for another 7 weeks. Expectations of what is to happen has now become exceptionally high.
The federal budget deficit is already projected to increase significantly over the next few years from entitlement spending. A $1 trillion infrastructure while at full employment (something that has never been undertaken outside of a recession) would increase inflation dramatically. This is why we don't think it will happen, or if it does, will happen on a much smaller scale (maybe $300-$500B over ten years).
His individual tax reform plan would introduce just three brackets at 12%, 25%, and 33%. The main kicker would be the increase in the standard deduction from $12,600 to $30,000. At $30,000, how many people are likely to itemize? And if you think capital gains and income taxes will be lower next year, would you sell your stocks now or wait 50 days? A dearth of sellers is one reason we think the market has moved as it has.
The reflationary trade had started months ago as CPI and PCE, along with wage growth, began to tick slowly higher. Below is the five-year/five-year forward inflation expectation rate. You can clearly denote the spike since the start of the year and the hockey stick after the election.

Lastly, the one-sided move of this market is a clear contrarian indicator to us. It has been a number of years since we have had such a lop-sided move based purely on sentiment. The natural conclusion we would draw is that this is a clear contrarian indicator and an overly complacent market.
4. Prospects of a Recession
There are several items that are now on the table that weren't just a month ago- due primarily to the election outcome. For one, the prospects that a political Fed may hike rates in spite is a low, but real possibility. This was done in the early 80s after Reagan was elected and was literally a Fed-induced recession to combat inflation. The prospects of such an outcome are not out of the realm of possibility. The rationale then was to curb inflation which had spiraled out of control. The reasoning today could be inflation pressures or to offset 'too much fiscal stimulus', or any other host of reasons.
Fed tightening will raise funding costs for US corporations just as a large maturity wall of debt is coming due in the next few years. $4.1 trillion of debt will be due to be rolled by 2020 with a large amount of that non-investment grade. With so much debt being added since the last recession, and so little to show for it, higher rates could crush some of the marginal players. A large portion of that debt was not put to productive uses and was instead used to buy back equity and/or pay dividends.
There has been 11 recessions since 1946 when the National Income and Product Accounts (NIPA) data collection started. In all of those recessions, gross private fixed investment slowed significantly yoy and in eight of those recessions, fixed investment declined yoy. There has been only one occurrance (1987) when the metric declined yoy and a recession did not occur. The most recent figure for the third quarter showed a negative 1.06%.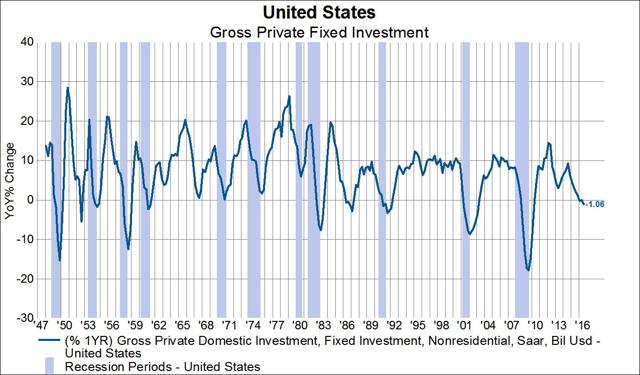 There are some issues with the data collection including the accounting for intangible assets such intellectual property. Still, even if you adjust for some of that, we think corporate fixed investment needs to pickup for these goldilocks scenarios to play out.
But by far, the largest risk remains the increase in short-term funding costs. While there is a wall of maturity looming for corporate issuers, along with higher rates from the Fed, borrowing costs today are materially higher than they were a year ago. One-month Libor has reached 61 bps, up from 15 bps a year ago, a more than 400% increase.
Tightening financial conditions are our largest worry simply due to how levered the balance sheets of most companies have become. The debt-to-EBITDA ratio of the S&P 500 companies, excluding financials, is closing in on 2.4x according to Barclay's. As we noted above, a repeat of last year when the Fed hiked is likely as companies need time to adjust to the higher costs of their debt. The below chart shows how the GS Financial Conditions Index fell as we approached and past the last Fed rate hike. We are already seeing a similar dynamic take hold.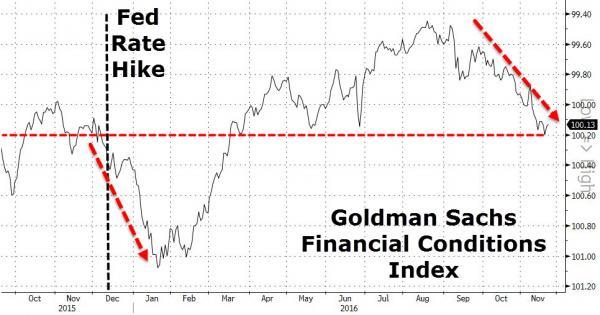 Morgan Stanley put out a note on how they believed we were late-cycle and that the jump in economic activity is reflective of that. It makes sense that the enthusiasm by investors, entrepreneurs, and corporate executives peaks at exactly the wrong time. It is human nature that people want to get in when the game is likely close to being over. The chart below is from that report.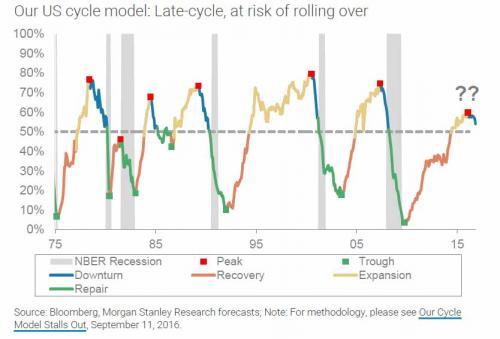 The conclusion from the report:
For now, however, here are the two most likely "fat tail" outcomes:
o Bull case: US fiscal stimulus boosts growth just as EPS growth accelerates, leading to new highs in equity markets. Animal spirits, in both corporations and investors, return in a way they haven't so far in this cycle. Higher yields turn out to be less of a drag than assumed, at least for the time being.
o Bear case: Higher growth and inflation could lead to a more hawkish central response than we expect. Corporate leverage is unusually high for this point in a cycle expansion. Risk premiums, while not extreme, are hardly 'cheap' across asset classes.
What does this mean for various asset recommendations:
o Overall: We reduce credit from OW to EW, upgrade equities to a modest OW (+3%) and add to cash (from +1% to +3%). We maintain a modest UW in government bonds. Given our view of 'sparkle and fade', we'd aim to keep exposure through liquid instruments, where possible.
o Equities: Reasonable long-run risk premiums (ex-US), a late-cycle market and high 12m return forecasts lead us to raise equities to a modest OW. But our regional views change. We lower US and EM, given weaker 'cycle' scores and a strong USD hitting 12m forecasts. Japan becomes our top market, with attractive long-run valuations, some cyclical strength, and good N12M EPS growth.
o Credit: Average risk premiums, higher odds of boom and bust and poor 12m return forecasts lead us to lower credit to EW. We forecast corporate spreads to widen, and prefer both securitized products and EM sovereign debt. In corporates, we prefer investment grade over high yield, Europe over US, and financials over non-financials.
o Rates: Still-low risk premiums, a late-cycle market and poor 12m returns are all consistent with a modest UW for government bonds, in our view. We see US 10yr yields rising to 2.50% by 4Q17, while 10yr Bunds rise to 0.90% as the ECB discusses tapering in 2H17. We think the US curve flattens vs. forwards on a 12-month view, while the DBR curve steepens.
o Cash: We raise our cash weight modestly, seeing this as prudent, given expectations that the next three months might require an outsized level of nimbleness.
o FX: We see the last leg of a USD bull market. USD/JPY goes higher (to 125 by 4Q17), while KRW and CNH also weaken. High carry offsets modest depreciation in BRL, RUB and INR.
o Volatility: We see a shift toward higher volatility. We switch from being sellers to buyers of credit volatility, and continue to like owning rate volatility, where we focus on EUR 10yr rates. We think calls are a good way to own the S&P 500, given low vol, a steep skew and a wider range between our bull and bear case forecasts.
The Bottom Line
We remain slightly more bullish on the market given the election outcome and prospect mainly from corporate tax reform. However, we think that the enthusiasm and reaction has been overdone. We are also worried about the liquidity of the market and corporate balance sheet health.
Still, our recommendation and what we are doing for our clients has largely unchanged. We are using the core portfolio and are extremely happy with the performance in November in the face of such an interest rate tantrum like we saw in 2013. In our analysis, the core portfolio is working as it should with high income generation, and defensiveness. As we tout, we think this is a fairly low maintenance portfolio that once at target weights requires at most, weekly monitoring.
Reading
This is our current portfolio and monthly newsletter. Please do not hesitate to contact us if you have any questions.
Thank you.
Best,
Alpha Gen Capital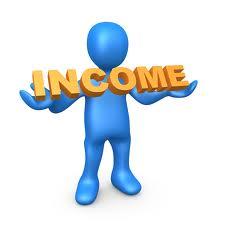 Disclosure: I am/we are long CORE PORTFOLIO AND OTHER TICKERS.
Additional disclosure: The commentary does not constitute individualized investment advice. The opinions offered herein are not personalized recommendations to buy, sell or hold securities. As I have no knowledge of individual investor circumstances, goals, and/or portfolio concentration or diversification, readers are expected to complete their own due diligence before purchasing any stocks mentioned.

The strategies discussed are strictly for illustrative and educational purposes and should not be construed as a recommendation to purchase or sell, or an offer to sell or a solicitation of an offer to buy any security. There is no guarantee that any strategies discussed will be effective. The information provided is not intended to be a complete analysis of every material fact respecting any strategy. The examples presented do not take into consideration commissions, tax implications or other transactions costs, which may significantly affect the economic consequences of a given strategy.

This material represents an assessment of the market environment at a specific time and is not intended to be a forecast of future events or a guarantee of future results. This information should not be relied upon by the reader as research or investment advice regarding the funds or any security in particular.