A new executive order by President Trump seeks to change the way we take Required Minimum Distributions, or RMDs. He has requested the Department of Labor look at two items over the next six months:
Increasing or removing altogether the age required for RMDs
Allowing smaller businesses to join together to offer retirement plans
Increasing/ Removing the Age Requirement
As it stands, RMDs are required from most retirement accounts at age 70 1/2. The amount they must take out annually is based on life expectancy tables issued by the IRS. The purpose of reviewing the rules would be to update those tables and allow account holders to take RMDs later in their lives. (Remember: Roth IRAs do not come with mandated distributions until after the death of the owner).
As retirees are living longer, they are outliving their nest eggs. The thought is that by extending the age in which RMDs are required, they will delay taking withdrawals thereby extending the duration their funds last as well as avoid a jump in tax liability by continuing to defer.
Lower Costs with Multiple Employer Plans
The goal here is for small businesses to team up, so to speak to achieve economies of scale and share the costs associated with setup and maintenance of these plans. Currently, only companies in related fields can join forces. This would allow Multiple Employer Plans, or MEPs that spread those costs among many smaller firms making a plan more likely to be offered to their employees. This is similar to PEO plans for medical insurance that allow smaller companies to join together and negotiate lower medical insurance premiums.
Currently, it is costly for small businesses to offer retirement plans and according to Pew Research, 37% say its too costly for them to set up retirement plans and another 22% say too costly and burdensome to maintain. Another point is that employers with more than 500 employees are more likely to offer retirement plans than are employers with fewer than 100 employees. This order seeks to level that playing field.
Conclusion
While the order does not immediately affect workplace retirement plans, the order provides valuable insight on the administration's workplace retirement policy.
However, even if the executive order pans out, it could take years for the rules to change. It also isn't clear whether a simple rule change can be done without congressional approval. And speaking of congress, they have their own plan for retirement and tax changes- currently developing a broader measure to ease rules on retirement plans among other items.
Either way, if you have an IRA or 401k that you don't need to tap into right away, these changes could make a huge difference in your financial plan for retirement. For many, it would mean having a lower tax bill as well as more security than ever. Only time will tell if these changes will come to pass and in what capacity the final changes will look like.
Yield Hunting
As a TOP 5 Contributor on Seeking Alpha, we use a proprietary model to evaluate a large portfolio of CEF and alternative investments including but not limited to REITs, Muni's, Preferreds, Baby Bonds, mutual funds, and High Dividend Equities to weed out the best investment options for you.
Our Investment Philosophy
Core Portfolio- Our investment philosophy aims to have a Core Portfolio that generates income and gives us a 8%+ total return. We have achieved a return about 350 bps in excess of that over the last four years. We think the risk-return is more favorable on the fixed income side than on the equity, especially after the volatility of recent weeks. Our risk profile is up to 1/3 the risk of the S&P 500!
Peripheral Portfolio- This is aimed at diversifying the Core Portfolio by investing in equity REITs, preferred stocks, exchange traded baby bonds, and other structures including high dividend paying stocks. While our service is aimed primarily at late stage career and retired investors, the strategy can also be used to lower risk by augmenting traditional equity investing via open-end mutual funds or ETFs.
For a free trial, please Click HERE
For the most in-depth, superior analysis on closed-end funds, we recommend giving our marketplace service a try.  We are currently running a limited time only free trial for our Yield Hunting service with a no-commitment, risk-free look.
Here are our most recent reviews:

"You will not regret signing up for this service."
MAX- • Sep. 21, 2018 1:01 PM
This a DWI service for income investors, which after a little study can really help . It is laid out in a concise easy to understand format. If you are willing to put a little time and effort in you will be rewarded. I am a retired individual who was. looking for income but without very high risk.....
"Best Paid Investing Advice!"
EdCh • Sep. 09, 2018 6:01 PM
This is by far the best paid investing advice I have found anywhere, not just on Seeking Alpha. Plus the community postings are extremely valuable. So worth the money!
Click Here To See All 79 Reviews
A Subscription Receives:
Investment Models- Using Google Sheets, our models update in real time all the information you need with clear indicators for when to buy, sell, or hold.

The Core Portfolio- Holds 16 high yielding Closed-End Funds with a 8%+ yield and a portfolio beta much less risky than the S&P 500.
Our Peripheral Portfolio - A collection of CEF investments across sectors such as Equities, REITs, MLPs, Technology, International, and Fixed Income, as well as a large selection of Open Ended Funds.
The Muni Portfolio - Our comprehensive list of Muni's.
We also include Low Maintenance Portfolios for those that need a little bit of extra hand holding...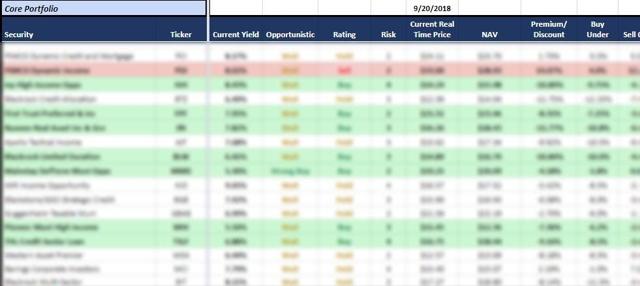 Monthly Newsletters- Details the current investing environment, global news that can affect your portfolio, portfolio construction techniques and advice, and a review of the performance of our model portfolios.
Weekly Updates- Goes through the events of the week and things to watch for in the upcoming week. This also includes performance for our holdings, changes in the portfolio, new opportunities for investing, and the effects the current market situation will have on them.
Fund Analysis- Spotlight focus on investments we find particularly interesting with analysis from industry experts on opportunities we see in the CEF, REIT, Muni, and High Dividend Equity space.
24/7 Access- Via our chat during market with our vibrant community of like-minded investors or privately one-on-one with Yield Hunting directly, you always have someone to answer your questions!
Our Portfolio Tracker- This is our proprietary Portfolio Tracker that can be used in Google Sheets for free!
Retirement- Our ongoing series dedicated to helping retirees and those approaching retirement navigate the many issues they face.
... and much more!
We believe if you give our strategy a try, you will not be disappointed.
Our new website has been launched at YieldHunting.com.