Please Note: Blog posts are not selected, edited or screened by Seeking Alpha editors.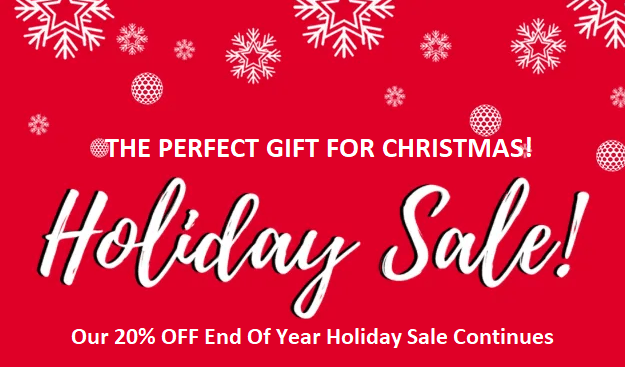 This is the note we sent to our members.  We've been sending such a note on most weekdays as a means of getting the most amount of information to members with the least amount of time necessary to consume it. 
Our goal with these is to get right to the point and answer the following questions:
What is relevant to know for today?
What happened yesterday?
What did CEF do the day before?
Which income securities that we cover look compelling or overvalued?
---
Good Morning!Futures are rebounding after yesterday's sell off. The narrative hasn't shifted all that much in the last 24 hours. Cuomo/DeBlasio's warning on Monday afternoon about another full NYC lockdown unnerved investors.The US fiscal stimulus process continues to make gradual progress as the piecemeal approach, which should result in ~$750B getting passed during the lame duck, garners more support in Washington (a deal could be struck by the end of this week and get included in the 12/18 budget bill).Despite the general market weakness, discounts for the most part tightened outside of munis. NAV returns were also mostly positive outside of real estate and utilities.In individual preferreds, we have three more calls. Public Storage 5.4% Series B (PSA-B), US Bancorp 5.15% Series H (USB-O), and HSBC Holdings 6.2% Series A ADR (HSBC-A). In baby bonds, MVC Capital 6.25% Notes (MVCD) are being called.RFI issued a special year end distribution of $0.04.NHS announced the final results of their tender offer. 73.3% of your shares will be lifted at $12.03. Shares widened back out yesterday to -6.5% from -3.9% two days ago.IHTA reached a premium yesterday after two large up days and heavy volume. I'm guessing it got recommended somewhere. As I noted on the chat, the first tranche of my sell orders hit at $9.05. I'll sell more around $9.11 or so. Just note that this is only because I'm a bit overweight this fund. For those that are buy-and-hold, I would just hold pat. The NAV is heading towards its target $9.83.You could rotate to IHIT which liquidates a year sooner and trades at a -4.2% discount. Its also more liquid.Other terms look very compelling here. For cash substitution, JHB continues to be a deal. It liquidates next November and is currently sitting at a -3.5% discount. Plus you get ~3% yield. No leverage left in the fund and a large cash holding. Fairly low risk.In emerging markets, JEMD looks good here with a 2.7% tailwind yield in a compelling sector.I'm also watching JCO, a 2022 high yield fund. At a -2.2% discount, its ok but not great. I'll keep watching it but it's a good fund as well.In munis, IIM flipped to a buy yesterday. Trades at a -7.3% discount and yield 4.78% tax-free.But the larger deals are in the state specifics or high yield. OIA and MAV in the low IG (low investment grade) section. NKG, NMY, and MUJ in the single state are attractive here.RIV moved to a sell on the Google Sheets Core Sub Section.PPT looks like the most compelling buy here in the perpetual taxable. Lower risk fund at nearly an -8% discount.Have a great day!
Yield Hunting Premium Subscription
START YOUR FREE TWO WEEK TRIAL NOW
Our strategy, simply put, is to create a portfolio of fixed income closed-end funds and alternative asset classes (such as REITs, Preferred Stock, and Baby Bonds) to create a risk managed approach to retirement income.
This approach can either be a standalone strategy (i.e- for most or all of your portfolio) or as a replacement for the failed 'fixed income' portion of your equity/ bond mix.
Either way, the goal is to create a safe income stream that meets as much of your monthly retirement expense needs as possible- thereby leaving the principle (as well as any equity positions) alone to grow unmolested. If selling is not necessary, we have effectively removed any or all sequence of returns risk from the portfolio.
We urge you to not miss this opportunity to take advantage of this really great offer. You really have nothing to lose with the 2-week free trial which locks you in at the lower rate.
This is a unique opportunity to create a fixed income closed end fund portfolio utilizing extremely rare discounts and high yielding securities. Yield Hunting can be utilized in various ways- to be the 'bond side' of your 60/40 diversified portfolio, your paycheck replacement strategy for retirement, or as a way to de-risk away from lofty equities and risky dividend stocks.
Our service utilizes Closed-End Funds, ETFs, Muni's, REITs, and Preferred Stocks to decrease risk, while still achieving a 9+% yielding portfolio.
Click here:

Here are some reviews: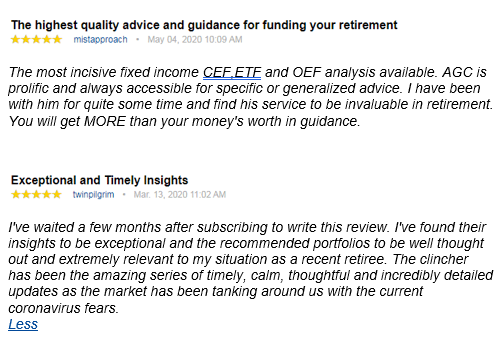 Invest alongside a real portfolio manager and financial advisor with over 25 years experience managing assets- along with his dynamic team. Yield Hunting's easy-to-follow low-maintenance models are aimed to generate a high single-digit yield for retirement income planning or fixed income allocations.
With a subscription to Yield Hunting, you get access to:
Our Three Portfolios that help create a safer and consistent 9% income stream:
Core Income Portfolio This is our main model. It has about a dozen securities (almost all CEFs) with almost no equity exposure. The risk profile by NAV is less than half that of the S&P 500. It is a bit more passive than most portfolios, with only a handful of trades a month- making it very easy to follow even for the novice investor.Current yield 8.53%. 2019 return 19.56%
Flexible Income Portfolio: This is our active trading portfolio. It is designed for more aggressive investors looking to maximize capital gains along with yield- looking for funds that have a high probability of mean reversion (extremely large discounts that have a good chance of closing in the short term). Current yield of 7.46% (some tax-free muni income). 2019 return of 23.14%.
Taxable Income Portfolio: This portfolio takes a more tax-advantaged approach, attempting to maximize after tax gains by utilizing funds that keep an eye on tax liability.Current yield of 4.96% (mostly tax-free). Since inception (November 1, 2019) return of 2.96%.
Peripheral Portfolio Database: This is aimed at diversifying the Core Portfolio by investing in equity CEFs and REITs, preferred stocks, exchange-traded baby bonds, ETFs, Mutual Funds, and other securities. It is less a full portfolio than a list of researched funds that we recommend for those that want to expand beyond the conviction list of securities but don't have the time or inclination to do the research themselves. This includes a "Safe Bucket" section detailing the highest yielding cash-plus securties where excess cash can earn upwards of 4%. The model portfolios are designed with real time pricing detailing specific "buy, hold, sell" ratings.
Low Maintenance Models: This is for the pure, hands-off novice. In these models, you will assess your risk tolerance and can simply follow the model as you see fit within your risk profile.
Our premium service is organized in the following manner:
Monthly Newsletter - Details the current investing environment, portfolio construction techniques and advice, and a review of our model portfolios. We do offer past issues for free. Simply message us that you would like to receive a past newsletter and provide an email address to send it to.
Weekly Commentary - Goes through the events of the week and things to watch for in the upcoming week. This also includes performance for our holdings and the effects the current market situation will have on them.

Yield Hunting Review - this will take a more macro approach to the market for more long-term

Spotlight - Several write-ups each month, with specific analysis on securities we want to bring to our members attention where we see specific opportunities.

Alerts - Buy/ sell alerts on securities within the portfolio as conditions warrant
And finally....
Access - You are not on your own! We are available weekdays during market hours via chat, private message, and email for any and all questions or concerns. We also offer a complimentary cursory review of your portfolio, so you know you are not going it alone and always have a professional's ear whenever you need it.
Why Yield Hunting?
While our service is aimed primarily at late stage career and retired investors, the strategy can also be used to lower risk by augmenting traditional equity investing via open-end mutual funds or ETFs. This includes those who have spent many hours researching and selecting the equity side of their portfolio, but don't have the knowledge or time to do the same for the fixed income side. We use high quality institutional research to avoid distribution cuts, opportunity risk, and other pitfalls which can derail your strategy.
Our Team
Four For The Price Of One! Being one of the larger services means we have a larger budget. We believe we've assembled some of the best talent on Seeking Alpha analyzing closed-end funds.
Our stacked team includes:
1) Alpha Gen Capital - I am a career financial advisor (non-practicing) and investor. Not someone from another career doing this on the side. The AGC team and I use detailed analysis to provide safe and actionable insight without the fluff or risky ideas of most other letters. Our goal is to provide a relatively safer income stream with CEFs and mutual funds. Maybe more importantly, we also help investors learn about investing and how to properly construct a portfolio.
2) George Spritzer - Another career financial guru who runs a registered investment advisor with a specialization in closed-end funds for individuals. George uses the following investment strategies: 1) Opportunistic Closed-end fund investing: Buy CEFs at larger than normal discounts to NAV and sell them when the discounts narrow. 2) Exploit special situations: tender offers, fund terminations, fund activism, rights offerings etc.
3) Landlord Investor- Spent his career as a management consultant for public sector clients at a multinational consulting firm in the DC area. He has transitioned to a new career as a full time landlord. His investment portfolio is comprised of two parts -- broad-based index funds and income plays such as preferred stock, CEFs, and REITs. He also owns individual/baby bonds which he buys on margin to boost total return. Landlord is our 'individual preferred stock' expert analyst.
Analyst's Disclosure: I am/we are long ihta, nkg, iim, nhs, PPT.
Seeking Alpha's Disclosure: Past performance is no guarantee of future results. No recommendation or advice is being given as to whether any investment is suitable for a particular investor. Any views or opinions expressed above may not reflect those of Seeking Alpha as a whole. Seeking Alpha is not a licensed securities dealer, broker or US investment adviser or investment bank. Our analysts are third party authors that include both professional investors and individual investors who may not be licensed or certified by any institute or regulatory body.