Weekly CEF Market Report - January 10, 2021
Please Note: Blog posts are not selected, edited or screened by Seeking Alpha editors.

Macro Picture
As I noted in the chat this week, markets will look past the noise in Washington and they did. Equities rose for the fourth week in a row and hit new highs across the board. Investors see hopes for additional stimulus after Democrats won the two Senate seats in Georgia. Trump also conceded the election but we still have political theater ongoing with possible articles of impeachment again. If people didn't have a low approval of government of congress before....
Small caps outperformed large caps by a large margin and value against outperformed growth. So the cyclical/value rotation continues. In my equity DCA bucket, I have shut off my contribution to my large cap growth funds and have been doubling up into value. For one, my growth side is a bit larger thanks to outperformance. Secondly, I want to position for the best upside which I think is on the value side. Value socks are the best way to play a rising rate scenario.
On the econ front, the other big news was the weak non-farm payrolls report that came out Friday. The data showed 140K jobs lost in the month snapping a 7-month string of job gains. The biggest driver of that was the imposition of restrictions and colder weather curtailing dining. The hotel and restaurant sectors lost over 400K jobs in the month. The lone bright spot was the significant upward revision to the prior two months.
We also had a strong Purchasing Managers' Index ("PMI") number come out at 57.2, well above the 54.5 expectations (anything above 50 is growth, above 55 is moderate growth, and above 60 strong growth). This is a good number and implies the broader economy is doing well despite the headline payroll numbers. What we are basically seeing is the lower tier jobs- mostly hourly jobs at retail, restaurant workers, and hotel employees- get furloughed again but everything else is doing well. Definitely a K-shaped recovery.
Separate Politics From Investing- ALWAYS!
I just want to reiterate the need to separate politics from investing. It is amazing the number of inquiries I received about Wednesday's events. I've seen it for years. People fret over the candidate that they don't support winning the election. What you can see is financial paralysis where they sell everything or a large portion and go to cash.
Just remember, 99% of what the market does is completely unaffected by whomever occupies the White House. Some policy can drive markets a bit as we have seen with the stimulus packages. It can also effect interest rates to some extent.
But that is really it. Watching CNN, Fox News, or MSNBC can really affect your investing outcome. If you are the type that reacts to headlines in your portfolio, then perhaps a financial advisor is a the right course of action. For less than 1% fee, Vanguard has found that the typical advisor provides about 3% of additional value. A large portion of that comes from what they call "behavioral coaching." This is otherwise known as preventing clients from doing something radical.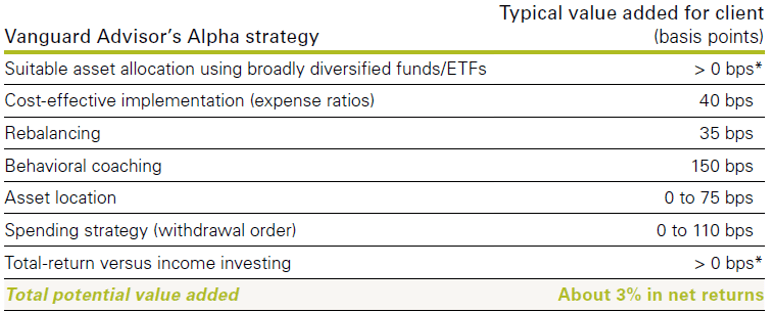 Rising Inflation Concerns
On the news, the biggest story of the week was the rise in the YS 10-yr yield to 1.09%. That is a 0.15% since Christmas Eve as markets have begun to incorporate rising inflation expectations. I posted a couple of charts on the chat about this. For one, QE-driven spikes in US deposits has been unprecedented with M1 rising more than 65% yoy. In 2008/2009, the number was about 25%. In 2010, when the first round of QE started up, it hit 30%. So we have had 2-3 years of strong money growth in the past as a good example to reflect on.
I also posted this chart which I also saw posted (a different version of it) from one of the talking heads on CNBC as a means of confirming his forecast for higher inflation. It sows PMI moving higher and the correlation with actual inflation.
I would note that PMI is unlikely to stay this high as it implies 4%+ GDP growth- something that is not sustainable. As we see in the 2009-2011 time frame, PMI was substantially above inflation and I can recall many fearing a burst of inflation then too. But what happened? PMI came down. Inflation did rise a bit briefly to 2% but then began a long trek lower for the next 4 years.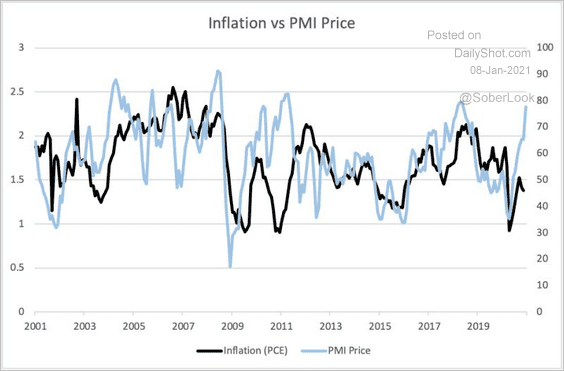 I think the same thing will occur today. I'm putting on my forecast hat which is kind of beat up and dirty because of it being unused and not worth much. But I think 2021 and 2022 will look a lot like 2017 and 2018.
In November 2016, Trump was elected with a Republican congress so his spending would go unchecked (like today but Democrat). Rates rose on the back of the higher forecasted spending and inflation expectations rose. After about a year, when GDP growth subsided a bit, those inflation expectations began to inch lower, as did interest rates.
I suspect the same will occur in 2021 and into 2022. The Democrats have a weak majority in Congress (and no majority in the Senate). The out-of-favor party tends to win midterms so if the GOP takes back even one chamber in 2022, then spending will stop (much like we saw post-2010 with the sequestration). That will slow spending, slow growth, and bring down both interest rates and inflation. My two cents which is about what its worth.
Income Investing Commentary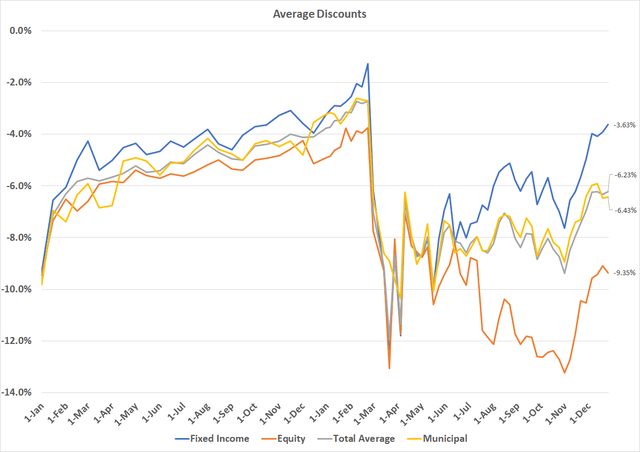 Discounts tightened up slightly across the board this week despite the added volatility in both the markets and geopolitics. It feels like the CEF market is trying to have the January Effect but that road blocks keep appearing at every corner. Still, I will reiterate, we are not far off from where we were a year ago- with taxable CEFs about 50 bps wider today.
On the week, taxables, convertibles, and taxable munis widened out while loans and preferreds tightened. On preferreds, the reason it tightened was due to prices falling faster than NAVs. The preferreds sector was down 2.4% on the week. Taxable munis were down 20 bps and investment grade, another area of concern if rates rise, were down 66 bps.
Outside of taxables, real estate was the weakest sector falling over 2% in price and 1.4% on NAV. MLPs were the strongest sector rising almost 11% on the week in price and 9.6% in NAV.
In terms of valuation change (i.e. which sectors saw discount tightening and which widening), loans rose over 1% in value on the week. Make sure you have capital here! Money flow is likely to strong and it will push up both price and NAV! Convertibles were the weakest on the bond side widening half a percent.
......
Yield Hunting Premium Members received a full list of funds in each sector- which funds we like here, and which to avoid...
Yield Hunting Premium Subscription
START YOUR FREE TWO WEEK TRIAL NOW
Our strategy, simply put, is to create a portfolio of fixed income closed-end funds and alternative asset classes (such as REITs, Preferred Stock, and Baby Bonds) to create a risk managed approach to retirement income.
This approach can either be a standalone strategy (i.e- for most or all of your portfolio) or as a replacement for the failed 'fixed income' portion of your equity/ bond mix.
Either way, the goal is to create a safe income stream that meets as much of your monthly retirement expense needs as possible- thereby leaving the principle (as well as any equity positions) alone to grow unmolested. If selling is not necessary, we have effectively removed any or all sequence of returns risk from the portfolio.
We urge you to not miss this opportunity to take advantage of this really great offer. You really have nothing to lose with the 2-week free trial which locks you in at the lower rate.
This is a unique opportunity to create a fixed income closed end fund portfolio utilizing extremely rare discounts and high yielding securities. Yield Hunting can be utilized in various ways- to be the 'bond side' of your 60/40 diversified portfolio, your paycheck replacement strategy for retirement, or as a way to de-risk away from lofty equities and risky dividend stocks.
Our service utilizes Closed-End Funds, ETFs, Muni's, REITs, and Preferred Stocks to decrease risk, while still achieving a 9+% yielding portfolio.
Click here:

Here are some reviews: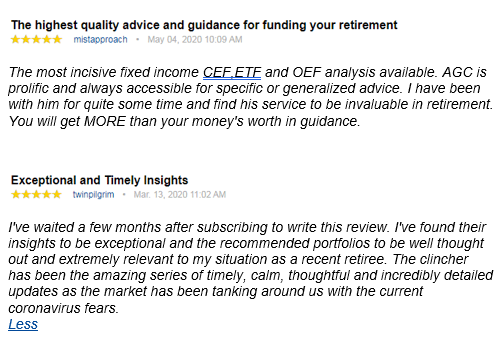 Invest alongside a real portfolio manager and financial advisor with over 25 years experience managing assets- along with his dynamic team. Yield Hunting's easy-to-follow low-maintenance models are aimed to generate a high single-digit yield for retirement income planning or fixed income allocations.
With a subscription to Yield Hunting, you get access to:
Our Three Portfolios that help create a safer and consistent 9% income stream:
Core Income Portfolio This is our main model. It has about a dozen securities (almost all CEFs) with almost no equity exposure. The risk profile by NAV is less than half that of the S&P 500. It is a bit more passive than most portfolios, with only a handful of trades a month- making it very easy to follow even for the novice investor.Current yield 8.53%. 2019 return 19.56%
Flexible Income Portfolio: This is our active trading portfolio. It is designed for more aggressive investors looking to maximize capital gains along with yield- looking for funds that have a high probability of mean reversion (extremely large discounts that have a good chance of closing in the short term). Current yield of 7.46% (some tax-free muni income). 2019 return of 23.14%.
Taxable Income Portfolio: This portfolio takes a more tax-advantaged approach, attempting to maximize after tax gains by utilizing funds that keep an eye on tax liability.Current yield of 4.96% (mostly tax-free). Since inception (November 1, 2019) return of 2.96%.
Peripheral Portfolio Database: This is aimed at diversifying the Core Portfolio by investing in equity CEFs and REITs, preferred stocks, exchange-traded baby bonds, ETFs, Mutual Funds, and other securities. It is less a full portfolio than a list of researched funds that we recommend for those that want to expand beyond the conviction list of securities but don't have the time or inclination to do the research themselves. This includes a "Safe Bucket" section detailing the highest yielding cash-plus securties where excess cash can earn upwards of 4%. The model portfolios are designed with real time pricing detailing specific "buy, hold, sell" ratings.
Low Maintenance Models: This is for the pure, hands-off novice. In these models, you will assess your risk tolerance and can simply follow the model as you see fit within your risk profile.
Our premium service is organized in the following manner:
Monthly Newsletter - Details the current investing environment, portfolio construction techniques and advice, and a review of our model portfolios. We do offer past issues for free. Simply message us that you would like to receive a past newsletter and provide an email address to send it to.
Weekly Commentary - Goes through the events of the week and things to watch for in the upcoming week. This also includes performance for our holdings and the effects the current market situation will have on them.

Yield Hunting Review - this will take a more macro approach to the market for more long-term

Spotlight - Several write-ups each month, with specific analysis on securities we want to bring to our members attention where we see specific opportunities.

Alerts - Buy/ sell alerts on securities within the portfolio as conditions warrant
And finally....
Access - You are not on your own! We are available weekdays during market hours via chat, private message, and email for any and all questions or concerns. We also offer a complimentary cursory review of your portfolio, so you know you are not going it alone and always have a professional's ear whenever you need it.
Why Yield Hunting?
While our service is aimed primarily at late stage career and retired investors, the strategy can also be used to lower risk by augmenting traditional equity investing via open-end mutual funds or ETFs. This includes those who have spent many hours researching and selecting the equity side of their portfolio, but don't have the knowledge or time to do the same for the fixed income side. We use high quality institutional research to avoid distribution cuts, opportunity risk, and other pitfalls which can derail your strategy.
Our Team
Four For The Price Of One! Being one of the larger services means we have a larger budget. We believe we've assembled some of the best talent on Seeking Alpha analyzing closed-end funds.
Our stacked team includes:
1) Alpha Gen Capital - I am a career financial advisor (non-practicing) and investor. Not someone from another career doing this on the side. The AGC team and I use detailed analysis to provide safe and actionable insight without the fluff or risky ideas of most other letters. Our goal is to provide a relatively safer income stream with CEFs and mutual funds. Maybe more importantly, we also help investors learn about investing and how to properly construct a portfolio.
2) George Spritzer - Another career financial guru who runs a registered investment advisor with a specialization in closed-end funds for individuals. George uses the following investment strategies: 1) Opportunistic Closed-end fund investing: Buy CEFs at larger than normal discounts to NAV and sell them when the discounts narrow. 2) Exploit special situations: tender offers, fund terminations, fund activism, rights offerings etc.
3) Left Banker - Is a retired individual investor. Left Banker is well known on Seeking Alpha for his analysis on closed-end funds. He is adept at analyzing rights offerings in a straight-forward manner so that investors can understand it. He has written over 320 articles- mostly on closed-end funds- and has over 11,200 followers.
4) Landlord Investor- Spent his career as a management consultant for public sector clients at a multinational consulting firm in the DC area. He has transitioned to a new career as a full time landlord. His investment portfolio is comprised of two parts -- broad-based index funds and income plays such as preferred stock, CEFs, and REITs. He also owns individual/baby bonds which he buys on margin to boost total return. Landlord is our 'individual preferred stock' expert analyst.
START YOUR FREE TWO WEEK TRIAL NOW
Seeking Alpha's Disclosure: Past performance is no guarantee of future results. No recommendation or advice is being given as to whether any investment is suitable for a particular investor. Any views or opinions expressed above may not reflect those of Seeking Alpha as a whole. Seeking Alpha is not a licensed securities dealer, broker or US investment adviser or investment bank. Our analysts are third party authors that include both professional investors and individual investors who may not be licensed or certified by any institute or regulatory body.