Practical investors usually learn their problem is finding enough outstanding investments, rather than choosing among too many. - Philip Fisher
Arista Networks Inc. (ANET) 
Arista is the most fierce competitor in the fast growing data center switching market. Their software-driven cloud networking solutions for large data center storage and computing environments have won customers such as Amazon (NASDAQ:AMZN), Facebook (NASDAQ:FB), and Microsoft (MSFT). Since their IPO date, they have quickly found success and have taken the market by storm.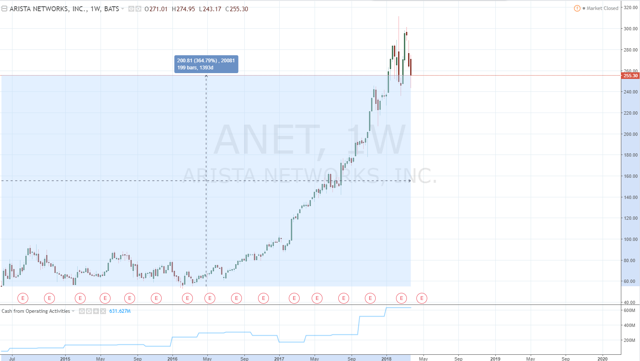 chart access from tradingview.com
Arista's award-winning platforms, ranging in Ethernet speeds from 10 to 100 gigabits per second, redefine scalability, agility and resilience. Arista has shipped more than fifteen million cloud networking ports worldwide with CloudVision and EOS, an advanced network operating system. Committed to open standards, Arista is a founding member of the 25/50GbE consortium. Arista Networks products are available worldwide directly and through partners.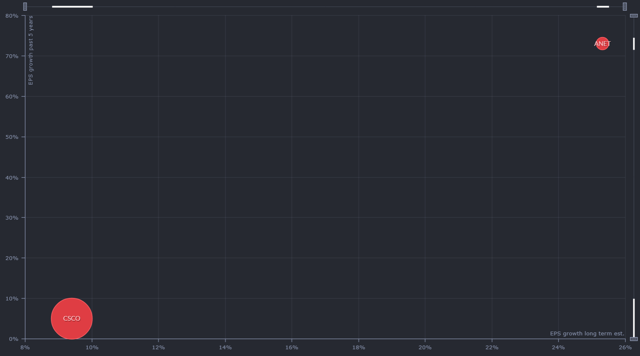 bubble chart from FINVIZ.com - Stock Screener
Cisco is a solid business, however, the chart above shows how the past and future EPS are much in favor of owning ANET over CSCO. 
On March 29, 2018 the company announced an expanded family of platforms delivering 10x performance for switching and routing.  The new generation of 25G and 100G systems add new capabilities for visibility, load balancing, network segmentation, scale and allow both Cloud and Enterprise customers to easily migrate their networks, retaining operational consistency (full press release here). These new offerings continue to come at a lower cost and better value to customers compared to Cisco and we expect Arista to continue to take share.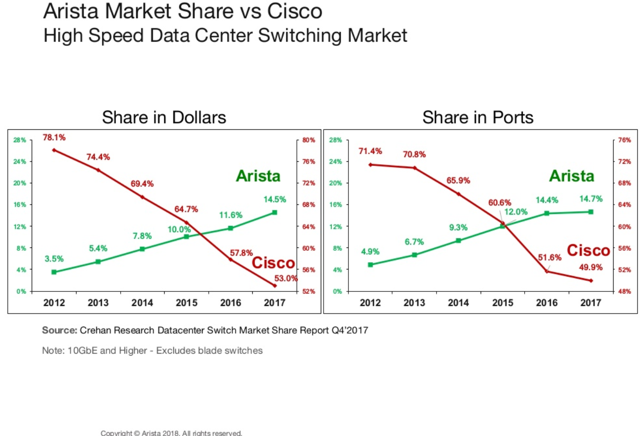 source: Investor Relations
Arista enjoys improving operating margins, return on invested capital, and strong free cash flow generation. Our target price is $350 per share implying a 37% upside!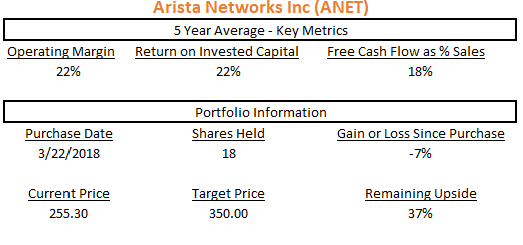 Arista is one of our top growth picks in our "Wide-Moat Profitable Growth" portfolio. 
Disclosure: I/we have no positions in any stocks mentioned, but may initiate a long position in ANET over the next 72 hours.
Additional disclosure: We recommend ANET in our "Wide Moat Profitable Growth" portfolio.