Latest News, Articles and Presentations...
Axion Power PbC Batteries Continue To Demonstrate Effectiveness For Railroad Applications -- Axion Power™ International, Inc. (OTC QB: AXPW), the developer of advanced lead­-carbon PbC® batteries and energy storage systems, announced today that it completed shipping its high-performance PbC batteries to Norfolk Southern Corp. (NYSE:NS), one of North America's leading transportation providers, for use in Norfolk Southern's first all electric locomotive - the NS-999.
Axion Power shipped the last skids that comprised this battery order to NS in late December and the batteries will be used to power the NS-999 "yard switcher" locomotive. The switcher functions in the train yard where its responsibilities include moving rail cars and assisting in disassembling and assembling various train configurations. In parallel, Axion and Norfolk Southern continue to participate in the development of an energy system for "over the road" hybrid locomotives, that will be much more powerful units that would require significantly more batteries.
The final shipment of batteries to Norfolk Southern means that approximately $475,000 in revenue, attributable to the eventual re-commissioning of the NS-999, will be recognized in Axion's results for the fourth quarter of 2012, according to Thomas Granville , Axion Power Chairman and CEO.
"As we move into 2013, we are excited about the further unveiling of our PbC battery in our ongoing program with NS. The PbC properties that make our battery the chemistry of choice for 'all electric' and 'hybrid electric' locomotives - long cycle life, excellent cold temperature performance, fast charge and discharge capability, high charge acceptance, self equalization of charge in large string and in single battery cells, and above all, demonstrated safe operation regardless of temperature - all of these battery property advantages play well in a variety of other markets. Our new initiatives going forward include heavy trucks, charging station applications, residential energy and buffering and storage for wind and solar," Granville said.

PR Newswire (http://s.tt/1yi7s)
Axion Power Residential Energy Storage HUB Certified to UL, CSA Standards -- Axion receives UL certification and CSA Standards for their Residential Energy Storage HUB.
"ePower's Series Hybrid Electric Drive - Unmatched Fuel Economy for Heavy Trucks" -- by John Petersen. Discusses the potential fuel savings for ePower's Hybrid electric drive for class 8 trucks using Axion's PbC batteries.
"Axion Power - A Battery Manufacturer Charging Forward" -- by John Petersen. This is an excellent summation on Axion Power's history. It is a good starting point for introducing Axion Power to friends and family.
13th European Lead Battery Conference, ELBC -- Sliderocket of John Petersen's presentation at the ELBC.
Dr. Ender's Dickinson's Presentation on Axion's PbC -- Link to his slideshow at the 13th ELBC.
Axion Power's 3rd Quarter Report and Press Release -- Seeking Alpha also published the transcript of the conference call here.
RoseWater Joins Queen's University on Energy Storage Study -- Testing will determine the effects of residential energy storage systems on local power grids.
---------------------------------------------------------------------------
Axion Power Weighted Moving Average Prices and Volume:
(updated thru 01/17/2013)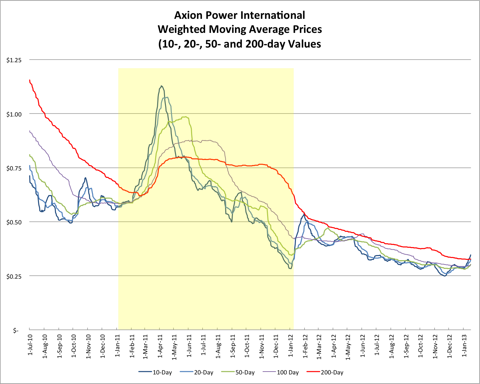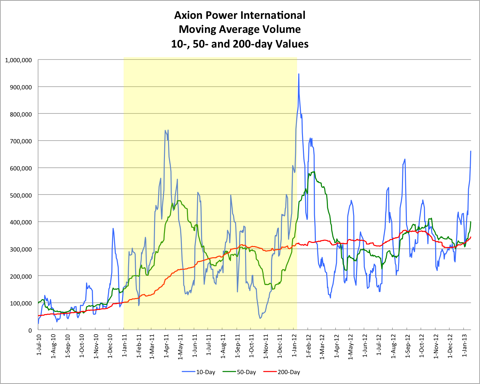 ---------------------------------------------------------------------------
Axion Power Concentrator Comments Activity: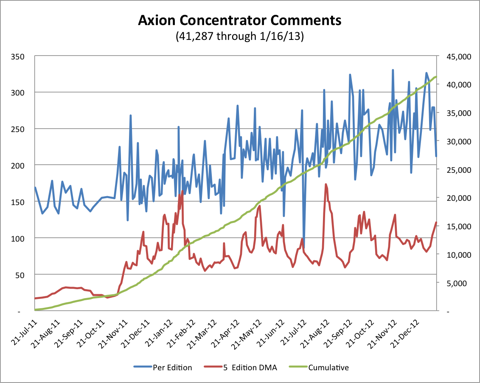 ---------------------------------------------------------------------------
Links to important Axion Power research and websites:
The Axion Power Concentrator Web Sites, created by APC commentator Bangwhiz. It is a complete easy-to-use online archive of all the information contained in the entire Axion Power Concentrator series from day one, including reports, articles, comments and posted links.
Axion Power Wikispaces Web Site, created by APC commentator WDD. It is an excellent ongoing notebook aggregation of Axion Power facts.
Axion Power Website. The first place any prospective investor should go and thoroughly explore with all SEC filings and investor presentations as well as past and present Press Releases.
Axion Power Intra-day Statistics. HTL tracks and charts AXPW's intra-day statistics.
--------------------------------------------------------------------
Be sure and either follow the Axion Power Host ID on Seeking Alpha or click the check-box labeled "track new comments on this article" just ahead of the comments section!
--------------------------------------------------------------------
WARNING: This is a troll free zone. We reserve the right to eliminate posts, or posters that are disruptive.
Enjoy!
Disclosure: I am long AXPW.