These instablogs and the people who maintain them have no relationship whatsoever to Axion Power International other than possibly being shareholders and/or interested potential investors. To our direct knowledge no person with a current relationship to Axion Power International participates or follows the activities in these instablogs.
With that out of the way ...
Be sure and either follow the Axion Power Host ID on Seeking Alpha or click the check-box labeled "track new comments on this article" just ahead of the comments section!
A gem of an article by Bangwhiz:
Selling The PbC Battery - It's Not Easy Being Green!
There are two important facts about the Axion PbC battery stockholders need to understand. First, it is not a commodity product like bananas or standard lead acid batteries. Its different. Secondly, being different engineers have to design new systems versus whatever they've done before if they are to benefit from its unique performance characteristics. That means change, and like the Eagles sang in their song Sad Cafe, "But things in this life change very slowly, if they ever change at all."
People and organizations resist change unless they are either forced by some outside pressure, or the benefits to them are so great it is sufficient motivation alone. In the case of the PbC battery two organizations, Norfolk Southern and BMW, were drawn to the PbC battery because they had a problem the PbC might solve for them. Conventional commodity lead acid batteries were not up to the demands of stop start automobiles or battery powered electric locomotives. They were embracing and seeking change.
Inventors have been waving magic beans in front of engineers eyes forever and often those magic beans lose their magic very quickly when engineers attempt to put them to practical use. Consequently, engineers are inherently skeptical of anything new until it has proven itself truly useful and reliable.
Because the PbC battery has different electrical and performance characteristics engineers at a fork lift manufacturer, auto company, railroad, or any other company will need to design and build new electrical and or mechanical subsystems specifically engineered for the PbC battery before they can benefit from the PbC 's magic beans.
BMW and Norfolk Southern possessed a strong enough interest in the PbC to commit to the time and money required to conduct preliminary test and evaluation programs followed by conceptual system designs, then building actual prototype systems made specifically for the PbC. That has been followed by more test and evaluation of the prototype systems and perhaps modifications to the prototypes leading to a final design. This activity would be coupled with trade off studies of any final PbC system design versus all the other possible solutions including detailed cost benefit number crunching studies. The engineers design and develop, the bean counters rule.
Because of any non-disclosure agreements Axion has signed we do not know the status of most of the ongoing potential customer development programs for the PbC battery. Big organizations are big because they haven't made any big mistakes. It is an inherent slow process demanding patience from Axion and its stockholders. No one is more anxious to sell the the PbC battery and produce millions of PbC electrodes for the lead acid industry than Axion's management. It is just going to take the time it takes and not a minute less.
Axion does have one product not subject to so much trial and tribulation - the PowerCube ranging in size from the mini-cube to 20MWs. You could almost write a design spec and purchase order on the back of a napkin. 10 MWs standby power for 30 minutes. Some have suggested Axion create some sample PowerCubes and give them to prestigious customers to try free of charge. You just "plug" them in. Not hardly. You need to run the power into and out of the PowerCube and that means site specific power distribution systems, building permits and construction. The installation may need to be fixed inside a building with all the design and construction that entails versus sitting outside in a trailer.
I'm not an engineer so I am not going to try and describe what all a customer has to do to utilize a PowerCube, but it is going to be a lot more than "just plugging it in." Axion Power Concentrator commentator, DRich, who is an engineer, said, "I don't know if this covers it, but even in grid applications, 'samples' aren't all that practical. Even though the batteries are the same, it is easy to assume that is where 'sameness' ends. Each business will have a different power use profile and thus the inverters/transformers will be different almost every time. The BMS and/or the software may need to be tailored to each power profile. There is considerable cost in engineering associated with those 'samples'."
Anyone who wants to buy whatever size PowerCube they want for all its benefits will need the services of an electrical engineering firm, or an in-house electrical engineering staff, to integrate the PowerCube into their facility. Then there are all the software control issues that will need to be sorted out for the specific customer's power usage profile. It isn't rocket science, but it is involved and takes time and money to accomplish. There is no free lunch. For my money I would rather Axion Power Director of Marketing, Vani Dantam, just sell someone a PowerCube than probably spend the same amount of time and money trying to convince a prospect to take one for free.
An Axion Power sales rep can't just waltz into a E-Bike or forklift or UPS manufacturer and say, "We've got a special on PbC's today, 3 for the price of 2." Think about how many people in a prospective customer have to agree that building anything using the PbC - a product they've never seen or used before, with nothing sitting around they can just drop it into and then turn it on - is worth their time, money and effort?
I have a lot of major account sales experience. I've been Vice President of Sales for a hardware design, development and prototype engineering company. I've been Manager of Business Development for a nuclear engineering firm. Most of the time when you go through the door of a large company representing a new product or service it is just like pushing in the side of a sponge, the minute you leave everything pops back out just like it was before. Nothing has changed. If you are lucky maybe whomever you talked to talks to their boss, who then talks to his boss, etc etc.
When they want you they call you. Until then, you are just whistling Dixie. Then after they call you it isn't a done deal. Everybody up the line has to confirm the decision. The numbers have to work, the details have to mesh, the timing has to be right - and on top of that they have to like and respect you and your organization. They have to be true believers.
So when you are screaming for Axion Power CEO, Thomas Granville, to just sell or give away Powercubes or PbC's, you need to understand the complexity of doing so, and the time required to achieve an actual sale. Engineers are methodical, cautious professionals who have their careers at risk every time they draw a line or circle. They are not going to endorse anything until they are certain of the cost and benefits.
About a year ago I made a bold statement that I would like to get on the phone and sell PbC's on straight commission. I said I might starve for a while but I would eventually find somebody who would buy some PbC's. John Petersen said "I wish it were so simple." He was right and I was over reaching a bit. I just didn't realize the complexity involved in selling the PbC because it is different from existing commodity lead acid batteries.
I fully recognize the sales and marketing issues now, and if you haven't thought about it before perhaps this article will lead you to further contemplation on the subject. I still wouldn't mind selling the PbC, but I would pack a lot bigger back pack full of food before I picked up the phone. I would also plan on it taking one or more years of work before I might get a sale. Its just a tough business being green if you are a frog, or selling a PbC battery nobody has ever used before.
####
Hearty gratitude to Bangwhiz on behalf of the Axion Power Concentrator series!
####
During the past seven months the Axion Power Concentrators have organically grown into a vast trove of information all things Axion Power related, all things battery related, all things Energy Storage Sector related.
Between now and 15 years from now, the global expenditure on energy in every way energy is created, delivered, conserved and used will be in the trillions of dollars.
Derived from well over 12,000 Axion Power Concentrator comments comes to us a compendium archive created by APC commentator Bangwhiz. In short here is what it is, and does:
The Axion Power Concentrator Web Sites is a complete easy-to-use online archive of all the information contained in the entire Axion Power Concentrator series from day one; including reports, articles, comments and posted links.
It also contains a "New to Axion" section for people who are new to Axion and want a good starting point for their own due diligence. The site is updated daily as new links are posted to current comment threads. Links are posted by topic and can also be found using the "Search This Site" tab.
The Comment Search Feature on the homepage is great for finding a comment you want to read again that would normally be lost in all the thousands of past comments. Simply search using a good key word or phrase, or any Google search term modifier, such as AND etc.
New Feature: You can now search all past comments or just the past 3 months.
Complimenting the Axion Power Concentrator Web Site is the Axion Power Wikispaces Web Site, "A repository of information about Axion Power International, Inc. and PbC® battery technology" created by APC commentator WDD. It is an excellent ongoing notebook aggregation of Axion Power facts.
Want to ask, or have someone ask, Axion Power leadership a question during the forthcoming April 2, 2012 conference call? The following link led by Bangwhiz is where you can write your question, maybe have it discussed and expanded upon before the conference call.
https://seekingalpha.com/instablog/667879-bangwhiz/279411-axion-power-2011-q4-march-conference-call-questions-list?source=kizur
Jlyleluce has created a nice table comparing and summarizing some of the critical performance attributes of standard and PbC batteries. It clearly demonstrates why the PbC will be the perferred choice in many applications requiring long-lived stable high charge acceptance rates. It has been slightly reformatted for display purposes.
(click to enlarge)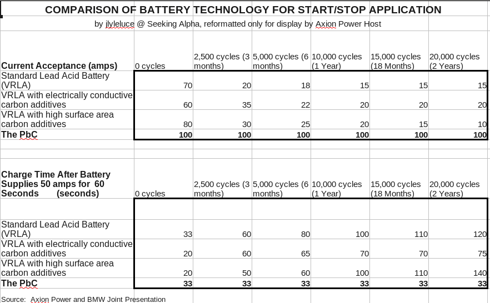 481086 and Siliconhillbilly posted comments that seemed to be appropriate for inclusion here (thanks to FocalPoint Analytics for suggesting this) because they help bring some clarity to the fact that Axion's product is really not "just another battery".
481086: Tim, FPA, I'm having a hard time seeing how/why the PbC would be superior to AGM as a simple starting (or SLI) battery... to my mind, that's not really PbC's strength. AGM is doing that duty just fine at lower cost than PbC. Unless you're talking hotel loads and hanging out for extended times at PSOC I don't see how PbC is compelling there. It's more an energy exchange device rather than an energy storage device. Cranking once or twice a day is a waste of its talents (because it does carry that small but not insignificant price premium). It's rather a new type of device that only makes real sense for applications that are going to cycle it *hard* through a range of intermediate PSOCs such as the uber-demanding hybrid locomotive app. And IMHO those are indeed the very applications that are still under intense development to some extent. The PbC is going to be an invaluable WORKHORSE there... *in the right applications*---again, ones optimized especially for PbC's unique and powerful strengths, but I think for just about every other pedestrian Lead-Acid application it's either an awkward fit or it's overkill. And I think simple engine starting is an application in that category. To use an aviation analogy, there's a good reason you don't see turbojet engines on crop-dusters. It would be dumb. And not even that sexy. You'd only burn beau-coup gas, risk FOD damage with every pass, all but cook the stuff you're trying to spray, and probably crash anyway. All I'm saying is choose the right tool for the job. PbC is a new and different tool. The jobs that will use it best are still figuring it out. A ramble here I know, but the PbC is not just simply a better battery, it's a different animal altogether.
Siliconhillbilly: >FPA: The PbC is partly a capacitor. To extract the maximum energy from it you need to discharge it from Vpeak to 1/2 Vpeak.

A standard lead acid battery with double lead electrodes will release 80-90% of it's stored energy with about a 15% drop in terminal voltage. That is, the conventional LA battery appears to be almost a constant voltage source thru much of it's energy discharge cycle.

This means the two batteries are quite different from an engineering and application viewpoint. That said, the PbC is unbeatable in applications optimized for its characteristics.

Frequent shallow to medium State of Charge cycles are a prime example. The capacitor (non-chemical) portion of the PbC accepts frequent cycling with essentially no degradation. This makes it ideal for SS auto systems and regenerative braking that require very high charge rate and cycle life from a battery.

Some of the delay we are seeing is the time it takes the application engineers to wed the PbC to their specific application. It's a learning experience for the technical people who have never seen anything like the PbC before. But they will figure it out. Hopefully in not too many more months.
####
This is a troll free zone. All disruptive comments that violate Seeking Alpha's Terms of Use Agreement will be removed and permanently recorded in a separate Instablog.
Be sure and either follow the Axion Power Host ID on Seeking Alpha or click the check-box labeled "track new comments on this article" just ahead of the comments section!
Enjoy!
Disclosure: I am long AXPW.