These instablogs and the people who maintain them have no relationship whatsoever to Axion Power International. To our direct knowledge no person with a current relationship to Axion Power International other than being a shareholder participates in these instablogs.
LINKS to valuable Axion Power Research and websites:
The Axion Power Concentrator Web Sites created by APC commentator Bangwhiz it is a complete easy-to-use online archive of all the information contained in the entire Axion Power Concentrator series from day one; including reports, articles, comments and posted links.
Axion Power Wikispaces Web Site, created by APC commentator WDD. It is an excellent ongoing notebook aggregation of Axion Power facts.
Axion Power Website, the first place any prospective investor should go and thoroughly explore with all SEC filings and investor presentations as well as past and present Press Releases.
----------------------
Jlyleluce PbC Performance Chart: comparing charge acceptance and charge time of the PbC to ARLA/AGM batteries with and without carbon additives. It has been slightly reformatted for display purposes.
(click to enlarge)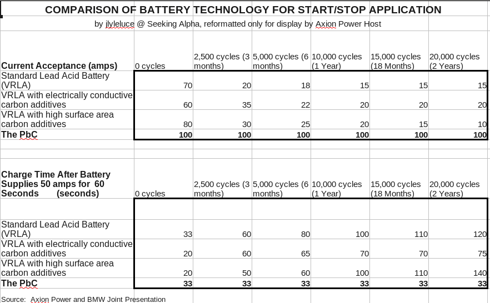 ---------------------------
Be sure and either follow the Axion Power Host ID on Seeking Alpha or click the check-box labeled "track new comments on this article" just ahead of the comments section!
This is a troll free zone. All disruptive comments and AUTHOR of such comments that violate Seeking Alpha's Terms of Use Agreement will be permanently removed and comments will be recorded in a separate Instablog.
Enjoy!