These instablogs and the people who maintain them have no relationship whatsoever to Axion Power International. To our direct knowledge no person with a current relationship to Axion Power International other than being a shareholder participates in these instablogs.
LINKS to valuable Axion Power Research and websites:
The Axion Power Concentrator Web Sites created by APC commentator Bangwhiz it is a complete easy-to-use online archive of all the information contained in the entire Axion Power Concentrator series from day one; including reports, articles, comments and posted links.
Axion Power Wikispaces Web Site, created by APC commentator WDD. It is an excellent ongoing notebook aggregation of Axion Power facts.
Axion Power Website, the first place any prospective investor should go and thoroughly explore with all SEC filings and investor presentations as well as past and present Press Releases.
----------------------
Axion Power's Weighted Moving Average Price and Volume: by John Petersen
Last September I wrote an Instablog on my favorite charting method, which ignores day-to-day fluctuations in prices and volumes but tracks the longer term moving averages that I think offer a better view of what's going on in the market. Since it's been a while since I shared the charts I've prepared an updated version through Tuesday's close.
The top set of lines are the 10-, 20-, 50- and 200-day moving average closing prices as measured on the left axis. The bottom set of lines are the 10- and 200-day moving average volumes as measured on the right axis.
What I'm seeing in the price lines is a tightening range between the 10- and 20-day moving averages which are both about $0.40 and the 200-day average of $.47. With today's close at $0.45 we're at the 50-day average and I think we may be seeing a break to the upside like we had in February of 2011. The big supply and demand difference I see this time around is that there don't appear to be any big holders who are anxious to liquidate. So if a run starts, I don't see anybody with enough shares in their portfolio to crush the run and turn it around.
What I'm seeing in the bottom lines is a clear reversal of the 10-day average volume to the upside. The volume trough we went through recently was a little shallower than the October-November trough of last year, but not much shallower. The 10-day volume is almost back to the 200-day average and volume trends that start below the 200-day and penetrate up seem to have a lot more strength than volume trends that penetrate down through the 200-day average.
(click to enlarge)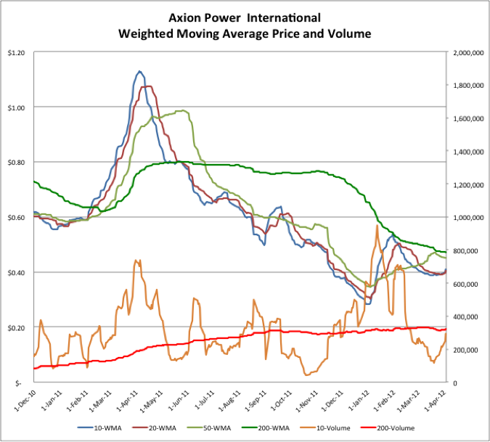 Thanks to John Petersen for providing the summary and chart.
---------------------------
Be sure and either follow the Axion Power Host ID on Seeking Alpha or click the check-box labeled "track new comments on this article" just ahead of the comments section!
This is a troll free zone. All disruptive comments and AUTHOR of such comments that violate Seeking Alpha's Terms of Use Agreement will be permanently removed and comments will be recorded in a separate Instablog.
Enjoy!
Disclosure: I am long AXPW.