These instablogs and the people who maintain them have no relationship whatsoever to Axion Power International. To our direct knowledge no person with a current relationship to Axion Power International other than being a shareholder participates in these instablogs.
---------------------------------------------------------------
WHAT A 300% REVENUE INCREASE REALLY MEANS: By Futurist
The ever upbeat Tom Granville stated several times that he expects 2012 revenue to increase 300+%. He wasn't anticipating 400%, maybe 350%. He went on to indicate that 2013 should be similar. He even went so far as to predict that 2013 would be the year that Axion breaks even on a cash flow basis. These are unusual words for a CEO who has a tendency to stay pretty quiet when it comes to expectations. He wouldn't say them if it wasn't a very sure thing.
The 2011 year brought $9 million into the company. A 300%+ increase would be about $30M worth of product in 2012 and $90M in 2013. I wanted to explore the possibilities as to what type of sales it would take to reach that ~$30M for 2012.
First: Lead acid production. Granville spoke of Axion fulfilling its LAB toll contract without an untimely shipment and no warranty claims. He was proud of this fact. I would expect that next year the contract will be larger. The economy is growing and Axion has proven itself to be a good provider. Let's say they double the revenue from the $6M in 2011 to $12M in 2012, might be more might be less but that still leaves somewhere around $18M of revenue unaccounted for in 2012.
Second: PbC production. 80,000 PbCs could be built and sold at $250 each; that is $20 Million. However, it is also maximum production of the existing negative electrode line for one year. I doubt that Axion has its robotic line cranked up to 100% production level and so far we have not heard anything about a second line being ordered. John Peterson has pointed out that when projecting these numbers we must keep in mind that only 20,000 PbCs can be produced each quarter. Since one quarter is almost passed without an announcement it would be foolish to project an 80,000 PbC run for the 2012 fiscal year. So we could say they could run 50,000 PbC's more or less but that is only about $12.5M in sales so they they would still need another $7.5M in revenue from sources other than individual PbC battery sales to make up the rest of that $20M.
Third: The PowerCube. Tom said he felt positive about the PowerCube and locomotive market for the 2012 year. Since ½ of the cost of a Cube is for inverters and components other than the PbC batteries, this looks like a likely suspect to make up a lagre portion of that $20M. A railroad locomotive is a PowerCube on wheels.
A one MW PowerCube takes 1,000 PbCs
One yard slug rail locomotive takes 1,080 PbCs
One OTR Locomotive takes 1,600 PbCs.
It would take less than 50 PowerCube orders to get to 50,000 PbC batteries. The componenets that come with the PowerCube's would make up the additional revenue needed to reach the 300% increase. This is possible; Axion is talking to more than one railroad, both Axion and Rosewater are pursuing the Oil Rig market for PowerCubes and the Navy ordered a small PowerCube which gives them some exposure for other energy efficient builders. Also, Rosewater will be introducing the first home PowerCube at the Indiana home show this September.
Fourth: Utilities
Pay for performance pricing will be instituted shortly. PJM is out in front pushing the "behind the meter" storage systems. They want their customers to store, smooth, and level the electricity presently being produced. This will save them in Capital expenditures and in operating expenses. Basically, when a company buys a PowerCube, the savings go direct to PJMs bottom line. Now PJM has a product that can accomplish what they want. Viridity has the software to operate it. PJMs former execs are the brains behind Viridity. PJM can now reduce their production (and capital expenditures) by getting their customers to buy a PowerCube.
It will only take one major data center, college, university, or corporate complex to announce a PowerCube project that could provide the additional revenue Mr.Granville spoke about.
Fifth: Auto and new markets
When contemplating the 50,000 PbCs sales necessary to reach Axion's forecast one must not forget that more OEMs are talking to New Castle. More and larger testing projects for the PbCs must be completed. As testing progresses it takes more and more PbCs. As the GM mild hybrid program progresses I would expect a large number of batteries will be needed. The mild hybrid takes more batteries than a micro hybrid.
Mr.Granville was very sure to tell us that "there is something I can't talk about".
This came up when he was talking about the new opportunities for Axion. This new announcement will be within the next couple of months. It is impossible for me to determine which exciting area will be the next boom for Axion. If I had to guess, I would guess a major announcement from Viridity/PJM. If it were automotive then new production lines would be needed. It could be railroads. But if three different Railways ordered two locomotives each, that is only 6,000 PbCs.
My guess is something big in the "behind the meter" area with Viridity/PJM. The fact that the Cube can pay for itself while accomplishing other duties is just to great an economic bargain. Since Tom Granville also thinks 2013 will be another 300% increase in revenue I suspect that the next announcement will be about some company that will be using multiple PowerCubes at one or more locations. This with an added automotive contract in 2013 could very well achieve break even on a cash flow basis for Axion in 2013.
To me this all makes sense. But Axion has pulled secret rabbits from its hat before. I wouldn't be surprised to find out I was 180 degrees out of touch with Axion's reality.
--------------------------------------------------------------------
Axion Power's Weighted Moving Average Price and Volume:
(click to enlarge)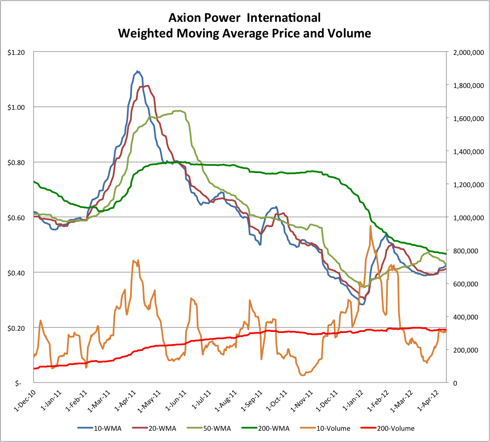 Chart on Concentrator Comments: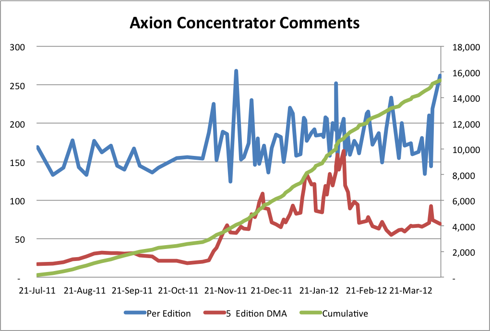 Thanks to John Petersen for providing the charts.
---------------------------------------------------------------
LINKS to valuable Axion Power Research and websites:
The Axion Power Concentrator Web Sites created by APC commentator Bangwhiz it is a complete easy-to-use online archive of all the information contained in the entire Axion Power Concentrator series from day one; including reports, articles, comments and posted links.
Axion Power Wikispaces Web Site, created by APC commentator WDD. It is an excellent ongoing notebook aggregation of Axion Power facts.
Axion Power Website, the first place any prospective investor should go and thoroughly explore with all SEC filings and investor presentations as well as past and present Press Releases.
-----------------------------
Be sure and either follow the Axion Power Host ID on Seeking Alpha or click the check-box labeled "track new comments on this article" just ahead of the comments section!
This is a troll free zone. All disruptive comments and AUTHOR of such comments that violate Seeking Alpha's Terms of Use Agreement will be permanently removed and comments will be recorded in a separate Instablog.
Enjoy!
Disclosure: I am long AXPW.