These instablogs and the people who maintain them have no relationship whatsoever to Axion Power International. To our direct knowledge no person with a current relationship to Axion Power International other than being a shareholder participates in these instablogs.
---------------------------------------------------------------
Axion Power Receives Initial Norfolk Southern Order for PbC® Batteries
NEW CASTLE, Pa., April 26, 2012 /PRNewswire/ -- Axion Power International Inc (OTC Bulletin Board: AXPW), the developer of advanced lead­-carbon PbC® batteries and energy storage systems, today announced that it has received an order from Norfolk Southern Corp (NYSE:NS) for PbC batteries for use in a battery-powered locomotive. Axion Power said this first $400,000 purchase order is part of a $475,000 total purchase order, that will be used in the commissioning of Norfolk Southern's NS-999. The total purchase order will be shipped and deployed in the next 90 - 120 days. To date, this is the largest single PbC battery order that Axion has received. No further details were disclosed.
Axion Power Chairman & CEO Thomas Granville commented, "We have been working with Norfolk Southern for two and a half years, and we are very pleased that this first hybrid 'switcher' yard locomotive, to be run completely on PbC batteries, will soon be in service. We have been moving on a parallel development path with respect to supplying batteries for the first NS 'over the road' locomotive. This larger, more powerful, unit will require approximately twice the number of batteries as those to be shipped for the yard 'switcher' locomotive. High-performance PbC batteries are ideally suited for hybrid locomotive applications due to their high charge acceptance, fast charge and discharge capabilities (important in regenerative braking), and their inherent ability to equalize voltage when utilized in large string configurations."
Granville continued, "Of course PbC batteries are also very stable and safe because of the close construct similarities they share with lead-acid batteries - a chemistry that has been safely deployed for more than a century. Unlike some of the batteries being used in various vehicular applications, PbC batteries operate safely at all temperatures; are 100% recyclable; and are priced substantially below the cost of some of the more highly publicized exotic battery chemistries. We feel these attributes are becoming more fully appreciated by our customer base in general, and by NS in particular. As for a strategic partner, you couldn't ask for one better than NS. We anticipate a long and mutually beneficial partnership as they move forward with their hybrid locomotive strategy."
A yard switcher locomotive, or 'switcher', is used in a train yard to assemble and disassemble long trip over-the-road trains. Additionally it is used for the general movement of railroad cars around the rail yard.
--------------------------------------------------------------------
Axion Power Chart Before the 2011 Run and Now: from Jakurtz
Despite the news and the seemingly poor performance of the stock following; this chart remains in play through the next few days. It even followed HTL's TA chart that called for a drop to at least .40 (which Mayascribe bought at -- seems fitting if it is the last we see of .40). As it stands it still mimics last years chart -- the day before the run it dropped a penny from its normal resistance of .59 (equivalent of our .42 this year) to close at .58 (we closed at .411 on Friday) the following couple days as it bounced off the lower bollinger band it passed up through the 200-day MA and the run was officially moving. We will just have to see if it replicates that bounce on Monday or Tuesday, if it does not pass through the 200-day this week then the chart becomes irrelevant.
(updated through closing Friday April 27th)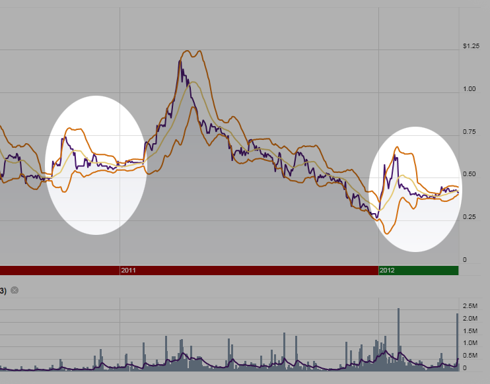 --------------------------------------------------------------------
Axion Power's Weighted Moving Average Price and Volume:
(updated through closing Friday April 27th)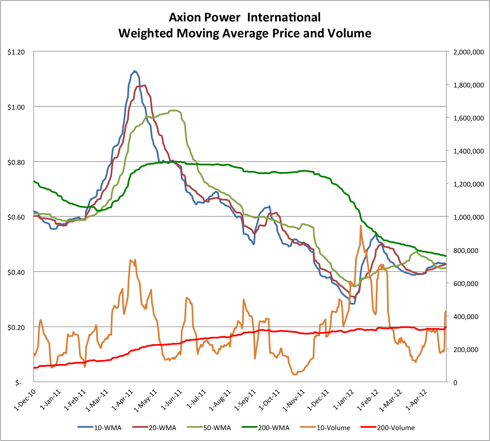 Chart on Concentrator Comments: updated April 29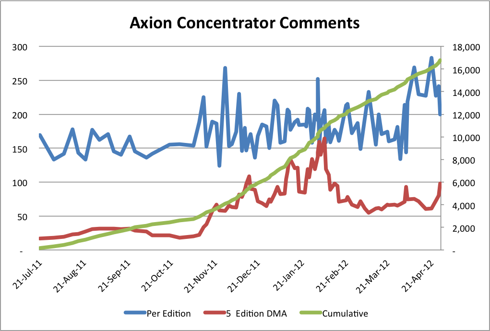 Thanks to John Petersen for providing the charts.
---------------------------------------------------------------
LINKS to valuable Axion Power Research and websites:
The Axion Power Concentrator Web Sites created by APC commentator Bangwhiz it is a complete easy-to-use online archive of all the information contained in the entire Axion Power Concentrator series from day one; including reports, articles, comments and posted links.
Axion Power Wikispaces Web Site, created by APC commentator WDD. It is an excellent ongoing notebook aggregation of Axion Power facts.
Axion Power Website, the first place any prospective investor should go and thoroughly explore with all SEC filings and investor presentations as well as past and present Press Releases.
Axion Power Chart Tracking, HTL tracks AXPW's intra-day charting.
Axion Power Q1 2012 Conference Call Questions, Set-up by Bangwhiz
-----------------------------
Be sure and either follow the Axion Power Host ID on Seeking Alpha or click the check-box labeled "track new comments on this article" just ahead of the comments section!
This is a troll free zone. All disruptive comments and AUTHOR of such comments that violate Seeking Alpha's Terms of Use Agreement will be permanently removed and comments will be recorded in a separate Instablog.
Enjoy!
Disclosure: I am long AXPW.