These instablogs and the people who maintain them have no relationship whatsoever to Axion Power International. To our direct knowledge no person with a current relationship to Axion Power International other than being a shareholder participates in these instablogs.
--------------------------------------------------------------------
Axion Power Reports First Quarter Results For 2012
NEW CASTLE, Pa., May 15, 2012 /PRNewswire/ -- Axion Power International Inc (OTC Bulletin Board: AXPW), the developer of advanced lead­-carbon PbC® batteries and energy storage systems, today announced results for its first quarter ended March 31, 2012.
Net product sales increased to $1.8 million in 2012 from $1.0 million in 2011. Net product sales increased in 2012 compared to 2011 primarily due to the sale of specialty lead-acid batteries to a single customer who will sell these batteries under their brand, as well as carry the cost of inventory and provide the raw materials for production of these batteries.
Net loss for 2012 was $2.3 million or $0.02 per basic and diluted share compared to $2.4 million or $0.03 per basic and diluted share in 2011.
Excluding the cash inflow of approximately $8.6 million in net proceeds from our sale of common stock in the first quarter of 2012, our net cash flow for 2012 was negative $2.1 million compared to a negative $2.9 million in 2011, a reduction in net cash burn of $0.8 million.
Other highlights of our first quarter of 2012 include:
In January, we were awarded a purchase order from Siltek, Inc. confirming their participation in a Zero Energy Building for the US Navy in the Washington D.C. Naval Yard. Axion will be providing an array of its PbC batteries, system electronics and battery management system that together will serve as an example of Axion's "mini-cube".
Also in January, we appointed Vani Dantam to the new position of Senior Vice President/Business Development, Sales and Marketing. Vani brings to our company an extraordinary background that includes broad battery industry experience and proven leadership. He has expressed his confidence and personal commitment to the commercialization of our PbC Technology.
In February, we successfully concluded a funding of approximately $8.6 million in net proceeds from the sale of our common stock. The proceeds from this raise will be used for the near term funding of working capital, capital expenditures and corporate operations.
Last year we announced that we had received a series of orders for the production and immediate delivery of specialty flooded lead-acid batteries. This February we received guidance that the purchase orders are expected to continue at least through the end of 2012. The batteries are branded by the purchaser, and the purchaser will provide all raw materials and the carrying cost for the continuing order.
In April, in an event subsequent to the end of the quarter, we received an initial large scale order from Norfolk Southern (NYSE:NS) for PbC batteries for use in a battery powered locomotive. This $400K purchase order is part of an overall total purchase order of $475K. This total purchase order will be shipped and deployed in the next 90 - 120 days. To date, this is the largest single PbC battery order that we have received.
Chairman & CEO Thomas Granville commented, "It has only been about six weeks since our last earnings release, but the first quarter of 2012 has been a busy one. I have previously mentioned that the road to PbC commercialization has been longer than we anticipated, but that we were finding the market opportunities, for our PbC product applications, larger and more diverse than we had initially anticipated. The first quarter of 2012 provided further proof of the market diversity for our technology. We have received numerous new requests for proposals and quotations, more than half of which have come from new markets for our product. And although these are new opportunities in new markets, it is the historical advantage of PbC batteries that makes the equation work. The old standby values that are as important today as they ever were and include: high charge acceptance; fast recharge rate; voltage consistency in large string applications; superior 'extreme temperature' performance; and low cost on a per cycle basis."
Granville concluded, "when you add these advantages to the historical PbC attributes - ease of manufacture on existing equipment worldwide; high rate of recyclability (99.1%) and the strong safety record of lead-acid batteries, it is easy to see why we feel our technology will be one of the ultimate winners in numerous energy storage market applications. And it is easy to see why so many potential customers agree with that premise."
Source: PR Newswire (http://s.tt/1bRov)
--------------------------------------------------------------------
Axion Power's Weighted Moving Average Price and Volume:
(updated May 15th)
Century Concentrator Comments -- 18,080 comments through 99 concentrators since July 21, 2011.
(updated May 15th)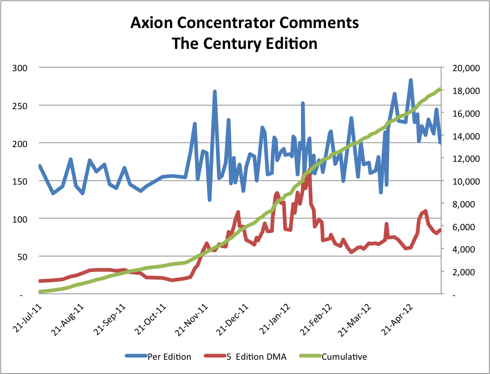 ---------------------------------------------------------------
LINKS to valuable Axion Power Research and websites:
The Axion Power Concentrator Web Sites created by APC commentator Bangwhiz it is a complete easy-to-use online archive of all the information contained in the entire Axion Power Concentrator series from day one; including reports, articles, comments and posted links.
Axion Power Wikispaces Web Site, created by APC commentator WDD. It is an excellent ongoing notebook aggregation of Axion Power facts.
Axion Power Website, the first place any prospective investor should go and thoroughly explore with all SEC filings and investor presentations as well as past and present Press Releases.
Axion Power Chart Tracking, HTL tracks AXPW's intra-day charting.
Axion Power Q1 2012 Conference Call Questions, Set-up by Bangwhiz
--------------------------------------------------------------------
Be sure and either follow the Axion Power Host ID on Seeking Alpha or click the check-box labeled "track new comments on this article" just ahead of the comments section!
--------------------------------------------------------------------
WARNING: This is a troll free zone. We reserve the right to eliminate posts, or posters that are disruptive.
Enjoy!
Disclosure: I am long AXPW.