For a company which has experienced an unprecedented surge in stock prices in the last 12 months, Tesla Motors Inc (NASDAQ:TSLA) has undoubtedly been one the biggest successes in the stock market in recent times.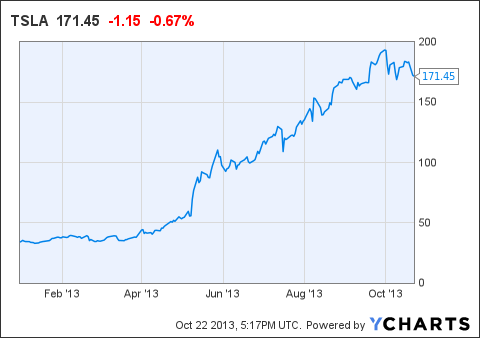 Without mincing words, I will cut to chase and remark that, I believe, Tesla has an upside potential of ~50% in the coming 12 months, with a target price of $266.
A brief history
Tesla is an idea whose time has come. When Apple introduced the iPhone in 2007, the late Steve Jobs said, and I quote " Apple has reinvented the phone with iPhone."
The last 30 years have seen the American technology sector deliver stellar products one after another, revolutionizing the way we live, interact, and communicate.
Tesla came into being a decade ago, when a group of silicon valley engineers set out to make a difference in a bid to replace the traditional internal combustion engine (which is still the backbone of the global automobile sector) as the principal power train technology, to an alternative fuel powertrain technology.
Sensing the opportunity, Tesla came up with its unique, powerful, and proprietary electricity run power train technology, to lead the next technological era of the automotive industry.
In all fairness, I would like to point out that Tesla, in order to justify its current valuations, has to achieve revenue at par with any major auto player, and play at the margins of Porsche; sounds ridiculous, doesn't it?
I'd say, no. And those of you who are interested in seeing this phenomenal opportunity at hand, are advised to read on, and find out for yourself.
I don't agree with Bank of America's bearish outlook, oh wait, the grizzly bearish outlook of the stock, setting the 12 month target price at $45; and here's why-
Robust government support from emerging and mature economies alike.
Proprietary technology.
Ahead of competition.
Massive overseas expansion plans.
Growing global market for EV's.
A promising weapon to fight the dangers of climate change.
A passionate leadership.
Substantial growth in top line.
Increasing Cash Pile.
A well-managed capital deployment strategy.
Catalysts
Before I dwell upon my valuations, I would like to elaborate upon the above mentioned factors to explain their potential to spur this upside.
Be it the $8.5 billion lending program of the US department of energy, to help car companies overhaul their existing setups to manufacture EV's, or China's $15 billion "New Energy Vehicles Program" (The two largest markets for EV's across the globe); both clearly showcase the strong intent of the governments' to support the growth of EV's in their respective countries.
From Toyota to Daimler, all major car companies are lining up to obtain Tesla's electric motor technology to drive up their EV ambitions; and trust me, it doesn't hurt when your competitors are your customers. A $100 million contract from Toyota to supply the hardware for its RAV 4 EV, or the featuring of Tesla's proprietary power train technology in the upcoming Mercedes B-class models, to be launched by Daimler in 2014, make a big statement about the inability of these players to come up with a viable alternative to Tesla's revolutionary solution to the EV puzzle.
Overseas expansion is firmly on the company's radar, as is evident with the company coming up with their first overseas manufacturing plant in Europe and plans to rapidly expand their Supercharger network across the continent, to enable cross country travel with ease, and offer a viable alternative to gasoline powered vehicles.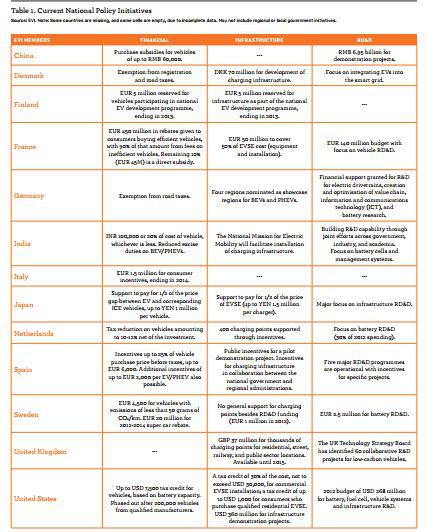 The above chart highlights the favorable environment for EV players across geographies, with governments providing attractive benefits to boost the market for EVs in their respective countries.
With rising concerns to tackle the threat of global warming, technologies that promote reduction in global carbon emissions will play a critical role in defining the next century. Tesla, in my opinion is one such firm which has really taken upon itself the task to lead the change, and build a better tomorrow which is evident from their massive investments in research and development to constantly improve upon their technologies.
Valuation
For Tesla to justify its high valuation, it has to multiply its revenue manifold. The first half of 2013 saw the company report a top line of ~$950 million, recording a robust growth of around 2000% from a year ago.
While growing revenue will become challenging as the firm continues to expand, to analyze revenue we should first define the market.
If we consider Tesla to be operating in the niche electric/hybrid car market, the size is relatively modest, and the potential growth in top line should reflect that. However, if we consider Tesla as an automobile company operating in the automotive industry, the size is mammoth and the revenue should be estimated accordingly.
In my best case scenario, I will consider the latter to justify my valuations.
Best case scenario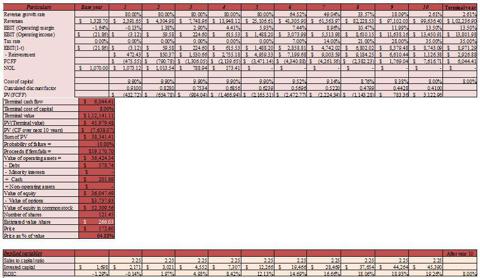 On the valuation front, I have assumed the company's revenue to grow @ ~80% to reach $100 billion by FY 2023, considering the size of the global automobile market; and I am not considering EV as an altogether different sector, I consider it Automobile (after all its a car right!). Plus, the company has plans to come up with a new model (Model X) which will be aggressively priced to attract not just the rich, but the middle classes as well, giving the top line a further boost.
Moving on, I expect the operating margin to be ~13% (it stands at the 95th percentile of all automakers). As far as the sales-to-capital ratio is concerned, I have considered the sector average of 2.25.
Elon Musk, Chairman and CEO, Tesla Motors in a blog post on the company's website gave a peek into the company's long term (secret) strategy focused on generating wealth by offering leading products to the niche clientele, and applying the proceeds to develop a car which represents the masses, and can be afforded by all. This would enable the company to develop a huge customer base across segments, expanding its market size manifold, going forward.
Base Case
For a young growing company, there are various events which can trigger a collapse, and Tesla is no exception to it.
As the base case scenario, I will consider the following major risk factors, which can trigger a negative mood for the company.
Inability to rapidly expand its operations across the major EV markets.
Inability to create inquisitiveness for its product amongst the masses.
Inability to develop a car catering to the masses.
Lack of sufficient investments in R&D to constantly improve the battery technology, and increase mileage along with engine durability.
Moreover, BofA Merill Lynch came up with their recent report on Tesla and the news is not good. The analysts consider the company's stock to be vastly overvalued, and have set a price target of $45 based on 2015 expected enterprise value vs EBITDA of about 12 times.
While there are serious downsides to any business, I believe, the upsides far exceed the downsides in the case of Tesla, and in my opinion the chances of these downsides occurring are fairly modest.
Conclusion
In view of the strong fundamental standpoints that Tesla showcases, I expect the stock to outperform its peers and set a new benchmark in the global automotive industry.
Disclosure: I have no positions in any stocks mentioned, and no plans to initiate any positions within the next 72 hours. I wrote this article myself, and it expresses my own opinions. I am not receiving compensation for it (other than from Seeking Alpha). I have no business relationship with any company whose stock is mentioned in this article.