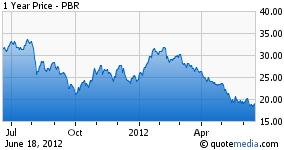 With the Petrobras share price in a tailspin and investors becoming even more concerned about the direction of the Brazilian economy it was hoped the company's new investment plan would be good news for investors. However, there was a gaping financial hole in this plan, how was it to be funded in light of falling oil prices and the unwillingness of the Brazilian government to increase gasoline prices. Now the CEO of Petrobras Maria das Gracas Foster has admitted gasoline prices will need to rise if the company's investment plan is to proceed.
Clearly at current prices Petrobras in unable to fund the program, which is the world's largest corporate investment program. Whether the Brazilian government will increase domestic gasoline prices is a considerable unknown.
To date the Brazilian government has made it clear that with restarting the domestic economy and controlling inflation being priorities combined with the intimate connection between transport prices and gasoline prices that a gasoline price rise is out of the question. This becomes even clearer when it is considered that oil prices are falling and that the Brazilian economy has slowed to recessionary levels.
However, if Petrobras is unable to execute the program it will be unable to access the pre-salt reserves. This is something the government wants more than ever as a means of funding its social programs and catapulting Brazil to the status of being an international oil power.
Whatever the end result, it is evident that the interest of Petrobras share holders is far from the minds of the government's and company'skey decision makers.
Disclosure: I am long PBR.