Are you ready for this week's big data market earnings releases?
No need to manually collect old IR releases to compare earnings results. No need to look for the previous guidance or search for analysts' consensus around the net. All the relevant data is consolidated in one place under Finro earnings dashboard and can be in your inbox minutes before the conference call to get you ready and up to date.
Register today for free to receive Finro earnings dashboard directly to your inbox with all relevant information just before the conference call begins.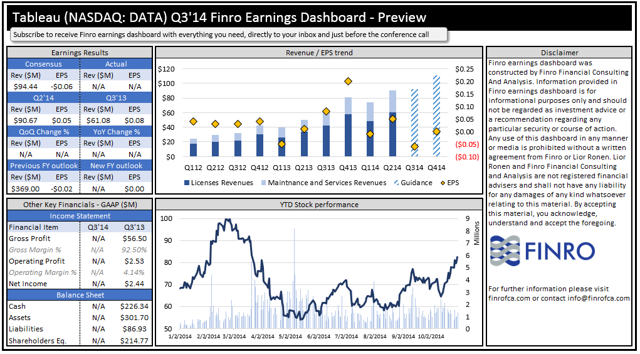 Varonis (NASDAQ:VRNS), Tableau (DATA) and Teradata (NYSE:TDC) is going to report this week their Q3'14 earnings results on November 5 and November 6. Make sure you register, so you receive Finro earnings dashboard to your inbox on time.
Extended company-specific dashboard is available only to registered users via email, however non-registered users who are interested in the big data market can also stay up to date easily with Finro. To follow the overall big data market earnings updates, analysis and research in the Finro big data analysis center, Click here.
Disclosure: The author has no positions in any stocks mentioned, and no plans to initiate any positions within the next 72 hours.
Additional disclosure: Information provided in this article is for informational purposes only and should not be regarded as investment advice or a recommendation regarding any particular security or course of action. This information is the writer's opinion about the companies mentioned in the article. Investors should conduct their own due diligence and consult with a registered financial adviser before making any investment decision. Lior Ronen and Finro Financial Consulting and Analysis are not registered financial advisers and shall not have any liability for any damages of any kind whatsoever relating to this material. By accepting this material, you acknowledge, understand and accept the foregoing.