As the civil war in Syria continues, migrants that fled the horrors of Al-Qaeda and ISIS are now seeking asylum in Europe. Migrants arrive in EU's southeastern borders of Greece, Macedonia, Serbia and Hungary to start their journey towards a better future in their end destination -Germany, Austria, France or UK.
The EU that did not take any active action in the civil wars tearing apart Syria and Iraq and refused to deal with the increased immigration flow from the thorn middle eastern countries now have to face the reality of thousands of migrants at its doorstep.
First it was Greece PM Alexis Tsipras that asked for the EU assistance handling the inflow of migrants, and yesterday it was Hungary PM Viktor Orban, calling this flow of migrants "a German problem" seeking their assistance in handling the masses.
As shown in the chart below, immigrants already represent a significant portion of the population in the EU (as in Switzerland).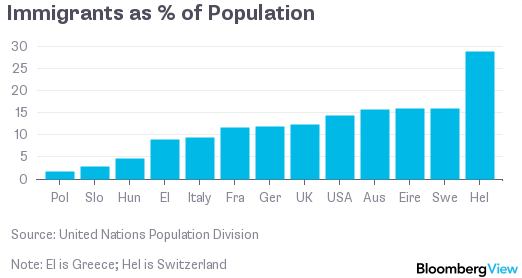 The current inflow of migrant will increase the percentage of migrants of EU's population and will have a long-term impact on the entire EU economy. If the burden on the common taxpayer rises substantially, we might witness not only an economic pullback in Europe but also violent clashes between the EU citizens and the migrants.
To handle this delicate situation the EU needs to take some actions quickly that may not be limited to the EU borders but to the warfare in middle east.
Disclosure: I/we have no positions in any stocks mentioned, and no plans to initiate any positions within the next 72 hours.