Three days after the U.S. Environmental Protection Agency ('EPA') notified Volkswagen of clean air act violations the German automaker stock reacts sharply.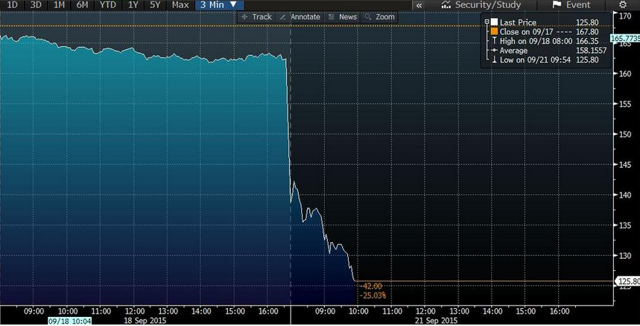 The EPA claims that the Carmaker allegedly used software that circumvents emissions testing for certain air pollutants.
Bloomberg reported:
"During normal driving, the cars with the software -- known as a "defeat device" -- would pollute 10 times to 40 times the legal limits, the EPA estimated. The discrepancy emerged after the International Council on Clean Transportation commissioned real-world emissions tests of diesel vehicles including a Jetta and Passat, then compared them to lab results."
Volkswagen decided to halt U.S. sales of diesel-powered cars and apologized to its customers. The carmaker's stock dropped by 20% in Frankfurt Stock Exchange.
Check out my premium service Finro Tech Investemnt Strategies, A comprehensive tech-focused research that translates tech trends and special events into capital gains.