An interesting all-Israeli cybersecurity merger is reportedly (English and Hebrew sources) on its way as Check Point (NASDAQ:CHKP) is negotiating a possible purchase of CyberArk (NASDAQ:CYBR). Check Point is a $14B cybersecurity veteran with 3,500 employees, annual revenues of approximately $1.5B and expected full-year EPS for 2015 of $3.7. Check Point addresses a wide variety of cyber threats by using firewall, anti-virus, anti-bot, data loss prevention and event analysis tools plus intrusion prevention systems among others. CyberArk is a much smaller company than Check Point with a $1.4B market cap, 430 employees, annual revenues of less than $200M and expected full-year EPS for 2015 of $0.595. CyberArk addresses a particular niche in the cybersecurity market of privileged accounts security.
As shown in the chart below, the stock prices of both Israeli cybersecurity firms experienced extreme volatility in the last year. CyberArk's stock rallied between January '15 and June '15 and surged 112% to an all-time peak of $74 before plunging back to $37. Check Point's fluctuations were more modest compared to CyberArk's, and the cybersecurity giant experienced two main rallies in its stock price in the last year before dropping back to $78, giving back all of last year's gains.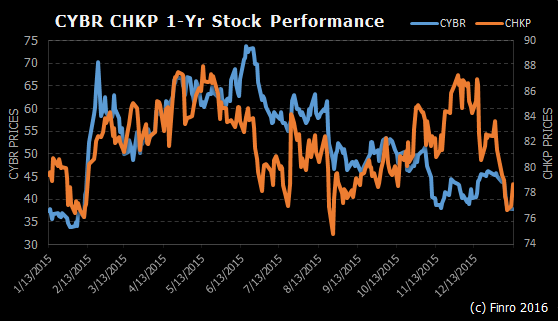 Since CyberArk went public in 2014, numerous acquisition rumors have talked about a possible deal selling the company to a larger player. The impressive surge in stock price since its IPO increased the company's market cap to $1.4B, which probably intimidated many potential buyers. On the other hand, for a long time Check Point has held on its balance sheet around $1.5B in cash and short-term investments, which could partially be used to finance this potential deal. The large amount of available cash on Check Point's balance sheet could make this deal attractive to Check Point's shareholders, as the company will not have to finance the deal with external debt and could expand its business into the emerging new sector of the cybersecurity market with a simple cash and stock deal. Penetrating into privileged account security through the CyberArk deal could be the growth trigger Check Point was looking for and it could drive revenue growth further beyond the current annual 9%.
Looking at CyberArk's financials and growth prospects, the company is an attractive buyout candidate. CyberArk has impressive margins for a software startup with 86% gross margin, 22% operating margin and 14% pretax margin. CyberArk grew its top line figures by more than 40% YoY and it is expected to continue that growth into 2016, as shown in the chart below, which reflects analysts' expectations for 2016. Unlike many other startups and cybersecurity companies, CyberArk also has a positive rapidly growing bottom line with a 170% YoY growth rate.

Even though the potential deal terms have not yet been revealed, CyberArk's stock price is up 25% since the report was published. Since the full picture for the transaction is not yet available, it is too early to call this deal a buy. However, investors should keep it on their radar and stay tuned for further developments.
Disclosure: I/we have no positions in any stocks mentioned, but may initiate a long position in CYBR, CHKP over the next 72 hours.
Additional disclosure: The information provided in this article is for informational purposes only and should not be regarded as investment advice or a recommendation regarding any particular security or course of action. This information is the writer's opinion about the companies mentioned in the article. Investors should conduct their due diligence and consult with a registered financial adviser before making any investment decision. Lior Ronen and Finro are not registered financial advisers and shall not have any liability for any damages of any kind whatsoever relating to this material. By accepting this material, you acknowledge, understand and accept the foregoing.