Israel is often referred to as the Silicon Valley equivalent abroad thanks to a vibrant local hi-tech, startups and innovation scene. Even though Israeli hi-tech innovation is world known and local Israeli companies are traded worldwide, the local exchange in Israel is focused more on financial services, real estate and lately even pharmaceutical and biotech. Most Israeli tech startups prefer to grow abroad and in later stages list their companies to trade in New York or London. Successful Israeli tech companies like Check Point (NASDAQ:CHKP), Mobileye (NYSE:MBLY), Mellanox (NASDAQ:MLNX), Stratasys (NASDAQ:SSYS), Imperva (NASDAQ:IMPV), (Wix (NASDAQ:WIX), Amdocs (NYSE:DOX) and more decided to list their shares in New York instead of the local exchange that is desperate for local hi-tech listed companies.
To that void, in the Israeli stock exchange, the local app maker Shellanoo Group tried to enter through an IPO valued at $177M - a small amount for international markets but a significant valuation for the Israeli stock exchange. The company currently has one main app for anonymous instant messaging that was downloaded more than 11 million times from the different app stores and has a few more apps in the pipeline waiting for release in the future. Like many other early stage startups, Shellanoo Group has no revenues nor profits and has huge growth expectations for the upcoming years. So far it sounds like many other IPOs that US investors witnessed many times before.
Like any other IPO worldwide it was covered by the local financial media that expressed its opinions just happens so often around the globe. The main criticism Israeli financial journalists raised is that the company's leading app - the messaging app Blindspot - has only 1.4M active users who are mainly teenagers in Brazil and dozens of potential apps that will be released later on. These dozens of new apps bring more of the same to already saturated markets like online dating, job hunting, used goods sales, social media and much more. The potential of these apps to gain substantial market share in the markers they target is tiny and using a freemium, and in-app purchases revenue streams make the potential revenues growth highly unlikely. If we focus on Blindspot that tried penetrating a boiling market of messaging the company is light years away from smaller players like Telegram that has 100M monthly active users ('MAU') and Kakaotalk that has 48M MAU, as shown in the chart below.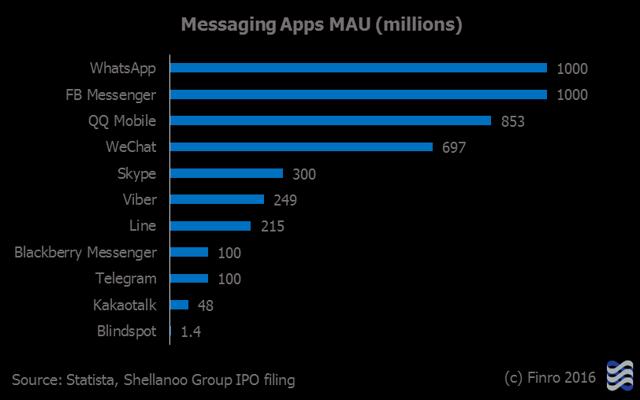 Operating in such a small portion of the market will make it very hard to almost impossible to generate substantial revenues from a freemium business model and in-app purchases.
Shellanoo Group's apps mostly target the most demanding audience to attract - American millennials that are probably already using other apps for messaging, dating, food recommendations, etc. Without a very surprising marketing stunt to attract users to one of its apps I don't see Shellanoo Group's app gain any traction and big enough market share to trigger significant revenues.
The amazingly small number of active users, the problematic target markets of the future products, lack of innovation and steep valuation of $177M made that IPO highly unattractive. Local financial media reported about it and added its analysis as expected from financial media. However, in a surprising move that I have never witnessed before in my professional life Shellanoo Group canceled the IPO blaming the Israeli financial media in personally attacking them so hard that they can't stand it anymore. It's an odd reasoning for a business action but one that could have been later forgotten unless the company decided to fire 2/3 of its workforce immediately after the cancellation.
Two questions arise from this abnormal action:
(1) Let's say that the company's executives were offended by the way the IPO was covered in the media and decided to withdraw the filing documents (slightly childish, but somehow acceptable) why the company hasn't filed to go public in New York or London as many other Israeli companies do? Why not even mentioning that the media's coverage drove the company to file elsewhere and not in Israel?
(2) If the company so firmly believes in its business model and future growth potential why did it let most of its workforce go after the Tel Aviv IPO cancellation? In an ordinary course of business, the company should have continued to operate privately and seek to fund in the private market. What happened that caused the company to change its mind so fast?
Whatever the answers will be Shellanoo Group's IPO scandal is a symptom of the problems the Tel Aviv Stock Exchange faces when it fails to attract leading Israeli tech companies to go public locally. When most Israeli tech companies are listed abroad, and private startups like Outbrain and Taboola operate from New York, the TASE desperation might attract more surreal stories like Shellanoo Group IPO in the future.
Disclosure: I/we have no positions in any stocks mentioned, and no plans to initiate any positions within the next 72 hours.
Additional disclosure: The information provided in this article is for informational purposes only and should not be regarded as investment advice or a recommendation regarding any particular security or course of action. This information is the writer's opinion about the companies mentioned in the article. Investors should conduct their due diligence and consult with a registered financial adviser before making any investment decision. Lior Ronen and Finro are not registered financial advisers and shall not have any liability for any damages of any kind whatsoever relating to this material. By accepting this material, you acknowledge, understand and accept the foregoing.