WeWork (WE) released its S-1 to the public today after the initial period of confidentiality. Here are a few preliminary insights and data points I gathered after reading through the filing earlier:
1. 1. No big surprises. Company's burn rate is phenomenal. SG&A increases in ~100% a year and net loss follows;
2. Revenues are $1.5B in 1H 2019 with ~$1.4B op. loss and $1B net loss;
3. location count increased 5x between 2016 and Q2 2019, from 111 locations in 34 cities in 2016 to 528 locations in 111 cities in Q2 2019;

4. Average company's lease length is 15 years and has lease obligations of $47.2B as of the end of Q2 2019.

5. Company offers class A with single vote right and keeps class B and C with 20 votes right.
6. Company claims a TAM of $1.7T goes up to $3T.
7. Company argues to reach breakeven in every location within 12 months.

8. Company refers to itself as a Space-as-a-Service company, not a real estate firm.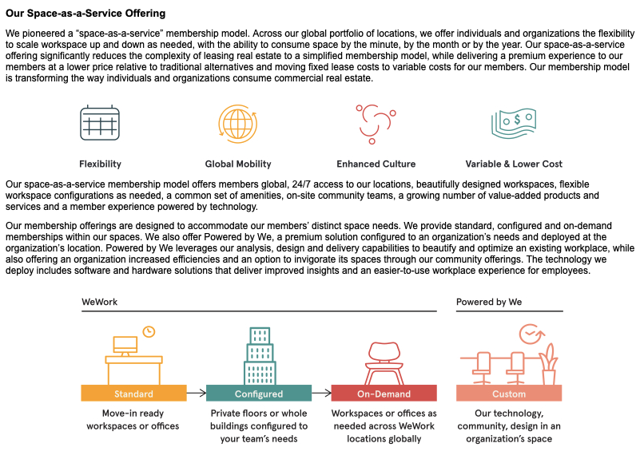 For conclusion, I didn't see any big surprises in the S-1. To me the biggest problem with WeWork is the embedded duration gap between company's leases and tenants rents that could bring it down in an economic slowdown. I elaborated more on this risk in my blog post from 2 months ago: https://www.finrofca.com/news/wework-looks-weak-as-potential-ipo
Disclosure: I/we have no positions in any stocks mentioned, and no plans to initiate any positions within the next 72 hours.
Additional disclosure: This blog post was written by Lior Ronen, Founder and CEO of Finro. The information provided in this webpage is for informational purposes only. Neither Finro Limited ("Finro") nor any of its affiliates makes any representation or warranty or guarantee as to the completeness, accuracy, timeliness or suitability of any information contained within any part of this webpage not that they are free from error.