I periodically post the performance of the High Dividend Opportunities Portfolio. With the year 2016 being over, I believe it is a good time to update our track record.
In order to assess the performance of our "Core Portfolio" for 2016, I compiled a list of all the Sell Alerts that were sent to subscribers from January 1, 2016 until December 28, 2016, which corresponds to the January 2017 newsletter release. I am also reporting the unrealized returns for the same period.
Performance of the "Sell Alerts"
Our Sell Alerts have returned on average 14.8%. You can check the table of all "Sell Alerts" at the bottom of this report, all of which can be traced to High Dividend Opportunities Premium Posts.
Unrealized Returns
The unrealized returns and dividends received on our current holdings (Core Portfolio of 40 securities), the majority of which were purchased between January 1, 2016 and December 28 2016 amounted to 27.4% on December 28, 2016. This number is based on the portfolio update posted to members on December 28, 2016.
Overall Performance
Our overall performance for the past 12 months is 42.2% (14.8% + 27.4%), compared to the average return of the S&P 500 of 14% for the same period.
Average Dividend Yield of the Portfolio on December 28, 2016
The average dividend yield on the Core Portfolio of High Dividend Opportunities was 9.0% on December 28, 2016 as follows:

Our Best Performing Picks During 2016
Below is a table of some of our most profitable stock picks for the year:
(click to enlarge)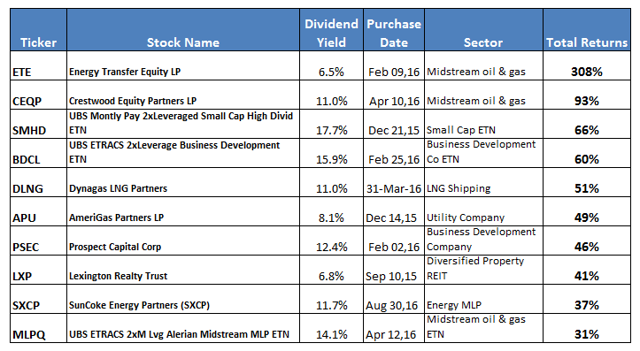 Complete List of Sell Alerts
The following is the full list of Sell Alerts sent to subscribers from January 1, 2016 until December 28, 2016.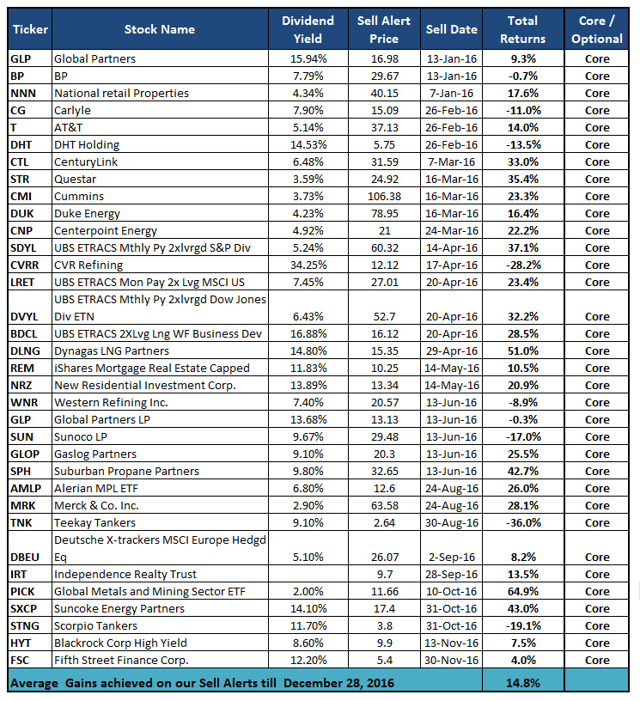 ===
Outlook For 2017
As far as the Global Economy is concerned, it looks like we're officially out of the woods. Based on our assessment, we estimate that we are currently at the lowest probability of a possible recession since the beginning of 2015. Going forward in 2017, we remain bullish on the outlook of equities in general, and high-yield securities in particular. We are expecting the general markets to return a solid 7% to 10% for the year. Of course, the way up is by no means going to be a straight line, but long-term investors should be well rewarded.
We believe that our portfolio is well positioned to beat the markets again in 2017. Our favorite sectors currently include Property REITs, BDC Companies, Oil & Gas MLPs, Healthcare and Biotech, in addition to inflation-protected products which hedge against rising interest rates.
===
About "High Dividend Opportunities"
"High Dividend Opportunities" is a leading and comprehensive dividend service ranked #1 in dividends on Seeking Alpha, and is dedicated to high-yield securities trading at attractive valuations. It includes a managed portfolio targeting 7-9% overall yield - and a selection of the best high yield Master Limited Partnerships, BDCs, U.S. Property REITs, Preferred Shares, and closed-end funds (CEFs).
We have unparalleled subscribers' satisfaction. To find out what current subscribers think of our service, you can access more than a hundred reviews they have posted by clicking here.
For more information on how to join for a 2-week free trial, please click here.
Sincerely,
Rida MORWA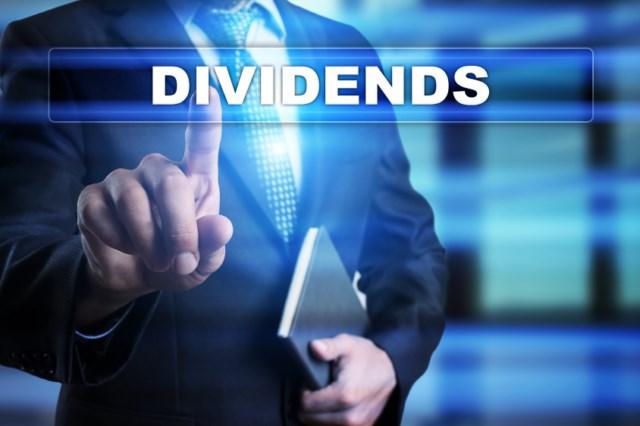 Note: The overall performance assumes that all securities were held on an equal basis and the dividend being re-invested. The dividend yields were calculated at the time the securities were sold, therefore they are approximate. Past performance is not indicative of future results.
Disclaimer: "High Dividend Opportunities" service is impersonal and does not provide individualized advice or recommendations for any specific subscriber or portfolio, as I have no knowledge of the investor's individual circumstances. Subscribers/readers should not make any investment decision without conducting their own research and due diligence, and consulting their financial advisor about their specific situation.
Disclosure: I am/we are long ALL THE SECURITIES IN OUR CORE PORTFOLIO.