Dear Follower,
Have you ever wondered why High Dividend Opportunities continues to grow year after year and has maintained the #1 ranking as the most subscribed-to service for income investors and retirees for the 4th year in a row? It's because we realized from the beginning that success in the market can't depend on one person. High Dividend Opportunities has always been successful in bringing together the best experts to search the high-yield space  for the most profitable opportunities.
Our research team has now 6 of the best experts working relentlessly to find high quality, undervalued dividend stocks for our members to invest in. 
Let me highlight some of the added value that our experts bring to our service 
Preferred Stocks & Fixed Income - Preferred Stock Trader
Preferred Stock Trader brought 35 years worth of trading experience to our team! He's been instrumental in launching our all preferred stock and bond portfolio. With a recession possibly coming in a couple of years, we have been recommending to our members to adjust towards a more fixed income focused portfolio. Our Preferred Stock Portfolio alone includes 50 recommendations with "Buy Under" prices and an overall yield close to 7%.  TJ has brought to bear his significant skills to enable everyone to see additional safety in their income streams.
Getting the Right REITs - Beyond Saving
Beyond Saving is our lead REIT author here at High Dividend Opportunities. The REIT marketplace is littered with high and low yielding options and it takes a true expert to navigate these waters. Yield traps and unsustainable practices abound but Will has been instrumental in finding diamonds in the rough that bring high returns - both in yield and price movements to our service.
Immediate Income in Focus - Treading Softly
Author Treading Softly was making quiet waves before joining our team last year challenging the commonly accepted practice that every retiree should invest in low yielding stocks with high dividend growth. Treading Softly brings his expertise in CLOs and rare immediate income gems to our members that will keep their cash flowing from their portfolio through all market phases.
Undervalued U.S. and Canadian Dividend Stocks - Trapping Value
Author Trapping Value is very well known on Seeking Alpha for his bold an successful calls at identifying high yield picks that have become oversold, and advises our investors for the best time to pick them up and lock the generous yields offered by the markets for the  long run. He covers both the U.S.  and Canadian markets for unique Opportunities.
Retirement Issues and How to Best Manage your Savings - PendragonY
Author PendragonY is an expert in retirement topics and shares his experiences with our members on how to maximize income in a retirement  account.
Note that our members get a first look on all of our stock picks, and up to-date rating on our best high-yield picks to buy today!
We Work as a Team For Your Benefit
These fantastic authors work as a unified whole with me to bring you both a sound income strategy and the best high yield picks that the markets currently offer. Why place your bet on one author claiming to do it all? When for one price you can have access to six experts who each add unique value to your investing life!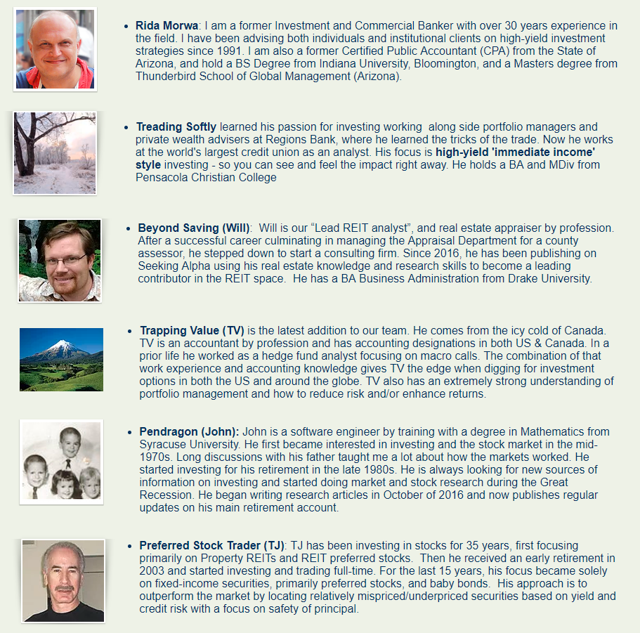 How Are We Positioning Our Portfolio Today?
I have very vocal since mid 2018 that interest rates are set to decline in 2019. As a result, we were the first to adjust our high-yield portfolio to maximize our profits in a world of sharply declining interest rates.  We recommended to take profits on many interest rate sensitive investments such as New Residential Investment (NRZ) and Ladder Capital (LADR) and redeployed our capital into undervalued income investments that are set to benefit in our environment today.  At High Dividend Opportunities we are continuously monitoring macro-economic conditions, and adjusting our investment strategy when needed. As a member, you get access to our latest views in the high yield space, and how they are impacted by ongoing market and economic changes. We always remind our members that keeping the health of the global economy and market conditions in check is more than 50% of the due diligence required for successful investing. By joining us, you will stay on top of issues that matter the most to your investments and hard-earned money.
High Dividend Opportunities, The #1 Service for Income Investors and Retirees
We are the most subscribed-to service in the high-yield space, and consistently the highest ranked service on Seeking Alpha since 2016. 
As our prices are set to increase soon, we invite you to join today and take advantage of our 2-week free trial to get instant access to our model portfolio targeting 9-10% yield, our preferred stock portfolio, and income tracking tools. Importantly, you get access to our defensive investment strategy, with picks that are set to soar in case we hit a recession. You also get access to our report entitled "Our Favorite Picks High Yield Picks to Buy Today".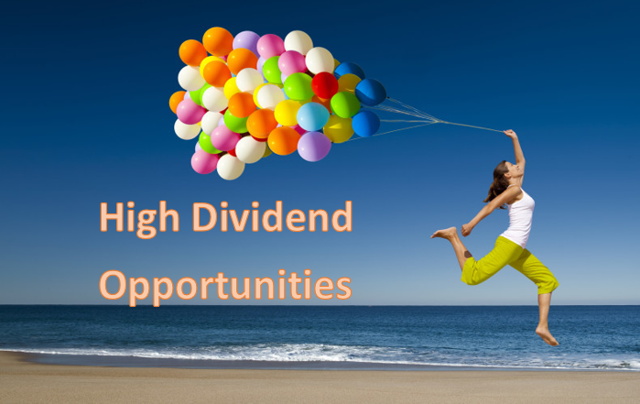 I am confident that you will love our service! No one needs to invest alone. To join us please CLICK HERE
Sincerely,
Rida MORWA