Three Mistakes Soon-To-Be Retirees Make
Please Note: Blog posts are not selected, edited or screened by Seeking Alpha editors.
High Yield Stocks, passive income, Retirement, REITs
Seeking Alpha Analyst Since 2006
I am a former Investment and Commercial Banker with over 35 years of experience in the field. I have been advising both individuals and institutional clients on high-yield investment strategies since 1991. I am the lead analyst at High Dividend Opportunities, the #1 service on Seeking Alpha for 6 years running.
Our unique Income Method fuels our portfolio and generates yields of +9% alongside steady capital gains. We have generated 16% average annual returns for our 7,500+ members, so they see their portfolios grow even while living off of their income! Join us for a 2-week free trial and get access to our model portfolio targeting 9-10% overall yield. Our motto is: No one needs to invest alone!
In addition to being a former Certified Public Accountant ("CPA") from the State of Arizona (License # 8693-E), I hold a BS Degree from Indiana University, Bloomington, and a Masters degree from Thunderbird School of Global Management (Arizona). I currently serve as a CEO of Aiko Capital Ltd, an investment research company incorporated in the UK. My Research and Articles have been featured on Forbes, Yahoo Finance, TheStreet, Investing.com, ETFdailynews, NASDAQ.Com, FXEmpire, and of course, on Seeking Alpha. Follow me on this page to get alerts whenever I publish new articles.
The service is supported by a large team of seasoned income authors who specialize in all sub-sectors of the high-yield space to bring you the best available opportunities. By having 6 experts on your side, each of whom invest in our own recommendations, you can count on the best advice. (We wouldn't follow it ourselves if we didn't truly believe it!)
In addition to myself, our experts include:
3) Philip Mause

4) PendragonY

We cover all aspects and sectors in the high yield space including dividend stocks, CEFs, baby bonds, preferreds, REITs, and more! To learn more about "High Dividend Opportunities" and see if you qualify for a free trial, please check out our landing page:
High Dividend Opportunities ('HDO') is a service by Aiko Capital Ltd, a limited company - All rights are reserved.
Summary
Three mistakes loom over your retirement planning.
You may be in retirement now and these errors are causing great consternation in your life.
How can you fix them before they wreck your retirement.

Dear follower,
I've been doing this for long time. I don't say that to brag, but to build a foundation for what I am going to be talking about. I often get questions from my over 4400 High Dividend Opportunities members as well as free readers and the general public. 
Retirement is a big deal. You spend your life saving for it or you spend your later years stressing over it. Sometimes you do both!
Often people here about so many types of investing and their focus. Total return. Dividend Growth. Immediate income (our focus). Momentum. Growth. Contrarian. The list can go on and on. 
Before you even tackle any of that, mistakes in the foundation of your retirement plan are frequent.
Mistake One: Under-Estimating Spending and Expenses
The first step you should take in planning your retirement, especially as it draws near is making a budget. What do you expect your expenses to be before your additional pleasure spending. Will you set yourself a budget on how much miscellaneous extra spending you will do? 
The biggest mistake you can do is to under-estimate how much life will cost. Bills are a relentless part of life. Internet, TV shows, power, cell phones - none of these things operate for free.
Some companies will offer budget billing - this is offered by many power utilities - where you pay a flat rate every month but often you actually spend more than the variable option. The ease of budgeting vs the loss of some cash.
I suggest when you sit down and make a budget is to look over two years worth of bills and expenses and instead of taking the average. Take the most expensive power bill, water bill etc and use that as your base for your budget. Its better to over-estimate expenses than under-estimate them.
Mistake Two: Over-Estimating Income and Dividends
The second mistake works hand in hand with the first. If expenses are money flowing out of your life, income and dividends are money flowing in. As humans we love to expect the best from our income flow. I admonish you to plan for the worst.
Over-estimating your Social security, pensions, annuities, dividends, side-hustle, rental income etc will lead to a stressed budget and finances. You should aim for your income stream to strongly outperform your budgeted expenses in the event that you lose one or two of your income sources. Perhaps your rental home goes empty in for months, or you have to evict an non-paying tenant. Many the company offering your annuity goes under and its lost. Black swan events force us to diversify our income sources. The age-old saying of not putting all your eggs in one basket applies strongly here.
Mistake Three: Investing The Same as Before
When a life event occurs, priorities are shifted and lifestyles must change. When you welcome a new baby into your life, your friendships will often drastically be realigned. Why? You've reached a new life stage and often friendships are defined by which life stage you exist in. 
Likewise, your investment philosophy or goals may need to be realigned. Those who had a heavy emphasis on the speculative may need to reign in that nature and become more conservative. Not because of fear, but because they are not pulling in a bi-weekly check in the event something goes south.
Likewise, those investing in slow and steady dividend growth stocks may realize those options cannot provide the income necessary to cover their bills. As such some trimming and adjusting is needed.
This is where High Dividend Opportunities plays its biggest part. Often readers assume our Model Portfolio is completely set up as a "Higher Risk/High Reward" proposition. They fail to realize we have sections of our portfolio tailored to lower-risk investors. Those who want mostly bonds, baby bonds and preferreds will find a plethora of options.
We suggest allocations to each section for more aggressive to most conservative of investors so your risk-tolerance is kept in mind. This way you maximize the benefit of Immediate Income investing and minimize the risks as much as possible.
What does High Dividend Opportunities do?
With a team of six experts, we point out safe havens to rest your ship in. We highlight risks worth taking to maximize your chances of reward. We help you man your ship with tools, expertise, and knowledge so your portfolio isn't lost at sea.
When sailing often an experienced crew can be the difference between success and failure. Are you a one-man vessel standing against the ocean alone? Let us bring our unique Income Method and our SMART Income Scores and add them to your tool box to navigate these waters. For only $408 the first year of your membership on the annual plan, you get access to these tools and a model portfolio to craft your own ship after. Make adjustments, make needed improvements and join our flotilla of over 4300 other portfolios capturing rewards from this market together.
What Are New Members Saying?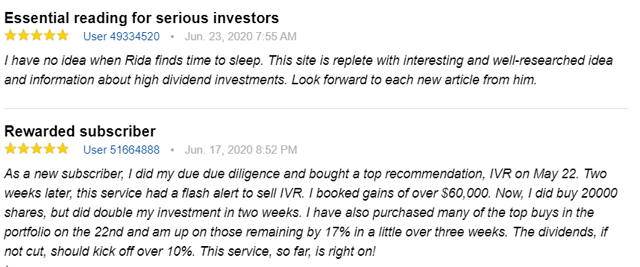 These investors could be you in the future.
Why Invest in High Dividend Stocks?
Why should you invest in high yielding dividend stocks? They provide high immediate income. This income is the only form of real return an investor can receive while still holding onto their shares of a company. It is cold hard cash and provides a buffer against the volatility of the market!
Here at High Dividend Opportunities we are experts at finding high quality, undervalued dividend stocks for you to invest in. This creates high yielding opportunities where normally they wouldn't or shouldn't exist. We issue real time buy alerts to our members to capture these high yields allowing you to get more income to reinvest elsewhere or live on!
How can you gain access? Simple. Sign up for High Dividend Opportunities. Take a 2 week free trial for a spin and you'll never look back.

A Short Explanatory Video
I often get asked what exactly High Dividend Opportunities has to offer and who would really benefit from it. So I and my team decided to make a brief video that would help answer those questions. I think it is a must-see for all retirees and investors planning for their retirement. Take a look for yourself and let me know what you think!
Spring into Summer Limited Time Sale - With Up to 20% Off!
We've seen new members joining to get into the positive atmosphere and focus on the future. We have decided to cut our prices for your first year of membership to make this easier for you. Average folks like you and me shouldn't be shut out from great opportunities!
At High Dividend Opportunities, this past year has been a busy one, with thousands of new members joining our group and enjoying recurrent high dividends.

When you change your perspective, you can change your life. We've had countless retirees tell us their income stream is larger, life is less stressful and they don't feel the need to be panic-driven tied to their brokerage screen monitoring every changing pixel of market value. They sit back, enjoy life and recognize what wealth really is.
Many new members have locked our special 20% off their first year of membership and you can too! These new faces are jumping right in because now is the time to be buying high-yielding safe dividend plays and enjoy the high dividends for years to come.
How Do I Get This Sale Price?
You can simply sign up for High Dividend Opportunities and get 20% off your first year. That is $408 for the annual plan or $720 if you decide to pay monthly. The annual plan discount is an additional 43% off compared to the monthly plan!
High Dividend Opportunities, The #1 Service for Income Investors and Retirees
We are the most subscribed-to service in the high-yield space, and consistently the highest-ranked service on Seeking Alpha since 2016. We spend countless hours and over $300,000 per year researching the market and locating mispriced, oversold, and undervalued opportunities. We share those opportunities with our members at a fraction of the cost.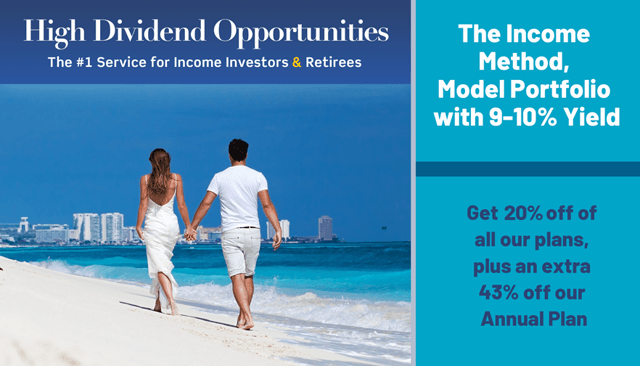 Over 4400 members have joined us already, come and give our service a try!
Don't miss out on the "Power of Dividends"! Take advantage of our 2-week free trial to get instant access to our model portfolio targeting 9-10% yield, our preferred stock portfolio, and income tracking tools.
Most importantly, you get access to our defensive investment strategy, with picks that are set to soar in case we hit a recession.

No one needs to invest alone. Join our family of income investors by Clicking HERE!
Sincerely,
Rida Morwa
Seeking Alpha's Disclosure: Past performance is no guarantee of future results. No recommendation or advice is being given as to whether any investment is suitable for a particular investor. Any views or opinions expressed above may not reflect those of Seeking Alpha as a whole. Seeking Alpha is not a licensed securities dealer, broker or US investment adviser or investment bank. Our analysts are third party authors that include both professional investors and individual investors who may not be licensed or certified by any institute or regulatory body.