Dear Followers,
Today, I am honored to share with you some excellent educational content that normally stays exclusive for members of High Dividend Opportunities. We aim to educate our members as well as provide them top-notch research content. This way they are well rounded investors and knowledgeable retirees.
I hope you enjoy this free article from our Marketplace and strongly consider joining us for a free trial, HDO only costs $396 annually for your first year with our current introductory discount.
All the best,
Rida Morwa
===
We invite you to take a 2-week free trial to our service. It is the #1 Service for Income Investors and Retirees. By taking the free trial, you will have access to our model portfolio targeting a +9% yield by investing in dividend stocks, bonds, and preferred stocks. We are offering a limited-time 28% discount. Test it for yourself, I am confident that you will like it!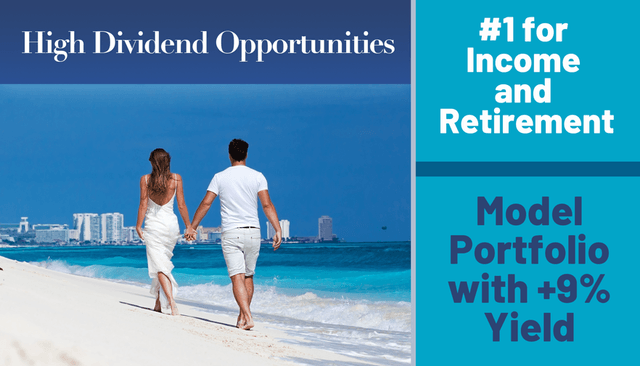 For the 2-Week Free Trial of our membership, please CLICK HERE.
 ===
How To Read A Balance Sheet
When I was a young child, someone once asked me what my father did for a living. I asked what they meant, and they asked, "how does he make money?". I replied, "well, he goes to the bank and gets it."
I was four, I didn't know where the money came from. All I knew is dad would go into the bank, fill out a slip of paper and walk out with an envelope of cash.
We aren't born with some inherent knowledge of finances. Everything has to be learned; unfortunately, the tools that will help you the most in the stock market aren't taught to most in school.
Many of you devoted your lives to careers outside the stock market. You developed your expertise in the field you worked in. Then you retire and try to manage your investments, which can be overwhelming.
You receive a notification from your broker that an investment you hold filed their 10-Q or 10-K, and when you click on it, it's huge. A 10-Q is frequently over 50 pages, a 10-K is easily over 100 pages. Being a responsible steward of your capital, you try to read it, and it's all Greek to you.
How do you read a balance sheet? What is the difference between the income statement and the statement of cash flows? Are these numbers good or bad?
You want to know. After all, nobody in the world cares about your money more than you do. Yet there is no reason you should inherently know what all these numbers mean.
When I'm writing here on Seeking Alpha, I'm as guilty as others at skimming past things that are "obvious" to me. I've been reading financial statements for many decades. Doing so has become second nature. So it's easy to forget that most of you haven't. Plug me into whatever career you did, and I'd be completely lost.
So with that in mind, I want to go back to the basics. I want to cover the essentials that every investor should know. While I am honored to be one of the "gurus" that many people follow, my goal is not for you to just trust me. My goal is to teach you how to do due diligence on your own portfolio.
Give a person a fish, and they eat for a day.
Teach a person to fish, and they can feed their family.
Teach a person the Income Method, and they'll own a fleet of dividend fishing boats funding their legacy.
SEC Filings
The 10-Q is a quarterly filing required for all publicly traded companies. Once a quarter, we get an in-depth insight into what companies are doing. The 10-K is a more comprehensive and audited financial statement that is filed after the end of each fiscal year.
On earnings calls, management will add color and commentary to their report. Many companies will provide "supplements" that provide additional details and/or a more user-friendly format.
It is always important to recognize that management is inherently biased, that isn't a bad thing. I want a company's management to be very confident believers in the company. Yet it does mean that we should look at the numbers ourselves to ensure they match the story management tells.
Finding the filings is very easy, they are available through the SEC's "EDGAR" search here: SEC.gov | Company Search Page
Simply type in the stock ticker, and the company you are looking for will come up. Here, we did a search for "MPW", Medical Properties Trust (MPW) – one of our favorite opportunities in the market today.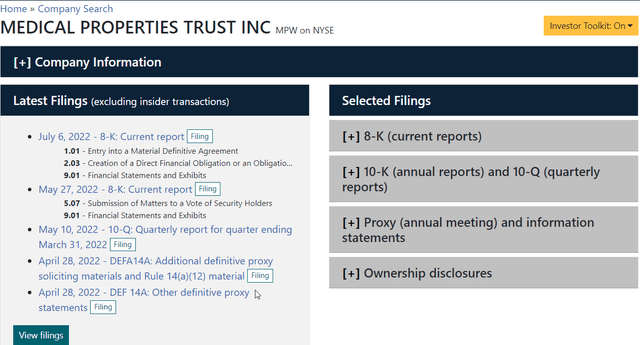 On the left, you have the latest filings, and on the right some shortcuts to filings that investors tend to be looking for. If you click on "view filings" you can see every filing ever made. If it isn't in the SEC filings, then it isn't "official".
As investors, we rely heavily on the accuracy of these filings. These filings are heavily regulated and companies and individuals can be held liable for inaccuracies in these filings.
This makes these filings the best way for us to get an objective view of the company. For today, let's focus on the 10-Q.
Financials Statements
Now, let's focus on why most people look at a quarterly filing: for the finances. You'll note that the table of contents through EDGAR has convenient hyperlinks. This allows you to jump directly to the page you want.
For U.S. companies, these statements will always use "GAAP" (Generally Accepted Accounting Principles) accounting. This ensures that all companies use the same procedures and report the same metrics.
GAAP is a form of "accrual" accounting, as opposed to "cash" accounting. The major difference is that accrual accounting recognizes revenues when earned and expenses when the obligation is incurred, even if no cash has exchanged hands yet. Cash accounting records revenues and expenses only after money is exchanged.
Both kinds of accounting have their strengths and weaknesses. As investors, we need to know when we are looking at a number that is using accrual accounting and when we are looking at a number that reflects cash accounting.
The major financial statements are:
The balance sheet: Breaks down the company's assets and liabilities. A healthy balance sheet is essential for a good investment.
The income statement: Breaks down revenues and expenses leading to "net income" and EPS (earnings per share).
The comprehensive income statement: This statement includes unrealized gains or losses that might not be realized. Most commonly, you'll see adjustments for unrealized gains/losses associated with interest rates or foreign currency hedges.
The equity statement: This statement will provide information on what impacted shareholder equity over the period. Come here to see if the company is issuing new shares, buying back shares, how many shares were awarded to employees, etc.
The statement of cash flows: This statement backs out non-cash items and provides the net cash provided/lost from operations, investing, and financing.
Today, we are going to focus on the balance sheet.
Balance Sheet
The balance sheet is broken into two halves: "Assets" and "Liabilities and Equity". Assets are the things a company owns, and liabilities are the things they need to pay. This is a crucial section of the financials for investors to understand and to keep an eye on.
There are obvious risks like bankruptcy, which can threaten shareholders. A weak balance sheet can cause a company to be unable to refinance the debt or pay other crucial obligations. Equity investors rarely come out well in bankruptcy.
However, there are less obvious risks as well. A company with a weak balance sheet might not be able to expand. It might miss opportunities to grow its business, or it might find that its cost of capital is too high to make new investments profitable.
All other things being equal, a stronger balance sheet gives a company a competitive advantage over peers, while a weaker balance sheet will be a headwind to earnings and earnings growth. You want to know if your investments have a healthy balance sheet and whether that balance sheet is getting stronger or weaker over time.
The numbers will reflect the current reporting period compared to the end of the last full year. So in Q1, you will see March 31st compared to December 31st the prior year. In Q3, you will see September 30th compared to December 31st the prior year.
1) Assets
Assets are the things that the company owns. You might have a broader category broken into more detailed subcategories. For example, MPW breaks out their "Real estate assets".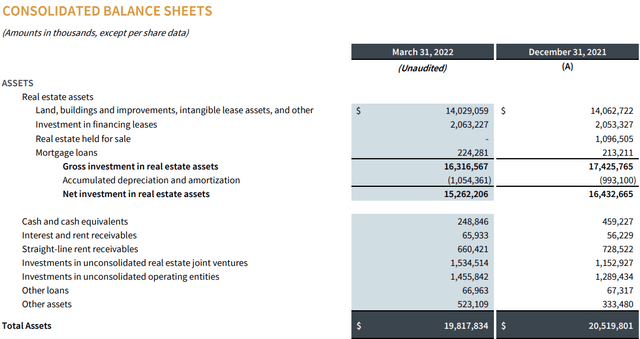 Note: All images were taken from MPW's Q1 Supplement as it provides the same information in a more easily read format.
We can see that MPW has three types of real estate investments. Approximately $14 billion directly in land/buildings, approximately $2 billion in "financing leases", and a little over $200 million in mortgage loans. Everyone knows what it means to own buildings and mortgage loans, but what are financing leases?
Don't Hesitate To Ask (Or Search)
I never promised this would be easy. When you are investing in a sector that you never worked in, you will come across terms and concepts that are new to you. Not everyone has a team of experts they can message to get a quick answer.
Fortunately, the Internet has made it very easy to search for terms and learn what they mean. Doing a quick search for "finance lease definition", and right up top came up with a great answer.
Finance lease refers to the lease where the finance company owns the asset legally during the tenure of the lease but all the risk and reward associated with the asset are transferred to the lessee by the lessor and at the end of the lease term lessee also gets the ownership of the asset.
In this case, MPW is the finance company with legal ownership of the property, but under the lease terms, the tenant has the right to buy it at the end of the lease term. One way to think of them is as a "mortgage +". With a mortgage, the financing company collects the interest, and the borrower owns the property. If a borrower defaults, the financing company can foreclose and seek to gain ownership of the property. With a financing lease, the lender already legally owns the property. If the borrower defaults, as they say, "possession is 9/10ths of the law". Being the deeded property owner reduces the expense and risk associated with a default.
You will come across terms you aren't familiar with, don't hesitate to seek out the answers. This will improve your knowledge of what the company does. If you follow MPW, you might have been confused about this exchange on the earnings call about guidance for the year. CFO Steven Hamner said:
So Tayo, you're correct up until when you mentioned Prime. We do not necessarily assume that Prime is going to exercise its options to buy roughly $330-ish million of properties. We make assumptions about what we think is going to happen. We haven't disclosed what we think that is – but we have a level of confidence of our expectations. However, if we're wrong, if we're totally and completely wrong and Prime does in fact exercise its options then what we've said is the result is well within that $78 million to $82 million guidance range.
This comment might leave you confused if you hear it without context. But when you understand that MPW has roughly $2 billion invested in financing leases and that a feature of financing leases is that the tenant has an option to buy the property at the end of the term, the comment suddenly makes sense!
On the balance sheet, you will frequently see "receivables". In the case of MPW, there are two types, "Interest and rent receivables" and "Straight-line rent receivables".
Whenever you see the word "receivables", the revenue has been recognized through the income statement, but the company has not received the cash yet.
GAAP requires companies to record revenues as earned, not when the cash is received. It is common for a company to provide goods or services and then bill the customer, providing them a certain number of days to pay it. The revenue is reported through the income statements immediately, but any amount that has not been paid will be added as a "receivable".
Consolidated vs. Unconsolidated Investments
When you're reading a company's financial filings, it typically is not a single corporation. It is common for companies to be made up of various branches, different corporate names operating in different states, or for REITs, a corporation that owns the real estate and another for operations. For various legal, taxation, and operational reasons, having multiple corporations do different roles can make sense. Yet ultimately, all the branches fall under the same parent company, so the finances are "consolidated" for reporting.
MPW has $248 million in cash and cash equivalents but doesn't have one bank account filled with $248 million in cash. It has bank accounts under numerous corporate entities; the $248 million number is the "consolidated" sum of the parts.
The parent corporation generally has a legal right to that cash if it is consolidated. You may sometimes see "restricted cash", which means that the parent corporation can only access that cash on certain terms, often through a contractual agreement with a lender.
The word "unconsolidated" indicates ownership in a company where the financials are not included with the rest of the company. So any cash inside that unconsolidated company is not included in cash and equivalents. Similarly, that company's debt is not included on the liability side.
In MPW's case, the unconsolidated investments stem from equity investments in hospital operators and joint ventures with partners like their recent deal to sell a 50% interest in some properties to Macquarie. Since Macquarie has a 50% interest in the assets, it would be inappropriate for MPW to claim them as theirs.
On the balance sheet, unconsolidated investments will be carried as an asset typically based on their GAAP equity value (GAAP assets - GAAP liabilities). In some cases, a company might use "fair value" to value certain investments. After the financial statements, a section entitled "Management Discussion" will provide an additional explanation of the financial statements. Including more details on unconsolidated investments.
2) Liabilities & Equity
Once you understand the asset side of the balance sheet, it is fairly easy to understand the liabilities side. They are often two sides of the same coin.

Debt is straightforward. It is the sum of all the money borrowed by the company. It will include short-term debt like revolving lines of credit and long-term debt that might not mature in 10+ years.
"Accounts payable" is the opposite of "Accounts receivable". Where receivables is money owed to the company but not yet paid, accounts payable are money that is owed by the company but not yet paid. These expenses have already been deducted from the income statement but have not actually been paid. It will include accrued but unpaid interest, property taxes, wages and salaries, and any other expense obligations that have accrued but are not yet paid.
With GAAP, revenues are reported when they are earned, not when they are paid. We've discussed what happens when the company provides a service but has not yet been paid. What happens if a customer pays before the company provides the service?
It is recorded as "deferred revenue". MPW received $18.8 million in advance payments, and that cash is included in "cash and cash equivalents" on the asset side of the balance sheet. But MPW has not yet provided whatever service or item they were being paid to provide. So it is carried as a liability because if MPW can't or won't provide the service, they might be required to issue a refund.
Deferred revenue says, "Yes, we have the cash, but we haven't upheld our end of the agreement yet."
Obligations to Tenants and other Lease Liabilities
It isn't always obvious what a line means, and companies can use different phrases. What "obligations to tenants" might MPW have? When you come across something you aren't sure of, you can always search the document for the phrase to see where else it is referenced. In this case, "obligations to tenants" is referred to on the cash flow statement as "lease deposits and other obligations to tenants".
Suddenly, the mystery becomes understandable once again. A deposit is a liability to the landlord for logic that is similar to "deferred revenue". The tenant's cash is put in the landlord's account, and the landlord has to pay it back in the future, assuming the tenant lives up to their obligations.
Equity
This brings us to the bottom of the balance sheet: the equity. Equity is simple enough, it is a subsection of the "Liabilities and Equity", and it is computed by this formula: Assets - Liabilities = Equity.
You can calculate equity quickly by simply doing the math.
The balance sheet will break equity down, assigning a nominal value to the common shares.
"Retained earnings (deficit)" will provide the total running track record that earnings contributed or removed from book value after dividends have been paid.
"Accumulated other comprehensive loss" will provide the running total of profits/losses that were recorded on the "Comprehensive Income Statement".
Note, that these are always GAAP earnings, which might not be relevant to many businesses. We will discuss GAAP vs. non-GAAP earnings when we cover the Income Statement in the coming weeks.
Why You Want To Look At The Balance Sheet
The main thing you want to watch on the balance sheet is debt and leverage. We all know that leverage can create risks, but it also improves returns. So we want to understand that balance sheet before we buy to make sure the risk is acceptable to us. Then we want to monitor it so that we are aware of any changes in the risk profile of the company.
Management has routinely been telling us that they intend on deleveraging. But are they really deleveraging? With a number of transactions occurring in the middle of the quarter, it can be difficult to determine using the income statement because some of the income came from properties sold and some from properties bought.
The balance sheet can help us find the answer.
For example, if we look at debt to assets, we can see that in December 2021, MPW had $11.282 billion in debt and $17.425 billion in gross real estate assets. (We believe that real estate before depreciation is generally more accurate than after depreciation). $11.282/$17.425 = 64.7% debt to assets. In other words, for every $1000 that MPW invested in real estate, it was borrowing $647.
At the end of March, the balance sheet tells us that MPW had $10.117 billion in debt. However, assets are lower too because MPW sold some properties. Their real estate is now $16.316 billion. $10.117/$16.316 = 62.0%.
The "story" that management has been talking about at earnings calls is that leveraging up for their recent buying spree would be temporary. They have discussed deleveraging through some dispositions and also that acquisitions in 2022 would be funded with higher equity and less debt.
So we can rest assured that management is doing what they said they would, for now. We'll continue to monitor future reports, and make sure that MPW is continuing to make progress on deleveraging.
A Real-Life Example
What do they own? What do they owe? Two questions that are answered on the balance sheet that you should know for every company you own.
Otherwise, you might invest in something like this: The first company my neighbor ever asked me about was called Workhorse Group (WKHS), its price had shot up and it was trading for a market cap of over $1 billion. He did his "due diligence" on Reddit and was suffering from a severe case of FOMO (Fear of Missing Out). I had never heard of it, so I took a peek. My due diligence took a few minutes, as I didn't need to get past the assets.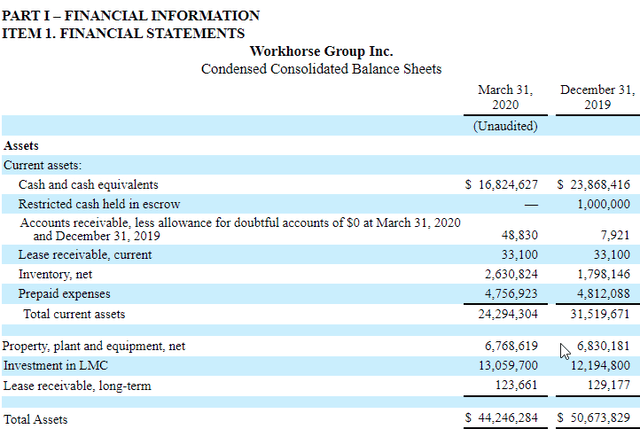 Yes, that is $44 million in assets, and the company was trading for over $1 billion. They also had over $100 million in liabilities, but I don't think you even needed to go that far to know that the company was ridiculously overvalued no matter how great their idea was.
My neighbor didn't understand how to read a balance sheet, and it didn't end well for him. You are buying a company and your return will be very dependent upon the assets that the company has and whether it can manage its liabilities. I encourage you to take the time to understand what you are buying.
Conclusion: Trust But Verify
Financial reports should always be read in conjunction with management's stated strategy, trust but verify. Are the changes you see on the balance sheet aligning with the story that management is saying? We've seen more than one management team promise deleveraging, but the actual deleveraging never seems to arrive. It is always just over the horizon.
MPW is on the cusp of getting a ratings upgrade from Moody's with a positive outlook. An upgrade would make MPW an "investment grade" rated company, which has significant ramifications for its future costs of capital. As investors in the equity, such an upgrade can greatly improve future returns and would likely be very beneficial to the common stock's valuation.
The two main obstacles to getting that upgrade are MPW's elevated leverage and overweight exposure to their largest tenant. Both are obstacles that MPW can overcome, as long as management remains focused.
So as we buy up more MPW while it is on sale, we will also continue to monitor their balance sheet to make sure they are making progress.
Today, you've learned a little more about the balance sheet. Reading quarterly filings is a complex topic that can easily span many articles. You aren't going to become an expert overnight! However, by reading balance sheets and asking questions when you come across something you don't recognize, you will have a much better understanding of the companies you invest in.
Sincerely,