The following is an exert from Chapter 1 of Jay Norris' coming book: Forecasting Forex Markets
Natural Events & Climate Change
From a U.S. trader's perspective the most glaring problem created by nature and exacerbated by climate change is the disappearance of the snowpack in America's Rocky Mountains. This is because the runoff created by the melting snow in the summer months not only supplies 70% of the fresh water to the American West, but also powers Hoover Damn, which is going to be jeopardized sooner rather than later. While the snow pack can technically return, it would take a string of eight very wet and snowy winters to rebound, and the current trend in weather does not support that outcome. This is such a serious problem because the solution for a drop in the level of the Colorado River which shuts down the Hoover Damn, if there is one, will be very costly for the U.S. government and will likely lead to still more massive borrowing on behalf of the U.S. government. The possible net effect: negative interest rates in the U.S., as the Fed forces banks to pay it to keep money on deposit there in an effort to force them to lend to businesses to set up new alternative energy solutions and revitalize the current closed desalination plants in California. Regardless of possible solutions the outcome in the markets would be a continued weaker dollar and even more pressure for lower interest rates.
A problem on par with the drastic drop in available fresh water and power supply for the American West is the potential drop in U.S. crop yields if the current pattern of scorching summers does not abate. The scorching summer of 2011 set up the drought and crop failures of 2012 as a dryer then normal June of 2012 doomed corn fields across the country, prompting historic high grain prices. Even without a stubbornly slow economy most Americans are not in any shape to weather higher food prices, on top of already expensive energy prices. The chart in Figure 1.1 shows the path of a price of a bushel of corn over the last 10-years.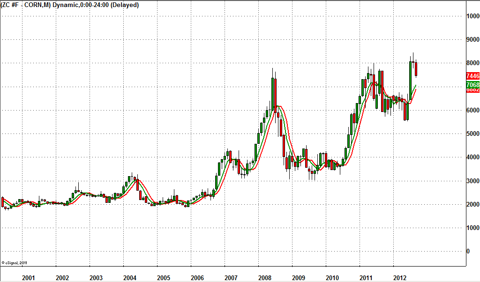 Figure 1.1 Monthly Corn Chart
Yes the price of corn will likely come back down some because many agricultural companies and traders see events like drought as rarities. But the floor for corn prices will very likely not be $2.00 a bushel as it was just 6-years ago. How about $5 or $6, as a low price for corn? Given the essentially inseparable inverse relationship between commodities such as corn and the U.S. Dollar, it is as close to certainty as one can be in this business that higher food prices will equate to a weaker U.S. Dollar.
In both of these climate change scenarios the likely result is a weaker U.S. Dollar which favors the patterns currently in place. What countries could benefit from climate change? Canada because of an abundance of fresh water; and Australia because of its expertise in the solution for lack of fresh water: desalination. In the game of currencies where value and interest-rates are always relative, what makes the U.S. Dollar look bad can make the Australian Dollar, of Canadian Dollar, or any other number of currencies, look good by comparison.
...While there certainly will be other market moving outcomes to climate change we didn't cover, we listed the two most serious on our radar. Depending on where you are in the world you may be facing potentially dangerous weather outcomes that need monitoring and perhaps even a plan of eventuality. We certainly don't mean to alarm people, but as analysts and traders the old saying "forewarned is forearmed" needs to go without saying. We need to be thinking about possible outcomes ahead of time.
To attend a live, interactive webinar with Jay Norris tomorrow go to: FXStreet Webinar
To see Jay point out trade signals in live markets go to: Live Market Analysis
Disclosure: I have no positions in any stocks mentioned, and no plans to initiate any positions within the next 72 hours.