Fed Renegade Plosser Sparks Asset Class Sell-off
For all the importance of having a definitive frame work to measure prices progress from, and all the danger of speculating or investing based on feel, or alleged intuition, there does come a time - namely May, and again in September -- where regardless of what the tape is telling us, we just feel the overpowering need to go to the sidelines. Predicting market corrections is harder than letting a profit run, and something we do NOT ever want to think we're are good at. We will take luck though. We did point out on September 17th that there was the possibility of a stock correction based on the Euro's behavior. Admittedly not a lot to hang our hat on, given the usual fact based price occurrences we need to act on. You just can't predict when a Fed Governor's speech which was largely ignored on most calendars is going to spark a stock retreat, as Plosser's words did today. "We are unlikely to see much benefit to growth or to employment from further asset purchases," Plosser insisted, which is as close as we'll ever get to someone in that position saying: "My boss does not know what he is doing, and the economy is %$#@&!".
AUDUSD
No matter how you try to cut it, the weakness we saw in the U.S. stock market today will carry through to the Aussie. And recent Australian economic numbers would support a sell-off. While last week's Conference Board Leading Index didn't come in a negative number, as in June, it did flash 0.0 which is bad enough. For its recent upside action in September, Australian data, from the jobs number to the company operating profits figures have been disappointing. We're calling for a test of 1.0325, on the way to 1.01. That would not however preclude us from looking for potential short-term buy set-ups in the 1.0325 area should shorter-term momentum support it.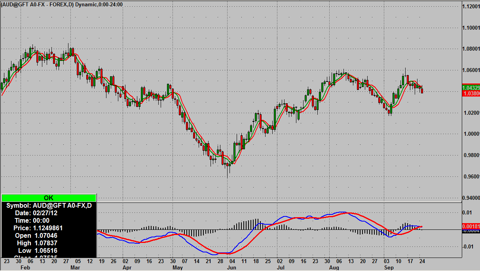 Figure 1. AUDUSD Daily Chart
EURUSD
While it took about 45-minutes to set in with Euro traders that a U.S. stock sell-off was also bearish for currencies, it did set in as EURUSD dropped over 40 pips in the U.S. afternoon session. The 1.29 level none the less did hold, and the Euro also held above the day's lows put in during yesterday's Asian session. The Euro has remained stubbornly strong against the other pairs, which tells us there are still plenty of longer-term bears caught short here, and their bidding on down ticks is supportive. We still contend that until the last mamooth slips below the surface of the tar pit for good, that is the larger Wall Street hedge funds capitulate and cover their Euro shorts, that this market will continue to have a hard time resuming its primary bear pattern. For all the sideways price action intraday the Daily Chart in Figure 2 does look decidedly bearish and we see a clear shift in momentum lower.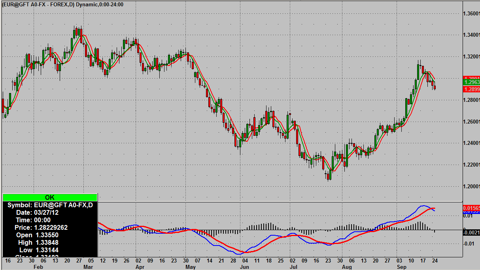 Figure 2. EURUSD Daily Chart
To see Jay Norris teach the art of discretionary trading go to Trading-U.com. Jay is the best selling author of Mastering the Currency Market
Disclosure: I have no positions in any stocks mentioned, and no plans to initiate any positions within the next 72 hours.