By taking out the September high today USDJPY created a bullish pattern on its daily chart to move from the category of "sell rallies" to "buy dips". Likewise Yen futures closed below the September low. What makes this shift significant is the yen has accomplished the same fete on its weekly and monthly charts by taking out the low of the 4th quarter of last year, and then putting in a lower high than the 2011 high on the subsequent shallow rally this summer. In technical parlance we can say today's bearish pattern on the yen daily chart has higher time frame confirmation from the weekly and monthly charts. See Weekly chart in Figure 1.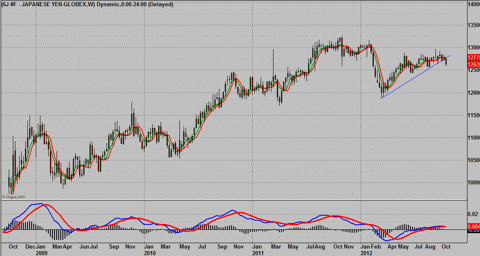 Figure 1.
We rely extensively on market generated data in making analytic and trading decisions because it takes so much of the guess work out of the process, and it works. The numbers the market itself produces, for example it's daily, or hourly highs and lows, do a much better job of telling us how a market is positioned, than just news. The easiest way to determine an individual market's growth curve is by noting the pattern of highs and lows. A pattern of higher lows and higher highs indicates a bull move, while a pattern of lower highs and lower lows indicates a negative growth curve, or a bear move. If a market is exhibiting a positive or negative growth curve on a day to day basis, the big question becomes is this sustainable? It generally goes without saying that the underlying fundamentals are supportive of the price pattern we all see on the chart; otherwise the pattern would not be there. When considering a shift from up to down, or vice versa, we always look for a reversal pattern to expose itself before considering if the back drop of the day to day news is supportive - again our reasoning is without supportive fundamentals you won't get that shift. It is not a question of which came first the chicken or the egg. It is always a matter of the market giving us a physical shift in price first. We then make the determination that we are going to buy dips in the new uptrend, or sell rallies in the new downtrend. We don't worry about missing trades, because as long as we've been around, the markets have been around longer, so there is a long and friendly track record that goes along with this simple strategy. We also understand the dynamics of man and markets where the actual underlying fundamentals does not become as widely disseminated until after key industry players have adjusted their positions accordingly. Once this occurs dissemination of the news becomes a self-fulfilling prophecy.
Gauging from the price action on the weekly chart above we feel that the yen, also known as the widow maker for how many top picking traders it's figuratively killed over the last couple years, has finally topped out. And that puts us into sell the rally mode, or in the case of USDJPY, buy the dip mode.
To see Jay Norris point out trade set-ups and signal in live markets on tomorrow's London / U.S. overlap go to: Live Market Analysis
Trading is a risky endeavor and not suitable for all investors.
Disclosure: I have no positions in any stocks mentioned, and no plans to initiate any positions within the next 72 hours.