Our studies are still bullish for the Euro, and supported by a powerful bullish seasonal at the end of December - see Figure 1.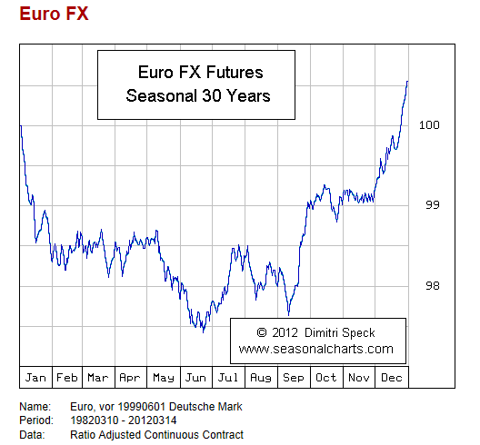 Figure 1.
The seasonal chart shows us that a price spike for the Euro is characteristic over the last two weeks of the year. We would see that spike as a fitting cap for the secondary rally which started last summer. We also feel that at this point most market shorts who had decided to ride out Boss Draghi's Euro buy recommendation in August have been stopped out. We see recent short seller capitulation as a sign that we can now consider a bearish shift back in-line with the Primary Pattern which is bearish - see Figure 2.
An interesting thing about long-term trends is that the closer you get to long-term structure on the chart - in this case resistance -- the more relevant that long-term pattern becomes to traders. In Figure 2 we've marked the long-term resistance levels in EURUSD which reminds us that as long as price is trading below them, the long-term trend is down. Shorter-term patterns and momentum however, are still our focus today, as is that before mentioned bullish seasonal. Short term momentum generally means a test of longer-term structure - in the case of the Euro a test of resistance at 135.00.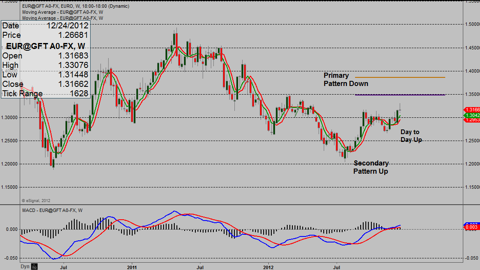 Figure 2. Weekly EURUSD Chart
Given the holiday season is well upon us I can't help but think that it really doesn't matter much which way the market moves until now and year end, but we do see going short as still a bit premature. On the other hand, every day brings us a little closer to the end game of this 5-month counter-trend rally.
Happy Holidays!
Jay Norris is the author of Mastering the Currency Market, McGraw-Hill, 2009. To see Jay point out trade set-ups and signals in live markets go to Live Market Analysis
Trading involves risk of loss and is not suitable for all investors
Disclosure: I have no positions in any stocks mentioned, and no plans to initiate any positions within the next 72 hours.