EURUSD continues its holding pattern between 1.3260 and 1.3400. What is most impressive about this pair is how it has only retraced the Jan 10 ECB Press Conference rally by barely 1/3rd. Such a shallow retracement, particularly in the face of a decidedly weaker GBPUSD last week, is definitely a sign of strength, as is Tuesday's much stronger than expected ZEW Economic Sentiment readings. It has been some time since German or European data has surprised on the upside. We still like the upside in Euro with a near-term target of 1.3500. The Risk Tolerance Threshold Ratio for EURUSD remains decidedly bullish - see Figure 1.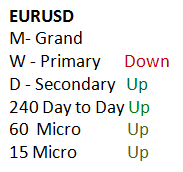 Figure 1. EURUSD Threshold Ratio
AUDUSD came to life on Tuesday after having rested up the previous week. The Aussie continues its repetitive pattern of a rally followed by sideways consolidation on its weekly, daily and 4-hour charts. This sturdy pattern often portends an upside break-out which we see as more likely given the absence of no pressing negative news on the macro front. While the Australian economy is not growing as much as the RBA would like higher interest rates and great demographics insure that sovereign funds and other institutions will continue to accumulate Aussie debt. The Risk Tolerance Threshold Ratio for AUDUSD remains solidly bullish.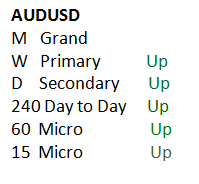 Figure 2. AUDUSD Threshold Ratio
To see Jay Norris highlight trade set-ups and signals in live markets go to: Live Market Analysis
Trading involves risk of loss and is not suitable for all investors