There are times when I'm sure we all wish trading was a little more straightforward. For example why can't it be easier to decide which hours are best to trade? Happily, we've come to the conclusion that there is a straightforward answer to this question.
DailyFX.com did a fascinating study titled: "When is the Best Time of Day to Trade Forex", Jan 24, 2013. The study was based on what they call "range traders", which the article identified "most traders" are. Our initial concern was that we're trend traders. Range traders on the other hand are counter-trend traders. The study concluded that the Asian session and morning European session is when "range traders" had the best chance of being profitable. This conclusion also dovetailed with the performance of our benchmark method - which is a trending method. The benchmark produced a higher percentage of winning entries during the Asian and London morning sessions than the U.S. session. Some of the largest winners however - those with the best risk/reward ratios -- were trades entered into during the London morning session which followed thru during the U.S. session. The fact that range traders and our trending method had better success during the same time periods makes sense to us, because even though we are trend traders we are still entering trades by buying dips, or selling rallies, the same tactic range traders use to enter trades.
What was even more exciting for us to find was that there are certain time periods where all the sessions are ideal for taking trend trades. In other words there are good times to trade, and better times to trade for trend traders. We went back over the last year and marked out periods when the benchmark performed well in all sessions. Two periods stood out - early spring, see red vertical borders, and then again in early winter, see green vertical borders --see chart.
These two periods also happen to coincide with all the markets being coordinated - market correlations being the strongest.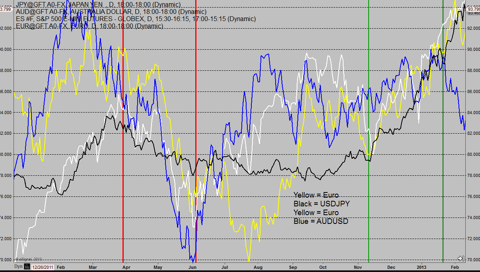 The conclusion for us is straightforward. We focus our short-term trading in the Asian and London AM session, and be aware that when we get in markets where the major currencies are all aligning, we trade for larger moves during the London/ U.S. overlap.
Jay Norris is the Author of The Secret to Trading Forex, Futures, & ETFs: Risk Tolerance Threshold Theory
To see Jay highlight trade set-ups and signals in live markets on the London / U.S. overlap go to Live Market Analysis Trial
Trading involves risk of loss and is not suitable for all investors.
Disclosure: I have no positions in any stocks mentioned, and no plans to initiate any positions within the next 72 hours.