While last Wednesday's Fed minutes did not really reveal anything new, they came after a slew of disappointing U.S. data over the past several weeks, and they reminded everyone that Fed Chairman Bernanke, the father of zero interest rate central banker policy, is disappointed in the economic recovery. The sharp slide in stocks and currencies this concern caused was enough to shift the Day to Day Pattern in the Euro to bearish, and we have accordingly shifted from looking to buy dips in the Euro to looking to sell rallies. The Euro now joins AUDUSD on the list of currency pairs where the majority of tradable patterns are now bearish - see Figure 1. The shift does not mean that we run in and short the Euro, but it does green light sell signals for day traders and swing traders. We still cannot rule out a double-top for EURUSD, though the January high just above 1.3700 looks a long way off now.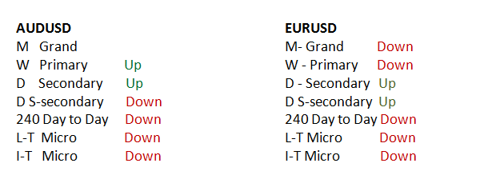 Figure 1. Risk Tolerance Threshold Ratios for AUDUSD and EURUSD
The concern in the markets following last Wednesday's Fed Minutes is the subtle change in Bernanke's demeanor. Previously he had addressed that the economy was not as strong as he would like, and he was taking steps to make improvements. Now he is saying that he has taken strong steps to help foster economic and employment growth, but we are still not seeing it. The significance of Bernanke and the Fed's outlook is critical to Europe. If central bankers were not on the same page in supporting Draghi's efforts it is unlikely the European Central Bank could have staged the Euro's recovery from the low 120's. Not that this support is questioned now, but if U.S. quantitative easing is being questioned by not just Bernanke's opposition but possibly by the Chairman himself, we should not be surprised by reverberations across all markets.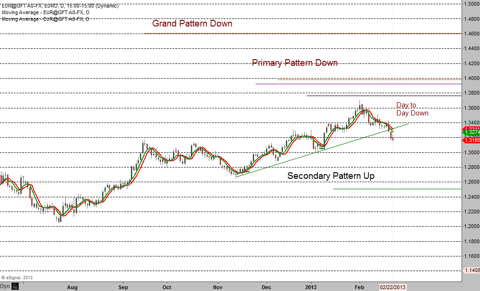 Figure 2. EURUSD Daily EURUSD Chart
We see the current 7-month rally in the Euro as a counter-trend rally with the Primary Pattern still being down, which is what makes the current Day to Day shift so significant for us. See Figure 2. From the day-traders and swing trader's perspective the Day to Day Pattern is a reflection of day to day news and is the most influential time frame pattern. From an economic perspective we would like to see an improvement for U.S. data going forward. From a trader's perspective however we're already in sell the rally mode in leading indicator markets such as the Australian Dollar, Gold, and now the Euro. Price is king and always will be. We had no trouble buying dips in-line with the Fed and the ECB's efforts to stimulate their economies by all means possible, but we are not so sentimental as to not shift gears in-line with less optimistic expectations if need be. Case in point: that Day to Day Pattern in EURUSD
Jay Norris is the author of The Secret to Trading Forex, Futures & ETF's: Risk Tolerance Threshold Theory. To see Jay highlight trade set-ups and signals in live markets on the London / U.S. overlap every Monday and Thursday go to Live Market Analysis
Trading involves risk of loss and is not suitable for all investors!
Disclosure: I have no positions in any stocks mentioned, and no plans to initiate any positions within the next 72 hours.