EURUSD
European economic numbers improved last week with German Retail Sales surprising to the upside at +3.1% following last month's dismal
-2.1%. But price action in the Euro has been less about economic health and more about central banking policies these past 6-months, which is why we see such serious concern over the Italian political situation. The ECB did a masterful job of balancing its member state's problems in stemming the Euro sell-off last summer. It did this by working directly with its different member's finance ministers and the banks themselves. This will be a hard process to repeat if the ECB does not see the newly elected, hodge-podge Italian government as a reliable partner to broker a deal with the banks. Market direction and momentum definitely swung against ECB Boss Draghi, and anyone else who had a vested interest in long Euro, this past week.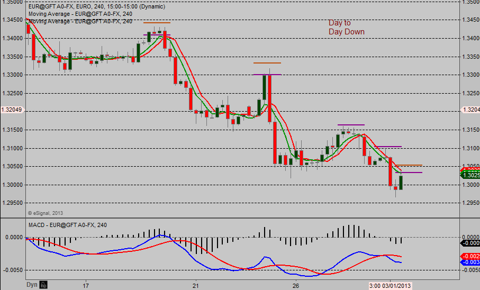 Figure 1. EURUSD 4-hour Chart
Market moves on intraday time frames are like tree branches in the wind: they bend far more than they break. And what is most interesting is how they bend right to that point where they scare the most amount of traders out of their positions, before snapping back in-line with the long-term pattern. This analogy proved apropos for EURUSD this week. After shifting its all-important Day to Day pattern lower two weeks ago, in-line with its bearish Primary Pattern, the shorts had the clear advantage this past week, but only if they were able to weather several rallies along the way - see Figure 1. The smaller branches bent, but the predominant bearish pattern held as Euro ended down approximately 170 pips on the week. By closing above 1.30 however bears left the door open to a short-covering rally of last week's price slide. Two daily closes below 1.30 however closes that door and open the market up to 1.26 which is our near-term target.
AUDUSD
The Aussie saw mixed signals on the news front with business investment unexpectedly falling, while demand for the currency by foreign central banks remained steady. Reports surfaced again this week that even by the Reserve Bank of Australia's own reckoning AUSDUSD is overvalued by as much as 15%. The RBA appears to take a laid back stance on this. Which they certainly can afford to, with an interest rate well above their larger trading partners, they have plenty of room to "ease" their currency lower should they choose to. We think they will ease rates to try to bring their currency down to help improve slowing business conditions brought about by the crest in global mining.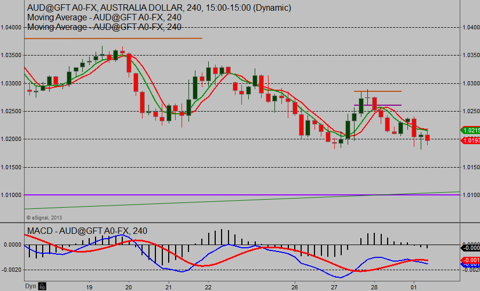 Figure 2. AUSUSD 4-hour Chart
Our near-term downside target for AUDUSD has been 1.0100 since the Day to Day Pattern shifted lower in late January so we see last week's weaker performance as being right in-line with expectations. AUDUSD settled down nearly 120 pips on the week to close right on the 1.02 level.
Jay Norris is the author of The Secret to Trading Forex, Futures, and ETF's: Risk Tolerance Threshold Theory
To see Jay highlight trade set-ups and signals in live markets every Monday & Thursday go to: Live Market Analysis
Trading involves risk of loss and is not suitable for all investors
Disclosure: I have no positions in any stocks mentioned, and no plans to initiate any positions within the next 72 hours.