EURUSD
Despite intraday volatility the Euro never strayed too far from the previous day's settlement as it continues to stabilize following last Friday's sharp sell-off. The market has sewn in a wide base just below the 1.30 level over the last 2-weeks which may be supportive of a retest of last Friday's high at 1.3130. Before that can occur however, price would need to penetrate 1.3070 which held today, prompting a 50 pip sell-off in the U.S. morning session. We still favor selling rallies in EURUSD but are mindful that a continuation of the short-covering rally in AUDUSD, and U.S. stock market strength could lend support to the Euro. The most important supporting thesis for the Euro is still Mario Draghi's strong currency policy as a way to protect banks from loans being paid back at a devalued rate. While Draghi takes every opportunity to talk the currency up European economic numbers continue to weigh on it. While European money centers had the opportunity to hedge their currency exposure out above 1.35, bankers are prone to the same emotional mistakes retail traders make, and a big one last month was: "why sell at 1.35 when we can sell at 1.40". That never happened -- 1.40 that is -- and institutions have had to sweat out the ride back down to 1.30 since.
For these next couple of days we may not be so aggressive in letting profits run on the short side in the Euro because of the recent shift higher in the AUDUSD, but we are still focusing on sell set-ups at 1.3070, and should that level not hold, we will focus on last Friday's high at approximately 1.3133. Longer term we do believe the February sell-off in the Euro was the beginning of a long-term down move - call it Wave 1 for lack of a better term - yet understand it was a 700 pip move, which could correct higher. In other words if we like selling smaller rallies, we love selling big rallies. The Risk Tolerance Threshold Ratio for the EURUSD is still solidly bearish - see Figure 1.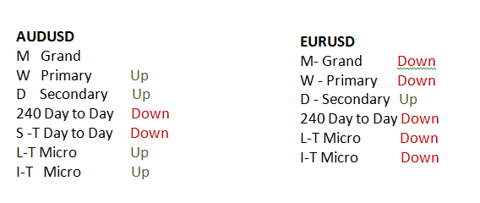 Figure 1. RTT Ratio for AUDUSD and EURUSD
AUDUSD
The Aussie shifted its Risk Tolerance Threshold Ratio higher today as the Long-term Micro Pattern turned bullish. The shorter-term micro patterns shifted higher last week which was enough to pull us off the short side. Today's bull shift was not enough however to have us consider buy signals, because that all important Day to Day Pattern is still bearish. Aussie came up just shy of our downside target at 1.01 last week and vaulted above 1.03 today. While we see resistance above just below 1.0350 we'd be more inclined to see AUDUSD testing 1.04 and perhaps slightly higher. The RBA has done a masterful job of painting a calm picture of their economy in their minutes, and the currency still enjoys a sizable yield relative to its trading partners with larger economies. Hard to view the Aussie in the same light as the Euro, given its AAA rated banking system, though we do still feel AUDUSD will see 1.01 over the near-term and likely even 1.00.
Jay Norris is the Author of The Secret to Trading: Risk Tolerance Threshold Theory To see Jay highlight trade set-ups and signals in live markets every Monday and Thursday go to Live Market Analysis
Disclosure: I have no positions in any stocks mentioned, and no plans to initiate any positions within the next 72 hours.