We see critical support in USDJPY just below 92.90. Should this pair hold that level it would validate buy set-ups and signals in this area into the evening session (sell signals in yen futures). Currently the Primary, Secondary, and Day to Day Patterns are all higher for this influential pair. A close below that level on the 4-hour chart however would invalidate any buy set-ups and open the door to a test of the February lows.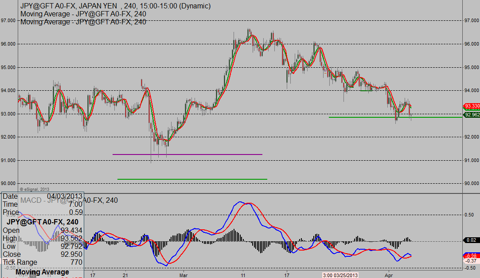 Adding to the potential technical drama is the release of the Bank of Japan's Monetary Policy Statement. The release is scheduled for tonight but listed as "tentative".
While it may seem tempting to gamble on a continuation of the same policies that weakened the Yen, strengthened the Japanese stock market, and raised the outlook for economic growth, many traders have little choice but to wait till after the release of the statement to fully commit to one side. As trend traders we favor the long side of USDJPY, but are on the sidelines for now because of risk constraints brought about by the "tentative" release of a central bank statement. Given the influential nature of any central bank activity traders cannot count on having stop loss orders filled at the price they were intended to be filled at, which can mean a substantial increase in risk.
Jay Norris is the author of The Secret to Trading Forex, Futures, & ETF's: Risk Tolerance Threshold Theory. To see Jay highlight trade set-ups and signals in live markets go to: Live Market Analysis
Trading involves risk of loss and is not suitable for all investors.
Disclosure: I have no positions in any stocks mentioned, and no plans to initiate any positions within the next 72 hours.