AUDUSD shifted its Day to Day Pattern bearish today which puts the majority of markets in our Macro Ratio bearish. See the upper left- hand corner of Figure 1. While it is a change from the predominantly bullish stance last week, it does not indicate a sea change move for the overall market given the two alpha markets - USDJPY and the S&P 500 are both still solidly higher. If anything it makes overall market direction less definitive, though less bullish for sure.
As for AUDUSD and EURUSD, it green lights selling rallies. With these two markets now aligned in the same direction we can look for larger bear moves and a resumption of trending price action.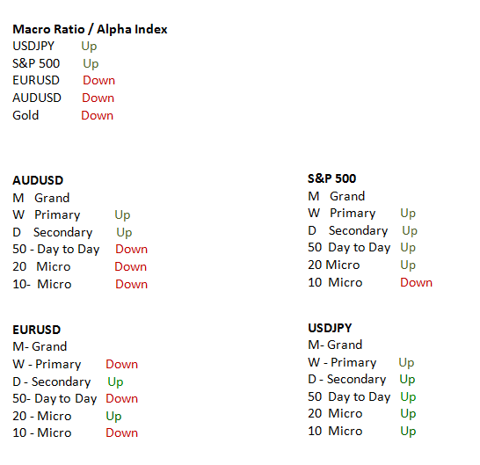 Figure 1.
Jay Norris is the author of the best-selling: The Secret to Trading: Risk Tolerance Threshold Theory. To see Jay highlight trade set-ups in live markets go to: Live Market Analysis.
Trading is a risky endeavor and not suitable for all investors.
Disclosure: I have no positions in any stocks mentioned, and no plans to initiate any positions within the next 72 hours.