Based on this week's price action we might not guess that the current quarterly, 1-year, and 5-year patterns are all lower in EURUSD. While this tells me I want to be short, I'm also aware of the euro's rich and deserved reputation for short squeezes that punish speculators who have sold the currency in anticipation of large profits. With large profits of course comes equal risk which is where we are now. If you want to be short how much are you willing to risk? Maybe 1.32, how about 1.34? The level the Euro rises to will conversely be determined by how many people have shorted it. Risk Tolerance Threshold Theory is a son-of-a -&!@#$ when you're even a little early.
With such influential news just ahead in the way of the ECB's press conference and the U.S. nonfarm payroll the risk is definitely rising for both longs and shorts.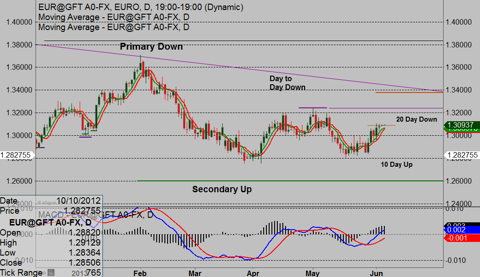 Figure 1.
We favor patience right now and see a near-term rally as an opportunity to get short in-line with the longer-term patterns. As far as when and where to get short, all I can say is there is great peace of mind in having a method that allows the market to answer that question for us. I had been nibbling away with smaller Forex contracts on rallies in Euro this past week or so - would cover half on any drop-but never saw follow thru - other than up. Given the 1.3100 figure is faltering, and knowing the Euro's penchant for short squeezes, along with BIG news just around the corner, I've decided discretion is the better part of valor and folded up my tent. I have to think 1.32 is in the cards, but why not 1.34? So if you catch me cheer leading a Euro rally, know that I'm not a bull - if I liked shorting it at 1.3040, and then again at 1.3090, I'll love shorting it upwards of 1.32
To see Jay Norris highlight trade set-ups and signals every Thursday and Monday go to Live Market Analysis. Jay is the best selling author of The Secret to Trading: Risk Tolerance Threshold Theory
Trading involves risk of loss and is not suitable for all investors.
Disclosure: I have no positions in any stocks mentioned, and no plans to initiate any positions within the next 72 hours.